The Mazda Road to Indy presented by Cooper Tires will be profiling teams, team owners and team personnel over the offseason and the first such story its done is on Pabst Racing. The Oconomowoc, Wis.-based operation captured the team championship in this year's Cooper Tires USF2000 Championship Powered by Mazda series, courtesy of the efforts from its trio of Rinus VeeKay, Calvin Ming and Lucas Kohl.
MRTI's Pabst Racing feature is below.
—
When Pabst Racing took the stage at the Mazda Road to Indy Presented by Cooper Tires season-ending awards dinner, it was the culmination of over 20 years of dedication to nurturing the careers of young racing talent, and a lifetime devoted to motorsports. Winning the Cooper Tires USF2000 Championship Powered by Mazda Team Championship highlighted a season that team owner Augie Pabst describes as one of the most successful – and enjoyable – of his life.
Augie Pabst III literally grew up at the racetrack. The son of Augie Pabst Jr., a successful sports car driver and racing team owner (detailed in the autobiography Augie Pabst: Behind the Wheel), young Augie spent his youth cleaning wheels and helping his father's team until he was old enough to begin his own racing career. He went to the Skip Barber Racing School at Sonoma Raceway, then raced SCCA Spec Racers, Shelby Can-Ams and the precursor to the current USF2000 series. He earned his two best series finishes at St. Petersburg, Fla. – a track that would later feature prominently in the team's history.
Pabst began working on customer cars out of the team's shop in Oconomowoc, Wis., in 1996, and at the end of the 1997 season decided to focus solely on the race team and preparation business. The team seemingly raced in every series, from IMSA Lites and Porsche GT3 Cup to vintage racing (the team still competes in vintage and SCCA events as well as tackling restoration projects on a regular basis) before turning the bulk of its focus to the open-wheel series at the inception of the Mazda Road to Indy concept.
"There are a few balls we juggle but our heart is in the Mazda Road to Indy," said Pabst. "We came back to USF2000 in 2010 with a National Class program. Seeing where the series was heading, being aligned with INDYCAR and with the Mazda and Cooper involvement made it something we really wanted to be involved with."
Over the years, Pabst has developed a keen eye for young talent, beginning with a then-27-year-old Tonis Kasemets in 2001 in USF2000. With Pabst as chief mechanic, the duo finished second in the 2005 Atlantic championship and the relationship continues today, with Kasemets an integral part of the team as engineer and driver coach.
The Pabst team has enjoyed success in USF2000, finishing second in the team championship in both 2015 (with Jake Eidson second in the driver's championship) and 2016 (as Jordan Lloyd finished fourth and Yufeng Luo seventh), but 2017 saw all the pieces come together. The Pabst crew was ready to start the season with sophomore Lucas Kohl and karting and F1600 standout Calvin Ming when Augie Pabst's phone rang, setting the wheels in motion that would add 16-year-old Dutch sensation Rinus VeeKay to the lineup.
"I got a call from his manager at the eleventh hour. I knew of Rinus but that was about it. I didn't know what kind of talent level he had. We were going testing at Sebring prior to the series test at Homestead and he was able to join us, then he was testing with another team at Homestead. The test went really well and we could see how good he was, so I was very happy that it worked out.
"The kid is amazingly talented," Pabst continued. "He knows how to buckle down and do what he needs to do. All three drivers worked so well together. Lucas has improved so much from his first year, and Calvin drove really well. They all have bright futures. And they all helped each other. There was always give and take – if one was quicker in a corner, they would share that, studying each other's data and video to figure out the best way to go. That helped each one of them and I think that's why things came together the way they did. This was the most successful and one of the most enjoyable seasons we've had as a team."
First up was the season opener at St. Pete the following week, which would be the debut of the new Tatuus USF-17. Pabst Racing has a history of coming out of the gate fast, having swept the two races in each of the previous two seasons (two wins for Eidson in 2015 and a split between Lloyd and Luo last year). At the end of the weekend, anyone who had not been aware of the young Dutchman became aware in a hurry, as VeeKay earned two podium finishes in his series debut – and his first races on a street course.
"We may not have known how good he was until we tested him, but truthfully, we weren't surprised at all by his performance at St. Pete," said Pabst. "We didn't think about his status as a rookie or his age; we thought he was a winner from the start. And we reacted to him that way, so maybe that was the difference. He just got down to business and focused on his driving. We were ready for the weekend, having tested and prepared fast cars. Tonis had a great set-up and convinced the drivers as such. The drivers believed in it and stuck to it and it's worked out three years in a row, even with a new car thrown into the mix."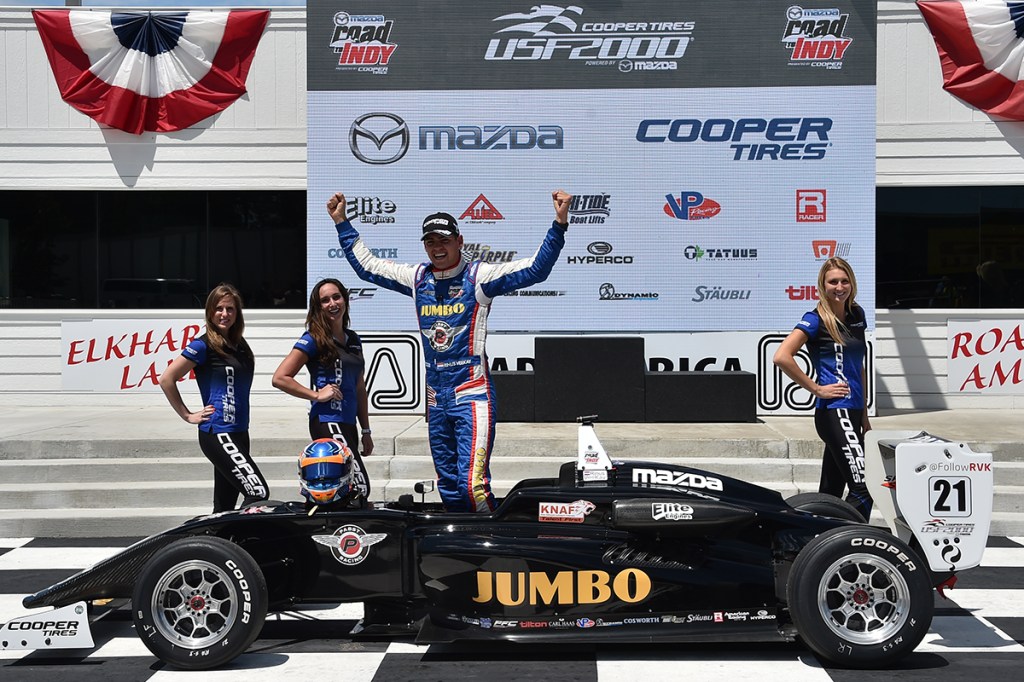 VeeKay earned podium finishes at Barber and Indianapolis (with Ming earning his first podium in race two at Indy) but it wasn't until VeeKay broke through with a vengeance at Road America that the title chase came into focus. In front of Pabst family and friends, and at their home track (only 90 minutes from the team's shop) VeeKay swept the weekend's two races in an emotional season highlight. With championship leader Oliver Askew finishing well back in race one, the victories also put VeeKay firmly into the championship hunt.
"Oliver had some pretty good momentum but we still thought Rinus would pick up speed in the second half of the season. I don't know if it was home track advantage, team morale or excitement, but everything came together at Road America. It was a turning point in performance for the entire team. And for me, I was overcome with emotion after the first race. We knew we could do it, but actually doing it, and at a track that meant so much to us, was great.
"I grew up hanging on the fences at Road America. Literally, from the time I can remember, I walked every square foot. I watched IMSA GTP, Indy cars, Can-Am, from every single speck of fence there. My dad won there and I won there. And the number of hours that the guys and I spend at the shop, to go the extra mile in every possible detail, when we forget to go home for dinner or we work until 1:00 a.m., seeing him take the checkered flag made all those moments worth it. To say we're proud is an understatement."
The championship went down to the wire, with VeeKay finishing second by a mere seven points. He ended the season with three wins and podium finishes in all but two races. Ming added another four podiums to Kohl's one, clinching the Team Championship for Pabst Racing. The team will continue in USF2000 and plans to expand in 2018 – an expansion Pabst hopes will include VeeKay and Ming.
"The team championship is a huge achievement and we're very proud of that. Anyone who ever worked for our team, as mechanics or drivers or shop personnel, has contributed to this. We've had really good people on this team over the years to help build it to where it is now.
"Our plan is to do both USF2000 and Pro Mazda next year, and we're in the process of putting those pieces in place. We'll sort out drivers in the next few weeks. I'm hopeful to have Rinus and Calvin back with us as Pro Mazda drivers, but there are a lot of things in play. It's been fun watching all three of these drivers grow over this season. We really do get the most satisfaction from working with the young drivers who are so hungry to learn. To be a part of that process on the Mazda Road to Indy is so satisfying. It's great to be involved with a series of this stature that is still so down to earth. It's the best of both worlds – we're there with the big show, racing alongside the Verizon IndyCar Series, but we're still small enough to be family-oriented. The Mazda Road to Indy is growing and evolving and it's fun to be a part of that."