In three years since the Indy Lights Presented by Cooper Tires introduced its new Dallara IL-15 Mazda in 2015, the field size – and the level of top competition – has increased each season.
Kyle Kaiser is one of only two drivers who've been there in each of the 50 races in three years, Shelby Blackstock the other one, and is proof of what's needed to grow into a Verizon IndyCar Series driver.
His maturation process from a crash-prone rookie to a calm, consistent and determined team leader at 21 years old, having moved from his hometown of Santa Clara, Calif. to Indianapolis, has been fascinating to watch at the top rung of the Mazda Road to Indy presented by Cooper Tires ladder.
That development paid dividends en route to securing this year's title, which owed quite a bit both to timing and determination on his part along with a consistency each of his other title contenders lacked.
Kaiser's authoritative weekends this year were few and far between – the Indianapolis Motor Speedway road course and Toronto street course weekends were the only two where on clear pace, Kaiser looked unbeatable.
But it was the other weekends where he maximized his results – really all except Mid-Ohio – that helped deliver him the title.
Having been there since the start of the new car period in 2015, Kaiser explained how much the competition has improved.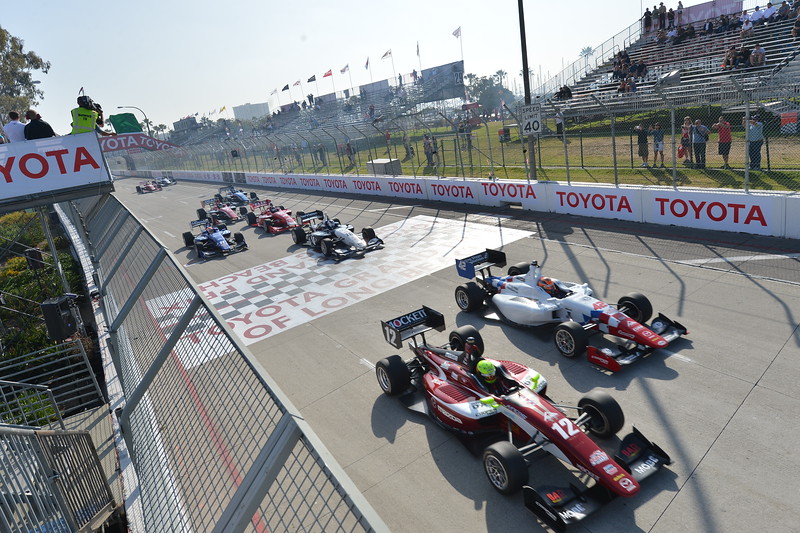 "That's the crazy thing. It's gotten higher year-on-year," Kaiser told NBC Sports at Watkins Glen. "We have all these really strong guys coming from Europe. And we have some very strong drivers that returned, with Santi coming back after he almost won the championship last year. I think this year was a really good performance, because I wasn't making the mistakes that cost me the title last year."
He would know. Kaiser's early race accidents in 2015 revealed a driver who was still a bit raw in his step up from Pro Mazda, with a notable shunt with Jack Harvey in Long Beach standing out for all the wrong reasons.
There were two podiums and sixth place in points, but Kaiser was in a clear "second tier" among drivers beyond the three primary title contenders – Harvey, Spencer Pigot, Ed Jones – and more on par with fellow rookies RC Enerson and Max Chilton. All five have since made it to IndyCar for at least a handful of starts.
Kaiser had grown enough to uphold the mantle of team leader at Juncos Racing by year two in Indy Lights. Fostered by the people around him – Ricardo Juncos as team principal and engineers Peter Dempsey and Ernie Gonella, primarily – Kaiser built the confidence to where he could become a race winner in the series.
And as Indy Lights grew in 2016 where there were seven different winners, Kaiser joined that list. Domination at Phoenix followed by an emotional win on home soil at Mazda Raceway Laguna Seca, a track he knows intimately from his junior years, were his first two triumphs. There were still mistakes but far fewer of them, and third in points was no less than he and the team deserved.
No one in 2016 had a truly standout season. Eventual champion Jones rallied through a rough summer stretch. Santiago Urrutia, up from winning the Pro Mazda title, looked a world beater on permanent road courses but struggled mightily on ovals, and also watched as his Schmidt Peterson Motorsports team disintegrated around him. Enerson, expected to be a title contender, tired of myriad team and mechanical issues and left midseason before jumping into IndyCar. Zach Veach alternated boom-and-bust results in his return to the series. The same was true for Dean Stoneman and Felix Serralles, who won races but were highly inconsistent. Felix Rosenqvist won three races on a partial schedule and probably had the most natural talent in the field, but wasn't there to properly contend.
It was there the signs of consistency could come good for Kaiser in the grand scheme of things, and along with Urrutia, they were likely equal co-favorites for this year's championship. And with Urrutia only racing this year on a late deal with Belardi Auto Racing with SPM, Kaiser had the team consistency in his pocket too. Having known how Juncos operates both its Pro Mazda and Indy Lights programs, Kaiser knew the team wouldn't lose focus.
"That guy knows how to handle pressure!" Kaiser said. "He can be everywhere and take care of so much stuff to be a great team owner. Any stress he may have had in the Pro Mazda program, I haven't had to worry about any of that in the Indy Lights program all year."
Such was the case. Whereas Kaiser had all the elements needed to succeed in his back pocket, his six-pack of rivals all hit rough patches at various points, and so 2017 followed a similar arc as 2016.
Urrutia took time to gel with Belardi and was almost out of the title by May. Despite an eventual rally from 11th to second, he couldn't quite overcome the deficit.
Rookies Colton Herta, Nico Jamin, Matheus Leist and Aaron Telitz all won races, but all made their fair share of rookie mistakes, bore the brunt of reliability issues or suffered from both. Zachary Claman DeMelo added a variable as an improved sophomore – a la Kaiser last year, although after bailing from Juncos and switching to Carlin – and featured enough speed and consistency worth taking notice of. Quite by contrast, Claman DeMelo's fellow sophomore teammate at Carlin, Neil Alberico, watched his title hopes fade away by the end of May after a strong start.
Kaiser drove smart all season with the exception of Mid-Ohio, then rallied at Gateway with an ultimate statement drive to put his grasp on the title. He avoided potential pitfalls as Claman DeMelo and Jamin both spun right near him, put a deep pass on Urrutia's outside into Turns 1 and 2 that left the Uruguayan surprised, then finished fourth to score enough points where he didn't need any result at Watkins Glen to lock down the title.
"I wanted to get on the podium but knowing where I was, being fourth with three laps to go, I just had to bring it home," Kaiser reflected. "That restart, I almost put it in the wall but I didn't – I saved it! That was a season saving catch, for sure."
It wasn't the flashiest of seasons, but it didn't need to be. Considering how far Kaiser has come over a four-year period, the fact it was quiet but solid all throughout the year spoke volumes of the maturation needed to become a respectable IndyCar driver. He'll do so for at least three races courtesy of the $1 million Mazda Motorsports advancement scholarship.
At Sonoma, he was busy making the rounds a couple weeks after winning the title. He impressed the Advance Auto Parts IndyCar Radio Network, did a number of media appearances at the IndyCar season finale, and held his own against yours truly in an impromptu typing contest.
Consider he has a high level of experience he already has going into IndyCar is the four years in the ladder, a similar number to a Pigot or James Hinchcliffe, for instance. He's won once each on an oval, street course and road course. He's become solidified in Indianapolis, where he now calls home.
And he only said he got nervous once it came to delivering his championship acceptance speech at the banquet in Watkins Glen, so that's a sign of his steely resolve in the cockpit.
But Kaiser's appreciation for the team that's built him into a champion really said more than his results.
"I've been with the team four years now," he said in his championship speech. "You guys saw my potential… you're always honest with me, and your driver development program has made me the driver I am today.
"Your love for the sport and unrelenting desire to win has brought you so much success."
With both Kaiser and Juncos Racing poised to graduate into IndyCar on a more substantive basis in 2018 – together or not – the result of this year's Indy Lights championship is deserved fruit for both their labor.