Editor's note: Sean Rayhall, one of America's rising driving talents, will file a series of blogs throughout the year chronicling his season in the European Le Mans Series, co-driving with John Falb at Zak Brown and Richard Dean's United Autosports team in its Ligier JS P3.
His fifth blog looks at how he and the team made the most of the weekend at the legendary Spa-Francorchamps, en route to a surprise podium (previous blogs are linked here; Silverstone, Le Mans, Red Bull Ring, Paul Ricard).
—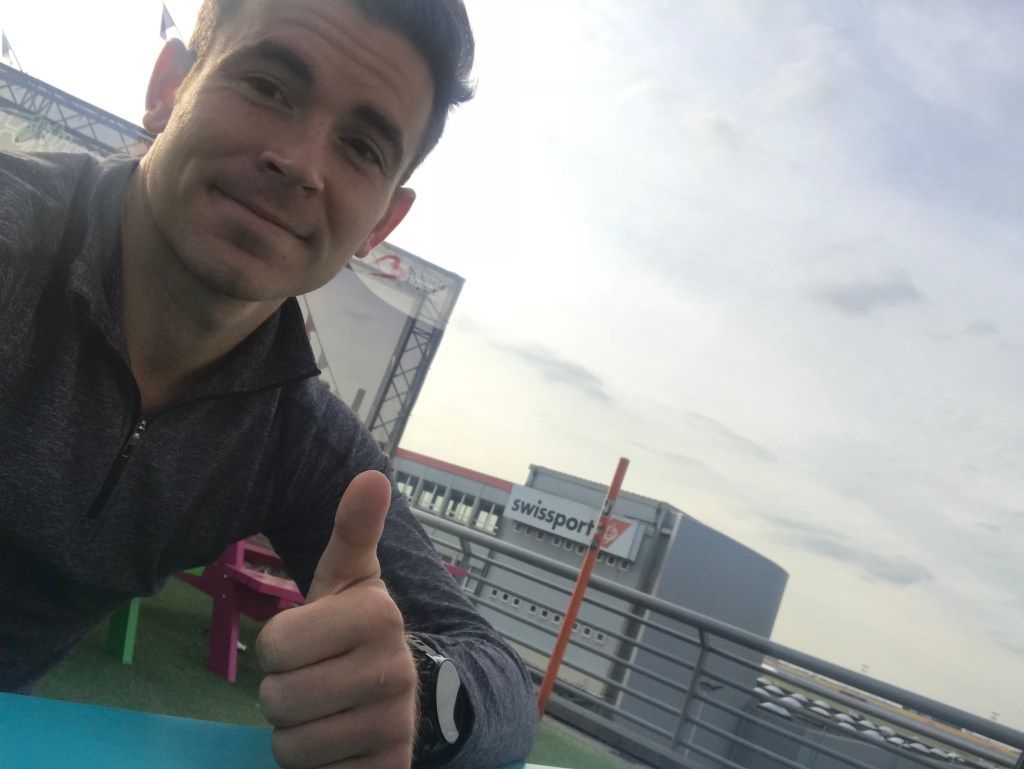 So we arrived in Belgium on a Thursday. Well, John's flight was delayed. So, I arrived and got plenty acquainted with the airport and found out that at Brussels, if you exit the airport, you can't get back in without another flight ticket. On the bright side, they do have a nice patio outside for those people like me who walked out unknowingly. John made it eventually and we were all set to head to the legendary Circuit Spa-Francorchamps.
Friday went great, starting with John going P1 in the Bronze (driver rating) test and us being P3 the end of FP1, which we felt really good about especially for our pace on old tires in FP2! So we felt pretty confident that even if we don't have the fastest car on outright pace, we will have a great race car for the four-hour race. That's what has been paying off for us this year!
Qualifying went well, and we ended up P3 which was good considering people were doing different things for downforce for just qualifying and we just left our race setup on and sent it!
So the starts at Spa are always pretty crazy (see above). There are 38 cars, three different classes, and all different categories of drivers at the start depending on independent team strategies, and we're all going flat out down a short straight into a first gear hairpin… so chaos should be expected.
The rule stated in the drivers meeting was that you're not allowed to pop or pass until the bridge, which is the second line on the front straightaway.
When the green dropped, the LMP2 car (the No. 29 Racing Team Nederland and No. 49 High Class Racing Dallara P217s were on the final row of the LMP2 grid, with the No. 29 car directly ahead of the LMP3 class polesitter -Ed.) in front of our LMP3 class polesitter (Mikkel Jensen) got an awful start. By following the rules I had to stay behind Jensen, but that also meant I had dropped down to sixth place by the time we got to the bridge.
By the time Turn 1 was sorted, I'd remained on damage control and tried to protect the car… but I came out P10. No action was taken on the cars that we thought had jumped the start.
When you're in a position to win the championship, there are some race situations where it can be difficult to balance your inner racer's desire to push hard early versus waiting and letting the race come to you.
Basically you have two options: you can risk it for a win and risk a penalty, or you can take the humble pie, and wait it out. The humble pie was tasting terrible, by the way, until about four hours later when the checkered flag flew.
I began to work my way through the field getting to sixth, before I had a tough battle with (Giorgio) Mondini. He proceeded to try to wreck me on four different occasions. One of those included driving me off the track in brake zones and bending the suspension on our car while ripping dive plains off. He eventually wrecked Theo Bean in another car, which took him out of the race and put us back to P10.
So again, it was full reset right here. We just needed to get points, and I could see the cars we were battling for in the championship ahead, so I just put my head down and made the best of a bent race car. You can take your best shot at commentating my radio communication, but I'm pretty sure all of our United Autosports crew's ears were hurt by my rant…
As the race played out there were many safety car periods which took out about an hour of the drive time I was allocated, but as he has all season, John Falb drove flawlessly for two hours. We were eighth after the first hour and fourth at the end of the second hour, but John pushed us forward in the final two hours as he brought us up to third place, in tandem with great work from the team.
It was truly impressive watching him take to a bent car and navigate his way through in a mega stint, which ended up giving us third place and a bigger points lead!
I can't thank John Falb, United Autosports, and all our sponsors enough for all their hard work. As a team, we performed perfectly while everything that could go wrong went wrong, which is what champions are made of. This could be a day we look back on think how we achieved as best we could in spite of adversity.
Even on our worst day we stood on the podium in an ELMS race at Spa. That is special!
See you guys in a month post-Portimao! We will be playing for keeps there!