Saturday's 20th Motul Petit Le Mans from Road Atlanta was a milestone event for the fall endurance classic, the brainchild of Dr. Don Panoz in tandem with the race organizers of the 24 Hours of Le Mans, the Automobile Club de l'Ouest.
And for the race winners, it was a case where each race winner achieved something of note in their careers.
PROTOTYPE: DALZIEL, HARTLEY BREAK THROUGH WITH SHARP AT ESM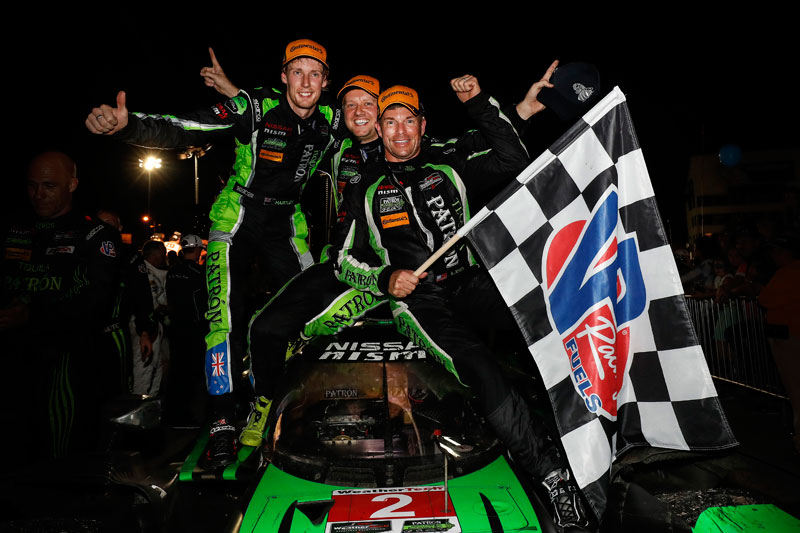 While Extreme Speed Motorsports had won at Petit Le Mans before – in the GT class in 2012 with a special chrome livery for one-off sponsor Ultimat Vodka and a lineup of Scott Sharp, Johannes van Overbeek and Toni Vilander in the team's No. 01 Ferrari F458 Italia – it hadn't won overall in the race.
Surprisingly, despite racing for the team for four years, Tequila Patron ESM veteran Ryan Dalziel hadn't either. Some notable near-misses – mainly the 2014 Mobil 1 Twelve Hours of Sebring – stuck out as the Scot had managed to miss a win for the team by no fault of his own. Even when ESM went back-to-back at Daytona and Sebring in 2016, Dalziel was racing for the VISIT FLORIDA Racing team in IMSA, as he raced for ESM in the FIA World Endurance Championship.
Either the No. 22 or 2 Tequila Patron ESM Nissan Onroak DPi was the class of the field on Saturday at Petit Le Mans, and while the No. 2 car was lucky to inherit the win once the sister No. 22 car driven by Pipo Derani got assessed a drive-through penalty for avoidable contact, it didn't dampen the spirits of the Patron team to ensure at least one of the two cars won.
The No. 2 car survived in spite of an alternator issue that nearly defeated them again, but in the end former Starworks Motorsport teammates Dalziel and Hartley got on the board for ESM.
"When we lost the lead in the pits from the alternator issue, I thought the race was over," Dalziel said. "Sometimes things are meant to work for you, and today was one of those days. The No. 2 definitely car needed it. I'm bummed we didn't get a 1-2 finish."
GT LE MANS: AUBERLEN'S 400TH BMW RACE SENDS M6 GTLM OFF IN STYLE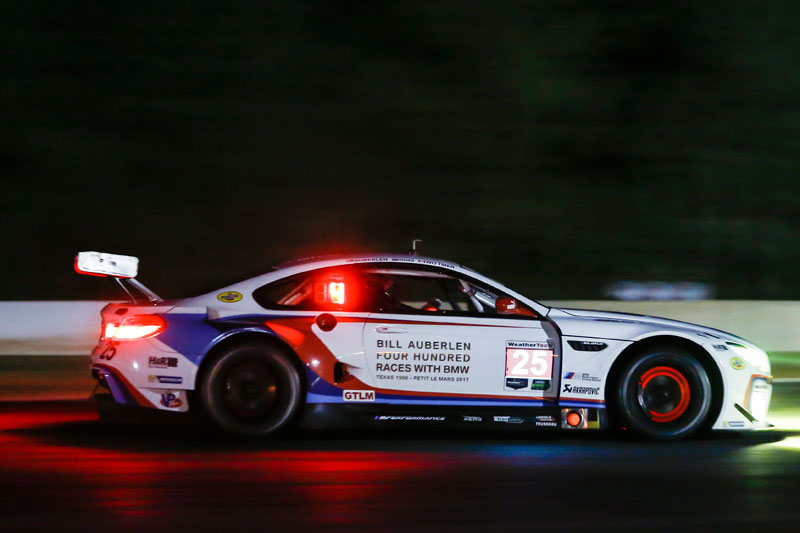 Bill Auberlen celebrated his 400th start in a BMW in grand style, winning the GT Le Mans race in the final start for the M6 GTLM with co-drivers Alexander Sims and Kuno Wittmer. This was Auberlen's second (2001) and Sims and Wittmer's first Petit Le Mans victories.
"Obviously I'm the most fortunate person in the world, its been a privilege driving for BMW for 21 years, and on my 400th race to win," Auberlen reflected. "I'm amongst a lot of great guys here, a lot of great teammates. A lot of the smartest people in the world here working for BMW. I'm very thankful and so happy."
There were no nerves with Sims finishing the race, as Auberlen hailed his co-driver. The only downside, he said, is that the M6 GTLM has reached its zenith at the time it ends its career before the new M8 GTE comes online next year.
A couple other tough races limited the pair in the No. 25 BMW Team RLL entry to second in points, namely a late-race mechanical at VIR that dropped them from a sure win to fourth. But Auberlen was still thankful to Sims for making their first year as co-drivers a good win.
GT DAYTONA: CDP BACK ON TOP IN U.S., AS LAND'S YOUNG TRIO BREAKS THROUGH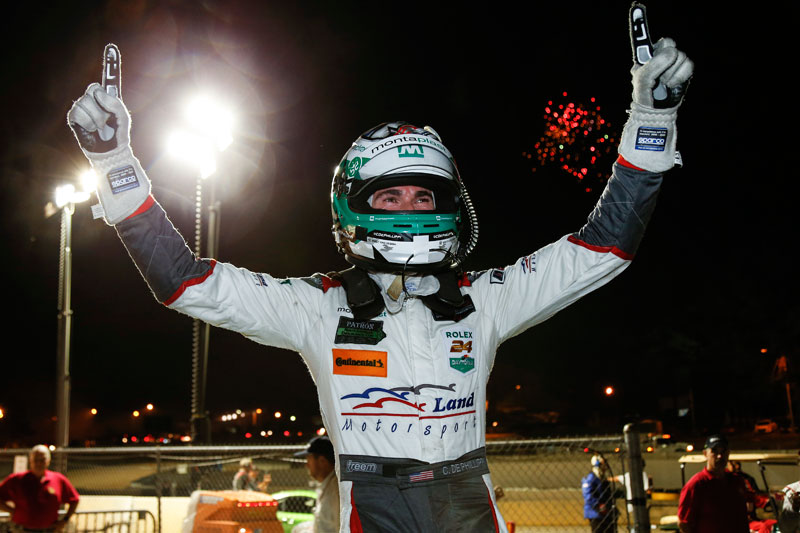 In a 17-car class, European regulars Montaplast by Land-Motorsport toppled the establishment with its No. 29 Audi R8 LMS in just its third U.S. start of the year. The team's usual full-season pairing of Connor De Phillippi and Christopher Mies featured teenager Sheldon van der Linde as its third driver, who starred along with them. Track support and strategy from Peter Baron's Starworks Motorsport operation helped aid Land's charge to the top.
"We had an amazing car. I can't believe how strong it was," said De Phillippi, who won his first race in the U.S. since a Star Mazda race at Lucas Oil Raceway in Indianapolis in 2012. "My teammates did a flawless job. We proved our young guys can do it. A lot of teams don't give a guy like Sheldon a chance to do it."
De Phillippi, who's since become a GT star with Porsche and now Audi since moving to racing in Europe full-time – even as he would welcome racing more in America next year – also noted the significance of winning at Road Atlanta. It's been a banner year for him and Land, having won the Nürburgring 24 Hours as well.
"It's huge! My first major Star Mazda win was here in 2010. It was a special point in my career then. Now it's seven years later with my first big GT win. It's awesome."
PROTOTYPE CHALLENGE: BAR1 ENDS CLASS' TIME ON TOP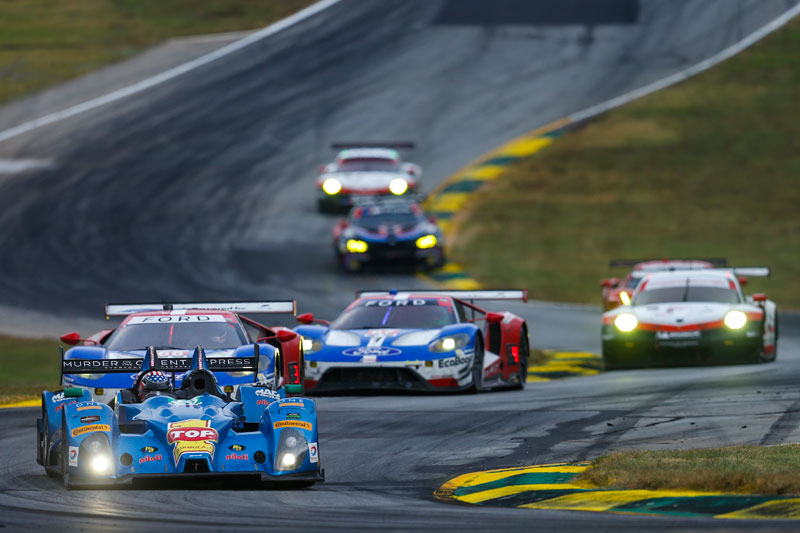 BAR1 Motorsports foiled Performance Tech Motorsports' perfect season with a 1-2 finish in the final race for the Prototype Challenge class, as Brian Alder's team took its first win in four years and young Canadian driver Garett Grist emerged on the sports car scene in just his third start.
A Silver-rated driver who like De Phillippi was a regular race winner in Pro Mazda in the Mazda Road to Indy, Grist was entrusted as the lead pro in Brian Alder's second Oreca FLM09 with PC class veterans John Falb and Tomy Drissi. That he was as quick as he was in a car down on outright pace compared to Performance Tech spoke volumes about his potential for the future, with driver coach Charles "CR" Crews helping aid his development.
"We tested a couple weeks back. We were fast then, but we didn't have the same pace here," Grist said. "We dug deep and improved as much as we could under the circumstances. I did a triple stint towards the end and then pulled out a big lead."
Falb has been a regular winner this year in an LMP3 Ligier JS P3 car in the European Le Mans Series with United Autosports and Sean Rayhall, while Drissi has been a regular in PC off-and-on since the class inception in 2010. Falb closed the race out behind the wheel, while Drissi, whose primary business is in Hollywood and often has his movies he's working on adorn the car, explained what it meant to close the class out on top.
"To be racing in IMSA and on the same track with Indy 500 winners and sports car stars is an honor," Drissi said. "You do your dance out there, you work to get your tires up to temperature, and you work with the factory cars in a give-and-take. We've had podiums before here, but not the win; so in the last race of the PC cars, to win it is pretty darn cool."