The two kids from Brazil who barely spoke a word of English when they arrived in North America in 1995, Helio Castroneves and Tony Kanaan, have raced alongside each other in the same series for 22 straight years.
After two years in Indy Lights as teammates, they were both part of the full-time Verizon IndyCar Series fabric for the last 20 from 1998 through 2017, and were celebrated for that earlier this year.
Yet for the first time since arriving on these shores, in 2018, there won't be the "Helio and TK" dynamic as both of their new ventures have been officially confirmed last week.
HELIO'S NEW PATH
For Castroneves, his continuation with Team Penske now shifts to sports cars. Despite his incredible resume in IndyCar – easily the best driver of his generation to have not won a championship – he'll take up residence in an Acura ARX-05 Daytona Prototype international (DPi) full-time next season.
The first "Penske and Castroneves as full-time sports car participants" weekend is complete, with Motul Petit Le Mans in the books.
Castroneves was immediately on pace. He scored the pole position, had the measure of teammates Juan Pablo Montoya and Simon Pagenaud all weekend, and helped lead a rebound to a podium finish in the team's first race.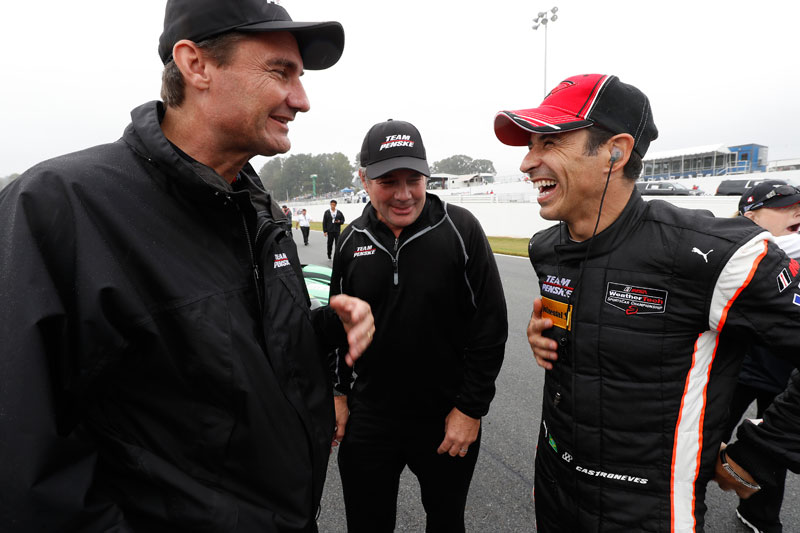 Castroneves, Team Penske president Tim Cindric and Honda Performance Development president Art St. Cyr were present Friday to look ahead to what's to come.
"Being part of Team Penske obviously is an amazing opportunity to join this," Castroneves said. "When Cindric and Roger talked to me about it a while ago, we waited for the manufacturer to officially happen, and it happened. For me it's a great opportunity to continue driving for as long as I want, and continue pushing to the limit.
"I really want to find the best out about our team. It's great. I'm looking forward to learning a lot. Run with a lot of traffic. Along the way I'll make some new friends… and I'll make some enemies too. That's not the goal! But the goal is understand as smooth as possible the strategy and way of racing. It might be a bit different. There's a learning process to that, and I'm up for the challenge."
Castroneves and Cindric were playfully bantering during their press conference as the two joked about how hilarious their driver changes were looking in practice.
"It should be a reality show, with bloopers," Cindric deadpanned.
But after a wealth of preparation, including a 6:30 a.m. wakeup call on race day, they were all good to go as Castroneves, Montoya and Pagenaud cycled through their four changes well. Castroneves started before turning over to Montoya, with Pagenaud third in, and then back to the other two for the rest of the race.
At race's end, with the team having overcome Castroneves getting hit in the first hour and losing a lap, then also having the car briefly shut off, he reflected on his first race back as a full-time sports car driver, and thanked IMSA for the welcome.
"It was impressive. I never stay 'behind the scenes,' This is the first time watching Tim Cindric, Jonathan Diuguid doing strategy," Castroneves said. "I knew before, but now I was seeing it from the stand. Myself, Juan Pablo and Simon worked well together. It was a great learning curve and it'll create a great foundation for 2018.
"It's been such a warm welcome. It reminds me of when we went Champ Car to IRL. I'm sure we will have ups and downs. I'm so happy IMSA is receiving us with open arms, not only myself but also Team Penske."
TK KEEPS GOING IN INDYCAR, NOW WITH FOYT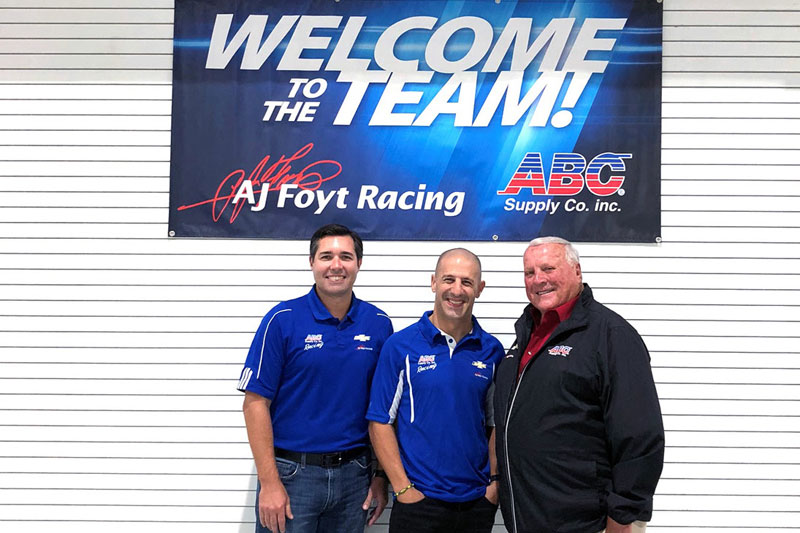 Kanaan, meanwhile, will continue in IndyCar for the full season for the next chapter of his career, with Castroneves only joining in at the two month of May races at the Indianapolis Motor Speedway in a fourth Team Penske entry.
The two will have their first opportunity to see each other at the same race weekend at Long Beach next April, Kanaan in the No. 14 ABC Supply Co. Chevrolet in IndyCar with Castroneves in one of the two Acura Team Penske ARX-05s.
Kanaan focused primarily on his own announcement with Foyt last week, but did take the time to reflect on the end of an era with Castroneves being in the same paddock.
"Well, he's definitely going to be missed. I think he was a big name in IndyCar, like I am," Kanaan said. "We started together back in '98, so obviously he chose to pursue another career as far as racing, go to another series, so I wish him the best, and obviously I think, like I said, he will be missed."
Since both drivers have been active for 20 years in IndyCar, Kanaan spoke to the success both have achieved throughout that time that have kept them there.
"Yeah, I guess the only good people are the only ones that last, and I guess I'm the last man standing, so I'm pretty proud of my career," he said. "Of course if I would go back 20 years ago and would have said that I was going to be here for this long, I don't think I could predict that, but obviously year in, year out, people keep saying, the old guys here and there, but we keep delivering, so I think it doesn't matter what age you are. If you're winning races, I don't think people care. All we care is about winning. I still think I can win, and I'm glad that I'm still around so we can keep the tradition of the old timers, that we can still do it. We'll be here to represent."
Might Kanaan, who got to race at both the Rolex 24 at Daytona and 24 Hours of Le Mans this year in a Ford Chip Ganassi Racing Ford GT, be open to returning to the sports car endurance race scene? If he does, it could mean they'll be back on the same grid but with different machinery.
"Yeah, I think I would say — obviously we just signed a multiyear deal here, so I'm not really thinking about it, but obviously there is no secret that I would love to do the endurance races. A.J. won all of them, so I've got to catch up with him!
"I have (won) Daytona — I have the 24 hours but I don't have a Le Mans, so I've got to try to do that. If it doesn't conflict with our program in IndyCar and it doesn't hurt the program, I would love to do it, and in the future obviously that would be something that I'm interested, but right now, it's definitely not going to be something that is going to be going through my head to do full-time."
IndyCar 2018 will be weird without both of them on the same grid, but with their new chapters now officially underway in the last week, their stories of starring in North American racing will continue.