The tone for the IMSA WeatherTech SportsCar Championship season in its Prototype class was set in the final 10 minutes of the opening race of the season, following a rain-drenched, cool Rolex 24 at Daytona that was reaching its climax.
It all came down to Filipe Albuquerque versus Ricky Taylor, driver on driver in a pair of Cadillac DPi-V.Rs in the car's first race and between their Action Express Racing and Wayne Taylor Racing teams.
Only one team could win the Rolex watches and lay the groundwork for the rest of the year, and Taylor was determined it was going to be his – come hell or high water.
Taylor made that barge down the inside, with enough of a crack left open, at Turn 1 much to Albuquerque's and the No. 5 team's dismay. The Taylors won, and they were on their way.
"I'd never been more proud of him in my life. He had that race in all of our hands. He was the guy that won us that race," said his brother, Jordan Taylor.
The win at Daytona was Ricky's true arrival on the stage after years of growth and overcoming adversity to get there.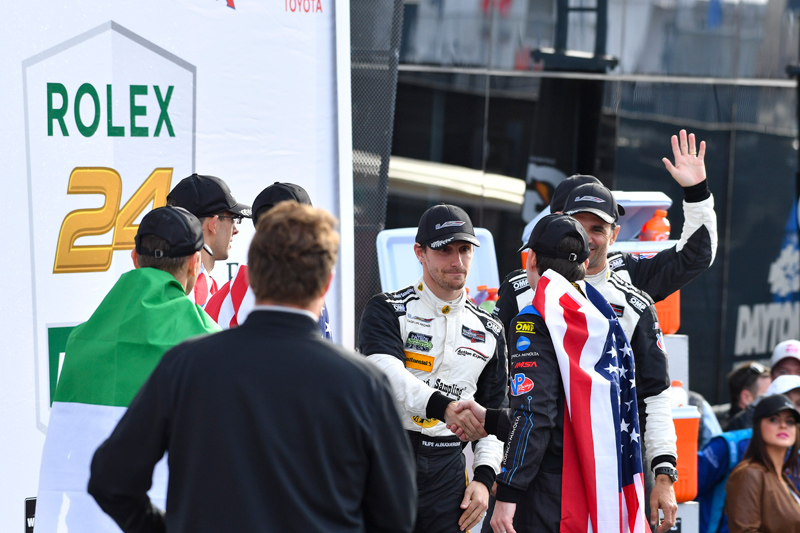 The run of four straight wins that followed spoke to the Konica Minolta team's understanding its new car better than its competitors and bouncing with a number of IMSA-mandated Balance of Performance adjustments, which the team thought were implemented to stop the Taylor train in its tracks.
The rebound of a crucial runner-up finish at Road America after two bad races in Watkins Glen and Canadian Tire Motorsport Park ensured they wouldn't lose their grasp on the title, and their start at Motul Petit Le Mans in Road Atlanta sealed the team's championship this season.
So the pendulum was swung back to the No. 10 car after three straight titles from Action Express, two by the venerable No. 5 pairing of Joao Barbosa and Christian Fittipaldi (Albuquerque was the team's third driver through 2017) and then last year's No. 31 pair of Dane Cameron and Eric Curran.
That it came with both Jordan and Ricky Taylor driving – especially with the latter expected to be named soon to move to Acura Team Penske – made it sweeter than Jordan and Max Angelelli's title in 2013, the final GRAND-AM Rolex Series title.
"I think it's a culmination of some little things. We won Petit Le Mans in 2014 as a group. But I felt we worked well together off the bat and little things held us back. We were frustrated for three years and wanted things to click our way," Jordan Taylor said.
"This new Cadillac was introduced, and we came out so strong with five straight wins. If we lost it, it'd be a disaster! With those two bad races in a row, I don't know how we would have got over it."
Ricky and father Wayne Taylor spoke to the team's preseason preparation with the new car. The Daytona Prototype international (DPi) platform meant both the Taylor and Action Express teams switched from the Corvette DP – their product for the last five years – to the new Cadillac DPi-V.R. The Cadillac was born of a combination of the 6.2L V8 engine developed by ECR Engines and a chassis from Dallara, all working in tandem from its development and official on-track debut in September.
"We had unfinished business with Cadillac going back to 2002," Wayne Taylor said. "It was a big program to pull off, with the clean sheet of paper. Between Dallara, Cadillac, ECR Engines and my engineers, we had to get everyone together to build a team and car.
"So we'd do all the testing and get ready for Daytona. And going into Daytona, we'd never finished a session without anything going wrong! So we were expecting a troublesome run, but the car was flawless, and drivers were flawless. And then the BoP stuff started…"
BoP, in layman's terms, is what a sanctioning body does to work to level the playing field between manufacturers to ensure no one car or team gets too far ahead. And so for Cadillac, whether it was boost adjustments or changes to gearing ratios, power or refueling restrictors, it often seemed there was another hurdle to clear – all of which they did.
The Daytona win capped a run of near-miss runner-up finishes, as the Taylor brothers broke through with Max Angelelli in his last start and Jeff Gordon in his first Rolex 24 start in 10 years. Newcomer Alex Lynn joined in place of the latter two at Sebring and came up to speed well, so much so the team almost had to rein them in. The full-season pair overcame a low-gear rpm deficit to win on the streets of Long Beach, Jordan Taylor sneaking by Ryan Dalziel late there, while wins at COTA from pole and Detroit from 12th on the grid after a rare unforced error by Ricky Taylor in qualifying all-but-solidified their title push.
Nightmare races in the back-to-back swing at Watkins Glen and Canadian Tire Motorsport Park killed the perfect season chances and almost brought the No. 10 car back to the rest of the field. Suspension damage cost the team laps at Watkins Glen after contact from another car on the opening lap, while a late crash between Jordan Taylor and Tommy Milner in a Corvette C7.R took both drivers out.
Needing a result at Road America, Jordan Taylor stood down from a possible fight against Pipo Derani to win the race and came away with a key second place finish. A third at Mazda Raceway Laguna Seca ensured the title was theirs provided they started the season finale, regardless of the outcome.
"I think at Road America, Jordan could have raced for the win and worked Derani for the win. But we needed some points," Ricky Taylor said. "Jordan had a really calm head there. Those points were critical. It was a big sigh of relief."
Jordan said of his discretionary race tactics there, "I didn't want to take a single risk to not have a decent finish.  'That was our championship race,' our engineer said. Between that, and moving onto Laguna, that turned our season back around."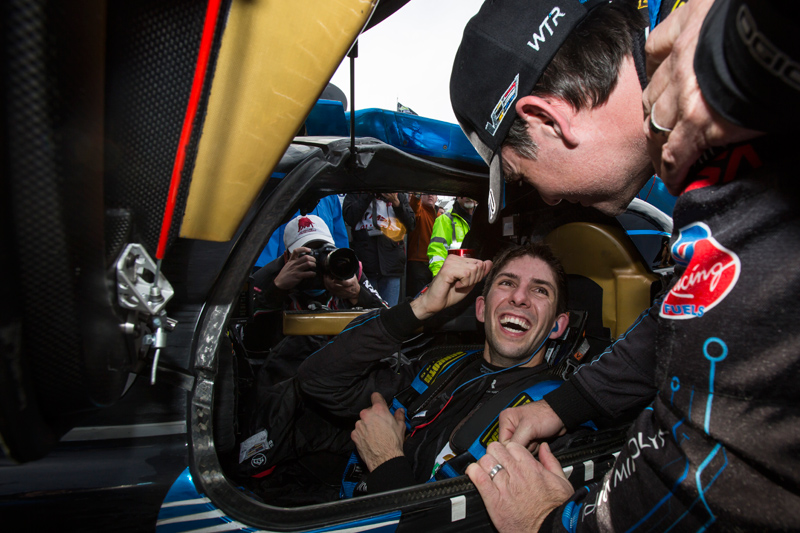 But while a championship is won and lost over the course of the season, the magnitude of that Daytona win to kick it all off will speak loudest about this family-won championship.
For Jordan, watching his brother Ricky fight for the lead, then make the pass, brought a mix of anxiety and almost anger, before it switched to elation.
"It was a massive swing of emotions," Jordan Taylor said. "It's easy to forget but Ricky had already made what we thought should have been the pass of the race at the Bus Stop, then we got caught up by a yellow, and fell to second. It felt like I was watching a replay of our previous four Daytonas!
"But as soon as Ricky saw there was hope, we were good. I know his mentality and driving style. I always compared him to a shark. If he smells blood in the water, he's gonna make a kill. You see it every time he goes for it.
"He saw the opening. I knew how strong he was on the brakes, and that he'd try it if he had the spot. We'd talked about that move for years. We all said he's going for it, then it flashes off TV and the 5 car's backwards.
"A race like Daytona, you need a killer instinct, and Ricky's our guy. If he wasn't the one in that car, I don't think we'd be wearing these watches."
For Ricky, it was the move of his career.
"For me, Daytona is the highlight. I think about it almost every single day, that one moment," he said.
"We're looking at Jordan's watch, and we never know if we'll be in a car good enough to win the race, and then be in a position to do so. Some drivers go their whole careers and don't even finish on the lead lap.
"When you have the opportunity to go for the win, you take it, and that is something I'll never forget."
Provided the lineup changes, the Taylors will be back to racing each other rather than with each other in 2018. It will set up an intriguing scenario for the No. 10 car as it'll seek to defend the crown, but with a different lineup.
Still though, the Taylors winning this year's title comes amidst a potential renaissance for IMSA in 2018 and beyond, and only fuels their determination to stay on top as the already strong competition increases.
"I think it's perfect timing with Penske and Joest coming in. It'll bring eyes to this sport," Jordan Taylor said.
"The competition has been good here. It's upped the game. For us now, it's about proving this championship means what it does, and that Wayne Taylor Racing and Cadillac can battle with the best of them."
Wayne Taylor added, "Now my goal is to beat the two biggest names in sports car racing, Reinhold Joest and Ralf Juttner what they've done with Audi and Porsche in their successes, and now will try to with Mazda, and Roger Penske with Acura.
"We'll work even harder than last year to do the job."