Giacomo Mattioli's Scuderia Corsa team has built up a pretty impressive reputation and record over five years. After debuting in 2012, the team won the 2013 GRAND-AM GT class title with Alessandro Balzan and has now won three straight IMSA WeatherTech SportsCar Championship GT Daytona class titles, with Townsend Bell and Bill Sweedler in 2015 and now two in a row with Balzan and Christina Nielsen in 2016 and 2017.
Balzan's had different co-drivers before and will add another new one to his plate in 2018, Cooper MacNeil having been confirmed Tuesday with WeatherTech Racing support for the team's Ferrari 488 GT3 next season.
MacNeil has struggled to find the right similar championship-winning pedigree in the merged series after going back-to-back in the American Le Mans Series' GTC class in 2012 and 2013 with Jeroen Bleekemolen, and has won only one race in the last four years. Whether it was with Leh Keen and Alex Job Racing or this year with both a Porsche and a Mercedes at Bill Riley's usual title-contending operation, MacNeil, a true Silver-rated driver, has been unable to scale the same heights.
Moving into the team where he competes in Ferrari Challenge and was also in a GTE-spec 488 car with Bell and Sweedler at this year's 24 Hours of Le Mans, and finishing third in the GTE-Am class, provides him arguably the best possible situation to re-enter the championship-winning frame in the series now sponsored by WeatherTech.
"We raced this year with Scuderia Corsa at Le Mans and finished third co-driving with Bill Sweedler and Townsend Bell," MacNeil said. "I also race the full season of Ferrari Challenge with them and am in the hunt for the championship with two races left. It was a natural for us to transition into the Ferrari with our experience with the brand this season. I am looking forward to driving with Alessandro and we will be looking to equal the success the team had this year in IMSA and finish a couple places better at Le Mans too."
Gunnar Jeannette, MacNeil's 2017 full-season co-driver, and 2017 Michael Shank Racing driver Jeff Segal will round out this car's lineup at the Rolex 24 at Daytona. Segal is a Ferrari GT specialist, having won all of the Rolex 24 at Daytona, Mobil 1 Twelve Hours of Sebring, 24 Hours of Le Mans and Sahlen's 6 Hours of the Glen in a Ferrari. He shifted to Shank's Acura NSX GT3 program this year.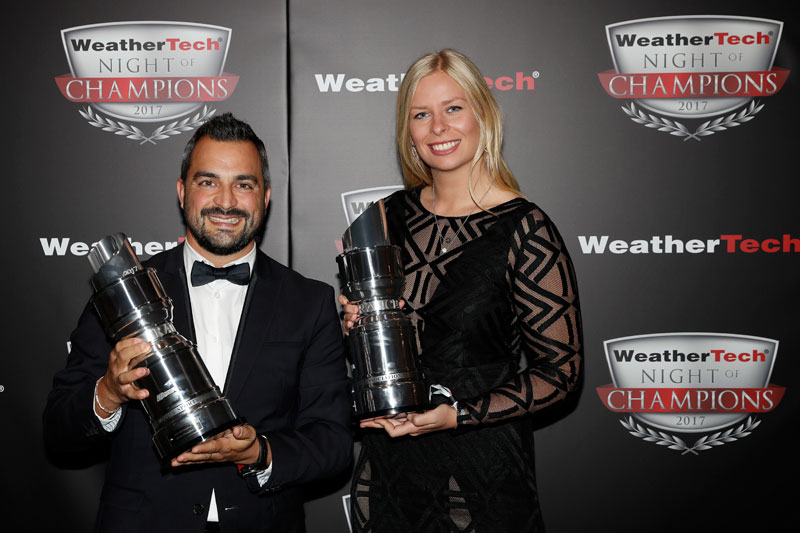 For Balzan and Nielsen, it's an end of an era after two very successful years where the measure of both championships was achieved by a wealth of consistency. This year, although the pairing won only once at Mazda Raceway Laguna Seca, a run of six straight podiums after a season-opening DNF at Daytona owing to an engine failure put them in a hole they'd need to dig out of.
"Already looking back now, six podiums in a row was kind of unreal!" Balzan told NBC Sports. "Plus we've gone all top fives except for one sixth. It was crazy. Scuderia Corsa always gave perfect car and strategy. We always stayed out of trouble. It was great.
"Winning at Laguna Seca was special. We'd started top-10 but I really wanted to win, as we were so close at the Glen and so close at Mosport before a technical issue. It was our home race and where I started racing with Scuderia Corsa five years ago. To win in front of our 200 guests, in a Ferrari in our 70th anniversary, was special."
Balzan was key to note before the deal was struck to keep him with Scuderia Corsa next season, without Nielsen, he's not actually a Ferrari factory driver despite the outward appearance as such.
"My history in the U.S. has always been with Scuderia Corsa and Ferrari. A lot of teams think I'm factory – I'm not – I'm proud to race Ferrari as an Italian American, but I have no straight connection.
"Making my debut with them at Le Mans this year, and with Christina and Bret (Curtis) was a dream come true. I had never been there before. I always said, if I go there, I go there to race… so I was a Le Mans beginner and a virgin! We had a lot of challenges there but Le Mans is Le Mans, and it was a beautiful thing… we learned a lot."
Nielsen now faces an uncertain future as she looks to continue racing in IMSA and in North America. The Dane who now lives in Los Angeles has rapidly established herself over her three full-time seasons in contending for the title in all three years, and winning two of them. A Sebring win in 2016 in the debut of the 488 GT3 – driving with Balzan and Segal – stands out as a big win among others.
Winning in the second year of the car proved a testament to her ability and that of the team to note it wasn't down to a car advantage.
"It feels amazing. It's always easy to point fingers at first year with the car. But to do it a second year in a row, to know it, and go against a bunch of manufacturers, very professional teams and to be able to beat that feels absolutely amazing," she said.
"To be in strong contention for championship, you can have one really bad DNF, and we had our's at Daytona. We had no chance to do it again the rest of the year basically and we executed it."
With the hope that Nielsen can land elsewhere on the GTD grid next season – she's certainly deserving of a shot – it'll be an intriguing subplot to see whether she or the revised Scuderia Corsa lineup will remain atop the GTD heap.