Arguably the flagship pilot of the Red Bull Air Race, Kirby Chambliss is a two-time Red Bull Air Race World Champion and will look to star in the skies over Indianapolis Motor Speedway this weekend. The Texas native now lives in Arizona and flies out of there; he's been a commercial and freight pilot as well over the course of his illustrious career.
You can watch coverage of Red Bull Air Race from Indianapolis on Sunday night, October 15, at 7:30 p.m. ET on NBCSN. Coverage runs til 9:30 p.m. ET. A re-air is Thursday, October 19, from noon to 2 p.m. ET on NBCSN.
NBCSports.com caught up with Chambliss going into the weekend, as he enters fourth in points but looks to make up the deficit.
—
MST: So heading to Indianapolis, you've provided some thrill rides for IndyCar drivers as co-pilots, such as Alexander Rossi and James Hinchcliffe…
Kirby Chambliss: "It's just such an awesome opportunity, and I appreciate Red Bull putting it together. I've been able to ride in an IndyCar a couple times. It's super exciting, but the concentration you (have to have) is intense. My race only lasts usually a minute or a minute and 15 seconds. These guys have got to go 500 miles. I can have that level of concentration for that small period of time, but for those guys, it's hours and hours and hours. It's amazing what they do. I enjoyed every minute of it.
"I think they really enjoyed going out and taking a small slice of my world and what it's like. They seemed to both enjoy it."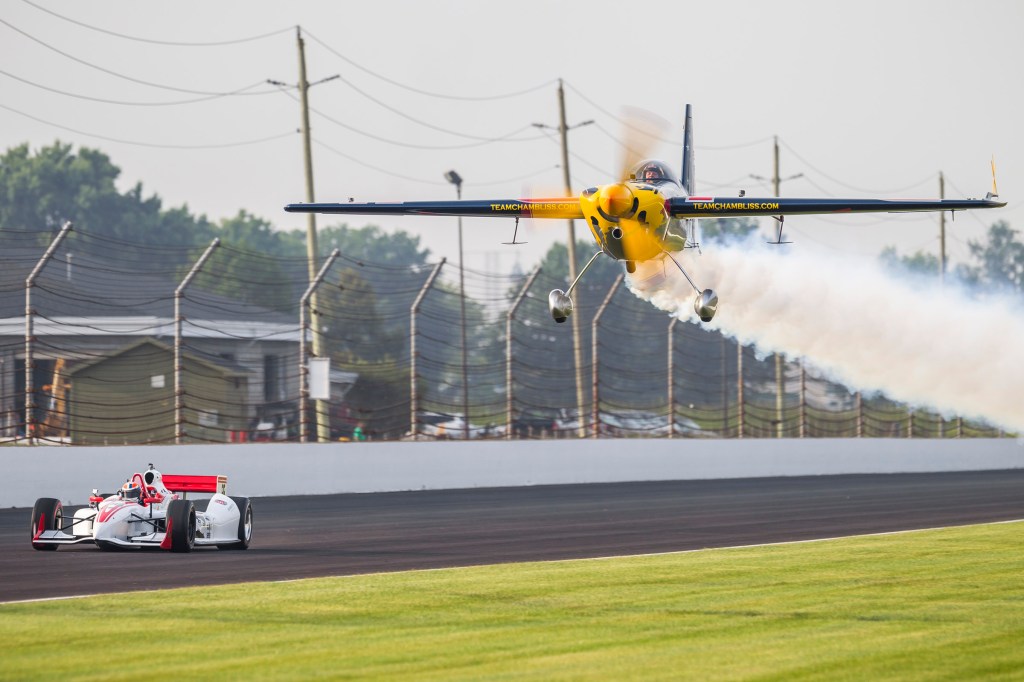 MST: Can you describe the sensation of pulling 10Gs?
KC: "The airplanes turn a corner so fast that we're in and out of the G really quick. My airplane's rated to +/- 12Gs, and that's its working G. So it can go beyond that. But, it's structurally set up for unlimited amount of times at +12 and -12 Gs. So, the airplane's good.
"The way I do it (train), is lifting weights. If you normally lift weights and you lay off for a couple months then you go out and do a really hard workout, then you're super sore. It's the same. I have to fly all the time, pull G all the time in order to have that high-G tolerance. That's what I'm able to do. There's really no substitute for it. The only that maintains that G-tolerance that I have is to go out and pull Gs all the time and that's what I try to do."
MST: How do you reflect back on your 2017 season?  
KC: "I look back on our year and it's been really good. At first, we struggled just a little bit and we had a couple questionable penalties here. In Abu Dhabi, we were really fast, I think we qualified third, and things were going well and a penalty took us out. Going into the Round of 14, we didn't get any points there, and that hurt us really bad, you always want to pick up some.
"And then, after that, we moved to San Diego and we ended up fourth there, so I was flying well. And the same in Japan – we were fast and were really close to the G, if we go over 12 Gs, the limit, then you're thrown off the track immediately. You try and you're trying to be fast and the only way to turn this airplane is to put it on its side, or if you're trying to do a vertical turn, the only way to do it is to pull G. That's what we're doing, but you're always trying to balance it without the Over-G. I saw that Over-G and that hurt us. And the next two races I won, which was fantastic. It's really difficult to do.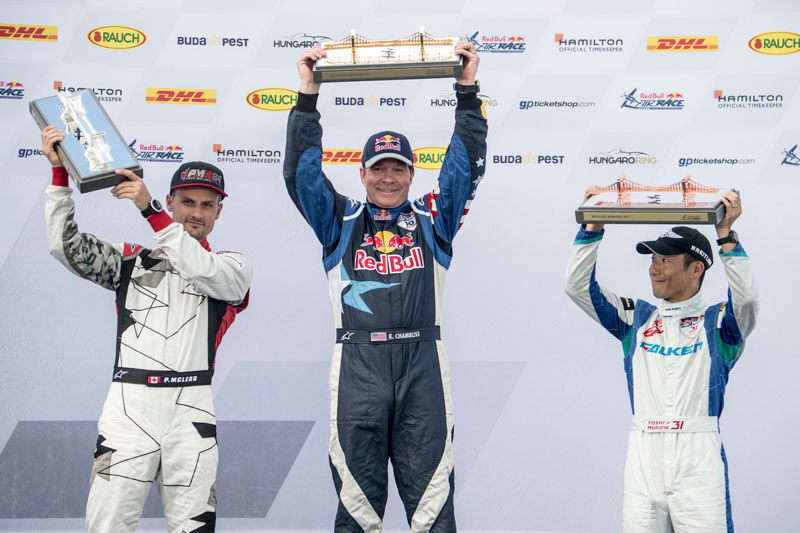 "And then Portugal, again we were super fast and we had one penalty, otherwise we would've won that race too and we ended up fourth. We got taken out by half a second – I went against Yoshihide Muroya at the last race and he took us out by half a second. The whole racing is so close. There is a little bit of luck involved in how you get paired up too. If you get a good pairing, then sometimes you can have a real easy run up to the Round of 4, or you can have a super difficult run depending on who you end up going against. In Germany, like I said, we went Yoshihide pretty early on and he took us out by half a second.
"I look at it – I've been flying great, my team is working really well together. We know we don't have the fastest plane but we're probably fifth or sixth, somewhere in there. We've made improvements to the airplane. From last year, it's been a really good racing season.
"We always want to be able to win the championship. Mathematically, we can win it but some guys have got to make some mistakes. Everybody tries to get bogged down in 'How many points' or 'You're leading the series' or 'You're not.' I go out and I try to win every race. I'm a two-time world champion and what I've found is that when I win enough races, they give me enough points, and they come back and go 'Hey guess what? You're the world champion!' That would be great, but I'm just going to be here, trying to win this race and we'll see what happens after that. That's all that I can control."
MST: How technical does the track look?  
KC: "It's got some technical stuff in it, for sure. It's not the most technically difficult one that we've ever flown or anything. But I think it'll be an exciting track. It's close to the track we had last year. It'll be an exciting race for sure. And with the championship still up for grabs, that's going to make it even more exciting."
MST: What does it mean to be an American pilot competing at home?
KC: "For sure. Indianapolis: this is racing country. People love racing, it doesn't matter what you're racing, they just love racing. And so, as far as I'm concerned, I love to win in the United States, my home country. But, hell, I love to win everywhere, that's what I'm here for. But, it always is that special when you're able to win, especially if you're able to win a championship. I've done that and won that in the U.S., so yeah, for sure I'm pumped up about this race. But, I just try to push all that out.
"I've flown in New York where you're flying next to the Statue of Liberty and I get right next to it and I'm like 'This is amazing.' And then I'm like, 'Oh, that'd right, you're here for a reason. You're here to race. Put all that out of your mind and get down to business here.' So, that's what I'll do here. I'm here to race, I'm here to win. And that's going to be going out and doing everything possible to make that happen."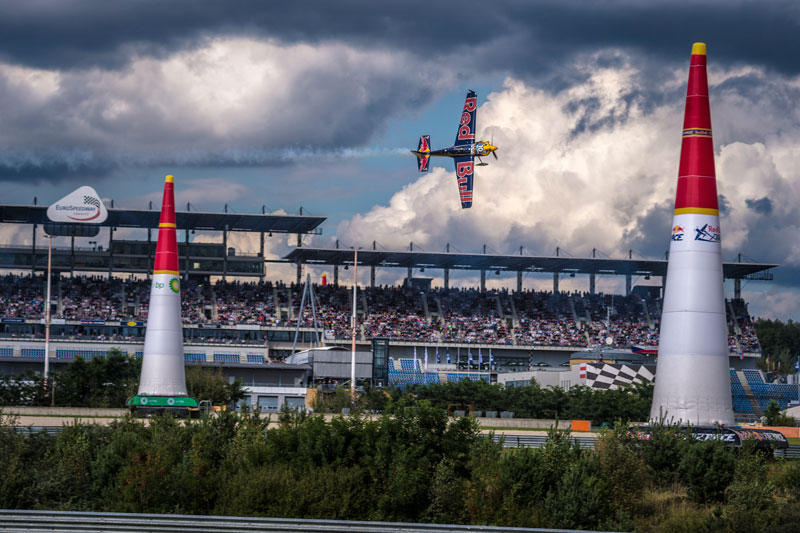 MST: I'm sure it's something to describe the exhilaration of flying… 
KC: "They're fantastic. The airplane will do whatever you ask it to. You've got to kind of speak it's language because it's very highly maneuverable and it's an unstable airplane. The fact that it is highly maneuverable. I kind of equate it to a Ferrari or a racing car. It's an amazing piece of machinery and again, it'll do whatever you ask it to do. As far as the race goes, we're going 230 miles an hour a few feet above the ground. These gates are whizzing by, you're pulling all this G, and you've got to be on your line even to make the gate sometimes.
"People are always like 'What are you thinking about? Are you think about your family? Are you thinking about 'this?" No, I'm thinking about what's the fastest way to get from this gate to the next gate, that's all I'm thinking about. It takes all your concentration. You can't be think about anything other than what you're doing right then. It's all in the moment for sure."
"People also think you're just going through the gate. Well, no, what we're trying to do is take the most oblique angle going through there. The gates are 33 feet apart and my wingspan is 25 feet apart, so you can do the math. Maybe you can go through there 20, 25 degrees off heading, in other words not straight through there, well I'm trying to take the biggest angle that I can that's going to give me the most advantage and the fastest run.
"But I've also got to balance that out of 'I've got to get through that gate' with if I touch one of the pylons, well then there's a three-second penalty. If I was going to win by a quarter of a second, losing three seconds is gong to take you out so you're done. But you have to take that angle because the other guy's going to and if you don't, he's going to take you out. You're always balancing everything right there too. But, again, we're not just trying to go through the gate, There's an optimum line that's got to go through there that's going to be the fastest and that's what we're all trying to do."
"Sometimes been knocked by one hundredth of a second and I've won by one hundredth of a second or even fewer. So, we always say it's about the length of the spinner even sitting up on the propeller. It's really, really tight and it's going to be a close race."