The new Schmidt Peterson Motorsports duo of James Hinchcliffe and Robert Wickens expressed a high amount of confidence during Wednesday's confirmation of Hinchcliffe's return and Wickens' signing, as the pair looks to return the Sam Schmidt and Ric Peterson co-owned team to prominent status within the Verizon IndyCar Series.
"We're hoping to give Toronto and Ontario and Canadian sports fans in general something to cheer about over the next season," Hinchcliffe quipped during a teleconference on Wednesday.
Granted, there are likely to be several challenges to overcome, notably for Wickens, who returns to single-seater competition for the first time since 2011, when he was a champion of the Formula Renault 3.5 series and served as test driver for the now defunct Manor Racing (then known as Marussia Virgin Racing).
Having spent every year since then in DTM, where he won a total of six races and finished as high as fourth in the championship (2016), Wickens knows returning to open wheel competition will be an adjustment. However, he explained that the history of Schmidt Peterson Motorsports, specifically its Indy Lights history, speaks to their ability to help a driver adapt, and he rates the program they're putting together very highly.
"I think Schmidt Peterson Motorsports have a fantastic driver development program. They showed that in their multiple Indy Lights championships along the way. I think we will have a strong program in place. I have a feeling that the simulator will be my new best friend," Wickens said when asked about getting reacquainted with an open-wheel car.
Of course, having an experienced teammate like Hinchcliffe to lean on will undoubtedly help the transition, something Wickens readily admitted.
"I'm very fortunate that I have James as my teammate because he's so experienced, I can learn off him. Because we already have such a good off-track relationship, I feel like you can just take his word, trust him, kind of move forward with it," he revealed.
They've been teammates before, both in karting where they first met in 2001, and then in the now-defunct A1 Grand Prix series in 2007-2008, a series that pitted nations against each other in spec open-wheel cars. Funnily, that A1GP type of vibe returns as Schmidt Peterson Motorsports now has that with its "Team Canada" mantra while all four of Andretti Autosport's full-season drivers are American.
For Hinchcliffe, Wickens' background, even if it hasn't been in the single-seater realm since 2011, was a big selling point in adding him to the team.
"In Robby, we have a proven winner at a very high level. The level of technical expertise that he comes from his time in DTM is very impressive," he said of Wickens' technical background.
Hinchcliffe added that Wickens' ability to analyze the car and its setup was evidenced in two outings: one at Sebing International Raceway in March, in part of a "ride swap" between the two longtime friends, and a second at Road America, when he subbed on Friday practice for Mikhail Aleshin.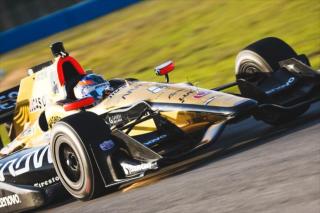 Hinchcliffe revealed that Wickens' feedback to the team and his ability to quickly adapt to the chassis took everyone somewhat by surprise.
"We did our ride swap. He had two hours in the car, hardly anything even resembling a test day, and his performance was pretty impressive. No doubt the time in Road America helped because that really gave us a better sense of his technical feedback, integrated with the team a little bit more. Everybody was happy to work with him on that day," said Hinchcliffe.
Further still, Hinchcliffe is firm in his belief that the 2018 aero kit and its reduction in aerodynamic downforce will fall right into Wickens' wheelhouse, based on Hinchcliffe's own take after sampling Wickens' DTM Mercedes earlier this year.
"In all honesty, I was saying earlier today, the 2018 car is probably better suited for him than the 2017 car because of the experience he's had the last handful of series," Hinchcliffe asserted.
"The (aero kit) was such high downforce, it would be a big change coming out of DTM. But with the loss of downforce that we've seen, the car is moving around a little bit more, brake zones, things like that, it won't be as big a transition I think. Just based on the experience that I got in our ride swap, I think he's going to adapt very quickly, be comfortable very quickly, and as a result be competitive very quickly. So it's going to be exciting."
As for expectations heading into next year, team co-owner Sam Schmidt did not mince words and expects the team's performance to resemble what they did in 2012, 2013, and 2014, when they won a total of four races (with driver Simon Pagenaud) and finished in the top five in the championship each year.
"We had a stint in '12, '13, '14 where we finished fifth in the points or better. I think we want to get back to that level of competition," Schmidt added. "We felt like we were missing things in having two cars with equal funding and equal drivers and equal capabilities. We think this gets back there."