INDIANAPOLIS – Takuma Sato seems to have a permanent smile even on his toughest days in a race car, but after his best one this May at the 101st Indianapolis 500 presented by PennGrade Motor Oil, this one was beaming even brighter on Tuesday night.
A round of gratitude, humility and grace came over Sato as he made his acceptance speech following the reveal of his likeness on the Borg-Warner Trophy. Sato is the 104th face (all 101 winners, plus the two co-drivers that won in 1924 and 1941, plus Tony Hulman) to grace the trophy and is the 28th face sculpted by William Behrends in Tryon, N.C.
It was the people Sato had to thank that stood out, as he paid tribute to the No. 26 Andretti Autosport crew.
Although this winds up being just a one-year adventure – like past Indianapolis 500 winners the late Dan Wheldon (2005) and Dario Franchitti (2007), Sato will not defend his title with Andretti as he heads to another team – the people here helped keep him in the zone to win the 2017 race.
"To be standing here only comes because the entire team did a phenomenal job, from Garrett (Mothershead) my super engineer, and everyone else," Sato said. "Will the sculptor did an incredible job. I'm so happy to see every single person here."
For Sato's race strategist, Paul "Ziggy" Harcus and Sato's longtime spotter, past IndyCar driver Roger Yasukawa, the win was particularly special because of how they watched Sato – whose "no attack, no chance" style has made him a lot of fans but also occasionally ended in tears – drive so smart in the moment to understand how to win this year's race.
"When you're doing race strategy, you're doing a huge part of the race," Harcus told NBC Sports. "I was there with the guy, and he kept it all together. All the work that builds up to that point. I feel so proud. It was a great moment in my life.
"Roger Yasukawa, his spotter did a great job. We had a bad stop, got back a bit (to 17th place), and he was going faster than he should have… Roger told him to slow down, get guys one at a time, and rein him in for the end."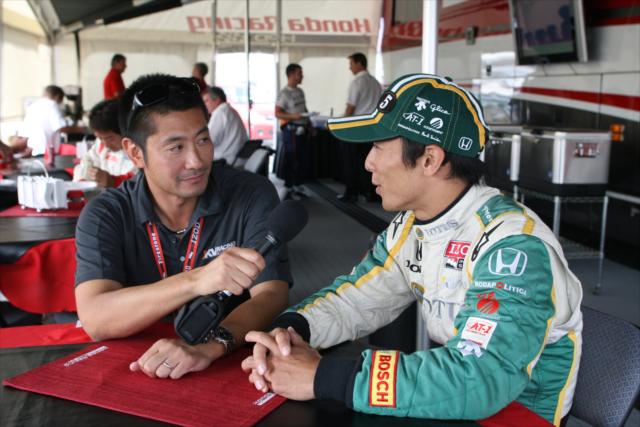 Yasukawa, who had a best finish of 10th in five Indianapolis 500 starts from 2003 through 2007, said Sato was in a special "zone" this race he hadn't seen previously. The two have worked together for seven straight years with Yasukawa his eyes in the skies.
"He has matured as a driver. You hate to put it this way, but I think everyone knows he's all or nothing, and still is!" Yasukawa told NBC Sports.
"But this year he was in this zone to know the boundaries of unnecessary risk. He went down to 17th and worked his way up methodically rather than all at once. It was great to see him that calm, and it was great to have the trust from him. We can't help them win as a spotter, but if we make a small mistake, we could cost him."
The relationship between the two of them is a special one and helped Sato stay focused during the race.
"What I try to work on is really a tempo within my voice, and try to relay that versus telling him something verbally. There's a synergy we have innately," Yasukawa said.
Sato has now had nearly five months since winning the race to go through the process of appreciating the win and seeing all that comes with it. The Borg-Warner Trophy face reveal is part of that process and being known around the world, and particularly in and for his home country of Japan, has added even more exposure to him and the race itself.
"I almost want to scream today because I'm so happy," Sato said.
"When I crossed the finish line I wasn't sure if I was Japanese or English, so I just decided to scream then! But today I had time to think about how amazing it was, and how Borg-Warner, the Indianapolis Motor Speedway and the Museum do all they do. This is so amazing for the people and families that live in Japan."
Sato only has two career wins but they've come at the series' two biggest races – his maiden win, at Long Beach in 2013, snapped an 11-year dry spell for A.J. Foyt Enterprises and the street race is regarded as the most prominent road or street race on the calendar. Indy, however, is a level far beyond that.
"Every win should be equally special, but the Indy 500… there is nothing like it. This is weeks and weeks, months later, and this win will always be there in history.
"BorgWarner commits so much, and all their support. The face is something expected, because there's 103 other faces. But truly, realistically, you see it and that creates an unbelievable feeling and experience. These people came for us today."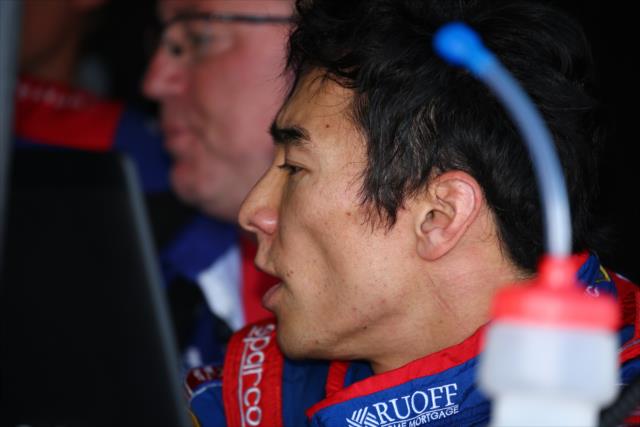 Sato's title defense in 2018 will be a different one as he's back at Rahal Letterman Lanigan Racing, where he famously came up short in 2012. He won't have either Harcus or Mothershead going with him, as they'll remain part of Andretti Autosport's strategic and engineering roster. He will have Yasukawa though guiding him up top.
"It's unfortunate we aren't able to continue as a total package but both of us have run there, and have unfinished business from 2012! Of course we'll come back to try to win again," Yasukawa said.
"He's a super guy. He's very natural on how he talks and reacts. He's become a fan favorite in the states. His English is great… and he's got a bit of an English accent!
"But he's done so much for the sport in Japan. The awareness in Japan has been spectacular. I have a lot of friends who I hadn't heard from in 10-20 years; now with Taku's success, they're getting back in touch. I thank him for that as he's helped us reunite.
"It was a great win. It'll be part of history forever."