INDIANAPOLIS – The Chris Griffis Memorial Mazda Road to Indy test at the Indianapolis Motor Speedway enters its seventh year this year, and always serves as a first look at the new season to come for the Mazda Road to Indy presented by Cooper Tires.
While last year it was the debut of the new Tatuus USF-17 Mazda that turned heads, this year it will be the new Tatuus PM-18 – in its first official public test by teams, after private testing has followed series testing over the last several months – that will be most intriguing to watch.
The new car is already reportedly several seconds faster than the venerable Star chassis with the Mazda Renesis rotary that served as the Pro Mazda Championship Presented by Cooper Tires' stalwart chassis for more than a dozen years, thanks to a moderate power jump to a 275 HP 2.0-liter Mazda MZR-PM18A motor developed by Elite Engines, with a six-speed sequential transmission. Reliability might need to be monitored as well as the new engine gets put through its paces.
There's 11 cars listed in Pro Mazda, which is a good sign this early on in the process as teams look to put together programs for a new season. The last two years, the car count has hovered between eight to 15 cars, with only eight to 10 of them full championship class contenders.
Existing teams Juncos Racing, Team Pelfrey and Cape Motorsports have six of the 11 cars entered. Juncos has evaluated several drivers already in private testing and for its three PM-18s this weekend, the series' defending champions have Carlos Cunha, Sting Ray Robb and Robert Megennis in its three cars.
Cunha enjoyed a successful first year in the U.S. with Pelfrey this year, and finished with a run of five podiums in a row to end the year. Robb, the teenager, learned throughout his year with World Speed Motorsports while Megennis had a tougher second season in USF2000 with Pelfrey despite winning his first race.
Pelfrey will test Kaylen Frederick as the Maryland teenager will look to impress after a solid first full year in USF2000, along with Kris Wright, who drove partial seasons in USF2000 (John Cummiskey Racing) and Pro Mazda (JDC Motorsports). Cape will run Oliver Askew, the USF2000 champion, in preparation for his graduation.
The five other cars come from three new teams, as USF2000 outfits BN Racing, Exclusive Autosport and Pabst Racing join the grid in anticipation of Pro Mazda efforts next season. Parker Thompson, Nikita Lastochkin, Calvin Ming and David Malukas all raced in USF2000 or Pro Mazda last year with all four now set to test this weekend; Malukas will have Dutchman Leonard Hoogenboom as a teammate a second car at BN Racing.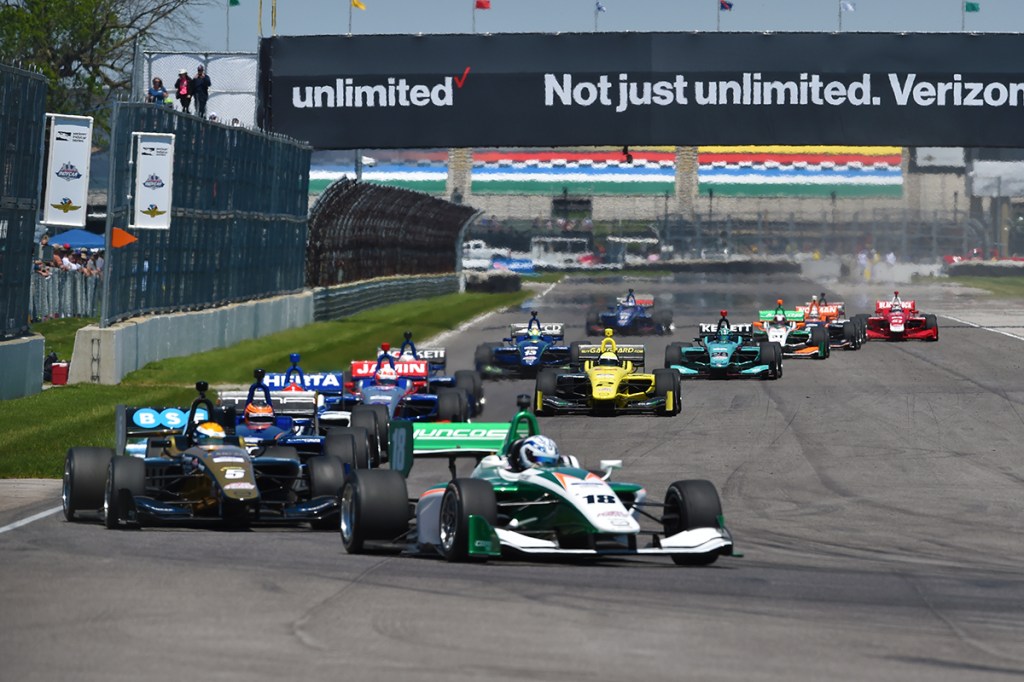 The Indy Lights Presented by Cooper Tires field features some new intriguing driver/team combinations.
Andretti Autosport and Juncos Racing will field four drivers each. For Andretti, it'll be three of its four 2017 drivers with Colton Herta (in an Andretti-Steinbrenner entered car), Ryan Norman and Dalton Kellett all listed along with Anthony Martin, who expects to graduate to Indy Lights next year after a year in Pro Mazda, and after coming up just short of the title to Victor Franzoni.
Franzoni, meanwhile, will make his Indy Lights test debut with Juncos this week. This will be a special week for the Pro Mazda champion as he comes home to IMS, as it's where he made his first test with Juncos last year at this event and then promptly swept the IMS road course weekend in May in Pro Mazda. Like Askew, Franzoni's team choice for 2018 will be announced at a later date by Mazda, but it wouldn't be a surprise for either driver to continue with their 2017 teams for another season.
Beyond Franzoni, Cunha, Nicolas Dapero and Heamin Choi will be in the Juncos Indy Lights cars. Dapero is believed to be returning to the Juncos team for a second season, looking to build on a year of development his rookie season.
Belardi Auto Racing is targeting anywhere from three to four cars next season, although none of its 2017 drivers are set to test with the team this weekend. Aaron Telitz will be on site helping a USF2000 team (RJB Motorsports) through its paces. Belardi will test Telitz's seemingly eternal sparring partner in USF2000, Pro Mazda and Indy Lights race winner Nico Jamin, along with Dutch standout Rinus VeeKay, who's also had private tests with Juncos Racing, Pabst Racing and Exclusive Autosport in Pro Mazda.
Elsewhere Pato O'Ward and T.J. Fischer will be teammates again as they were in Pro Mazda with Pelfrey at its Indy Lights team, Fischer making his test debut here in a Lights car. Carlin is notably absent this weekend, opting not to test.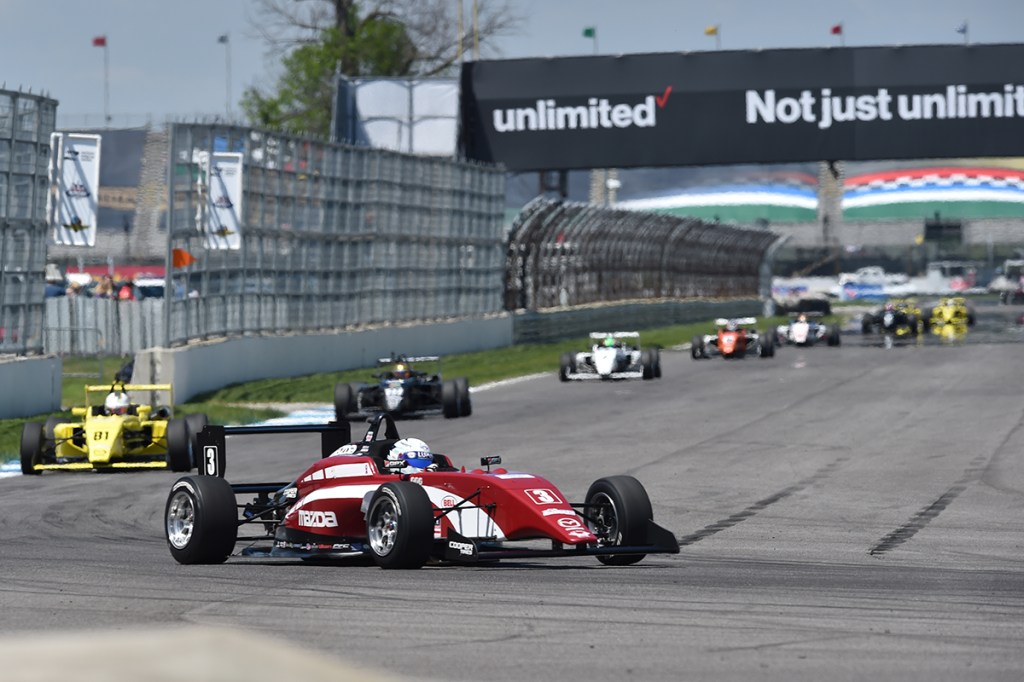 With the Cooper Tires USF2000 Championship Powered by Mazda the first rung on the MRTI ladder, this test provides the first real introduction to a large list of rookies. Only Telitz and Thompson (who wouldn't be racing in USF2000 next year), Lucas Kohl, Darren Keane, Callan O'Keefe, Jacob Loomis, Andres Gutierrez and Jayson Clunie have any level of USF2000 race experience among those listed to test, and the last five there have only run partial seasons.
The field isn't as big as it could be with the F4 U.S. Championship season finale happening this weekend at Circuit of The Americas along with the Formula 1 weekend, and with a number of international and domestic talents – including this year's Team USA Scholarship recipients in Jonathan Kotyk and Aaron Jeansonne – on display at the Formula Ford Festival and Walter Hayes Trophy in England.
Still, there's more than 20 drivers entered, including the only two females set to run this test with Sabre Cook (John Cummiskey Racing) and Zoey Edenholm (BN Racing) both part of the lineup. Cook was one of 10 drivers selected as a finalist for the Team USA Scholarship this year, and she, Loomis, David Osborne and Elliott Finlayson make it four of the 10 nominated that are testing a USF2000 car this week.
The full schedule is linked here, along with the entry list.