Juan Pablo Montoya is on site at this weekend's United States Grand Prix, his latest trip in a summer and fall filled with a lot of international travel and a number of different race cars he's been in.
Montoya is committed to a full season in the IMSA WeatherTech SportsCar Championship with Acura Team Penske in 2018, as he'll share one of the team's Acura ARX-05s with Dane Cameron.
However, the question of whether he'll be able to race in the 102nd Indianapolis 500 presented by PennGrade Motor Oil remains.
Team Penske has said it plans to only run four cars next month of May, with Helio Castroneves as the fourth driver alongside the three full-time cars driven by Josef Newgarden, Simon Pagenaud and Will Power.
While Montoya has said elsewhere that he's shopping offers and has talked with other teams, it'd be highly surprising to see the two-time Indianapolis 500 champion who developed the Chevrolet engine for IndyCar's 2018 Dallara universal body kit in a Honda-powered IndyCar, although he is running Honda's brand (Acura) in sports cars.
Montoya elaborated on his Indy 500 prospects in an interview with NBCSN pit reporter and insider Will Buxton at the Circuit of The Americas.
"Not full-time no," Montoya told NBCSN of his IndyCar 2018 prospects. "Hopefully I get a chance to go to Indy, hopefully with Penske, (and) if not someone else. We'll see."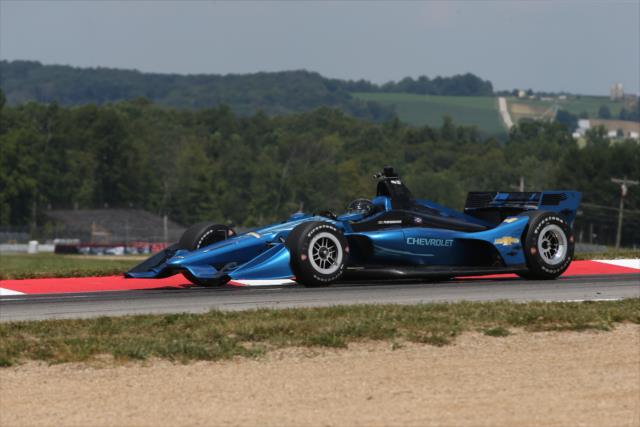 Montoya has extolled the early testing both on the 2018 IndyCar and on the Acura ARX-05.
The first Acura chassis has run at Road Atlanta and Sebring International Raceway thus far, and will be put through its paces at other venues over the next few months.
"It's been good. We did a lot of work with INDYCAR on that car. Fans are gonna like it," Montoya said of the 2018 kit.
"Going to IMSA with the Acura program, we've done a lot of testing. It's a beauty to drive. It drives better than what it looks! I haven't had that much fun driving a race car in a long time."