INDIANAPOLIS – Here's a rundown of times and notes from Saturday at the Chris Griffis Memorial Mazda Road to Indy Test, as all three rungs of the Mazda Road to Indy presented by Cooper Tires ladder had their first day of testing on the Indianapolis Motor Speedway road course. A link to Friday's notebook is here.
Times are below, followed by notes.
COMBINED TIMES
INDY LIGHTS (Best Session); Full Results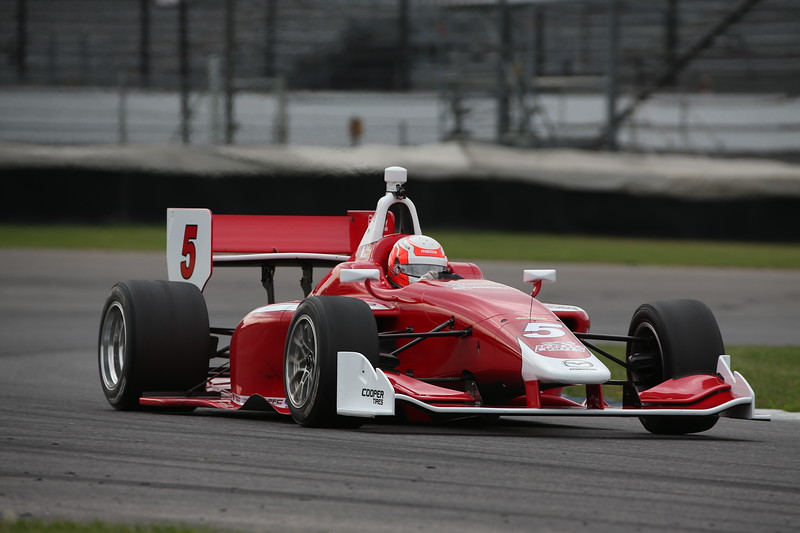 1. 5-Nico Jamin, Belardi Auto Racing, 1:15.7173 (Session 2)
2. 98-Colton Herta, Andretti-Steinbrenner Racing, 1:15.8246 (Session 4)
3. 23-Victor Franzoni, Juncos Racing, 1:15.9875 (Session 4)
4. 4-Rinus Veekay, Belardi Auto Racing, 1:16.2067 (Session 4)
5. 31-Nicolas Dapero, Juncos Racing, 1:16.2491 (Session 4)
6. 3-Pato O'Ward, Team Pelfrey, 1:16.2563 (Session 4)
7. 48-Ryan Norman, Andretti Autosport, 1:16.3285 (Session 4)
8. 27-Anthony Martin, Andretti Autosport, 1:16.5185 (Session 4)
9. 2-TJ Fischer, Team Pelfrey, 1:17.1030 (Session 4)
10. 21-Heamin Choi, Juncos Racing, 1:18.5179 (Session 4)
PRO MAZDA (Best Session); Full Results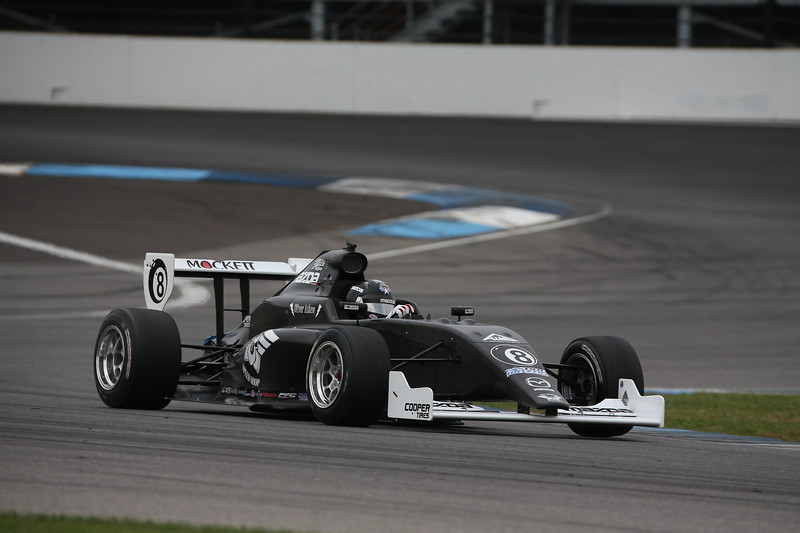 1. 8-Oliver Askew, Cape Motorsports, 1:19.8920 (Session 2)
2. 1-Carlos Cunha, Juncos Racing, 1:20.0236 (Session 2)
3. 3-Robert Megennis, Juncos Racing, 1:20.1268 (Session 4)
4. 81-Kaylen Frederick, Team Pelfrey, 1:20.2252 (Session 2)
5. 79-David Malukas, BN Racing, 1:20.2456 (Session 4)
6. 91-Nikita Lastochkin, Exclusive Autosport, 1:20.7001 (Session 2)
7. 18-Calvin Ming, Pabst Racing, 1:20.7373 (Session 4)
8. 80-Kris Wright, Team Pelfrey, 1:20.9930 (Session 4)
9. 2-Sting Ray Robb, Juncos Racing, 1:21.1250 (Session 2)
10. 90-Parker Thompson, Exclusive Autosport, 1:21.4425 (Session 4)
11. 78-Leonard Hoogenboom, BN Racing, 1:23.0447 (Session 4)
USF2000 (Best Session); Full Results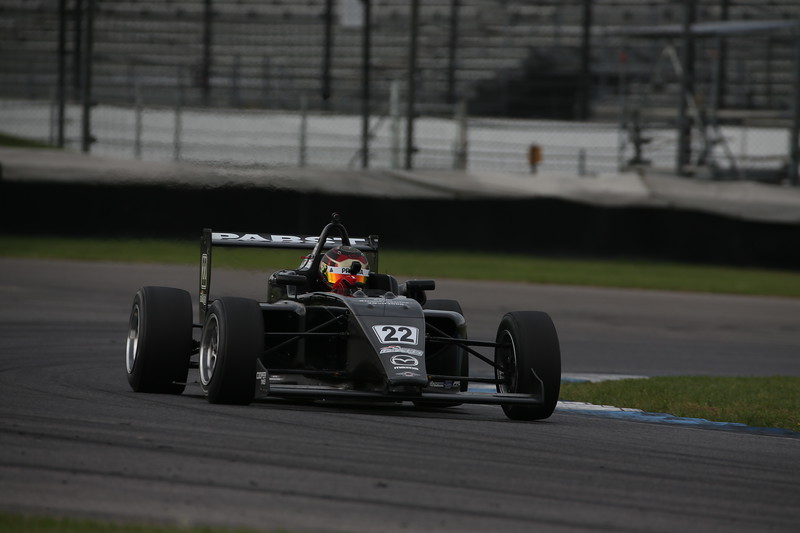 1. 22-Andres Gutierrez, Pabst Racing, 1:25.5618 (Session 3)
2. 27-Callan O'Keefe, BN Racing, 1:25.6295 (Session 2)
3. 36-Darren Keane, Newman Wachs Racing, 1:25.6882 (Session 3)
4. 90-Parker Thompson, Exclusive Autosport, 1:25.8743 (Session 2)
5. 23-Lucas Kohl, Pabst Racing, 1:26.0760 (Session 2)
6. 21-Hunter McElrea, Pabst Racing, 1:26.1432 (Session 3)
7. 37-Jake Craig, Newman Wachs Racing, 1:26.2452 (Session 4)
8. 80-Michael D'Orlando, Team Pelfrey, 1:26.2751 (Session 2)
9. 31-Rasmus Lindh, Team BENIK, 1:26.3193 (Session 4)
10. 20-Aaron Telitz, RJB Motorsports, 1:26.4349 (Session 4)
11. 32-Jaden Conwright, Team BENIK, 1:26.4557 (Session 2)
12. 38-Max Peichel, Newman Wachs Racing, 1:26.5739 (Session 4)
13. 82-David Osborne, Team Pelfrey, 1:26.6824 (Session 2)
14. 25-Elliott Finlayson, BN Racing, 1:26.8219 (Session 3)
15. 33-Myles Rowe, John Cummiskey Racing, 1:27.0620 (Session 4)
16. 34-Sabre Cook, John Cummiskey Racing, 1:27.2107 (Session 4)
17. 92-Justin Gordon, Exclusive Autosport, 1:27.7750 (Session 3)
18. 24-Zoey Edenholm, BN Racing, 1:28.6730 (Session 2)
19. 81-Jacob Loomis, Team Pelfrey, No Time
20. 93-Jayson Clunie, Exclusive Autosport, No Time
NOTES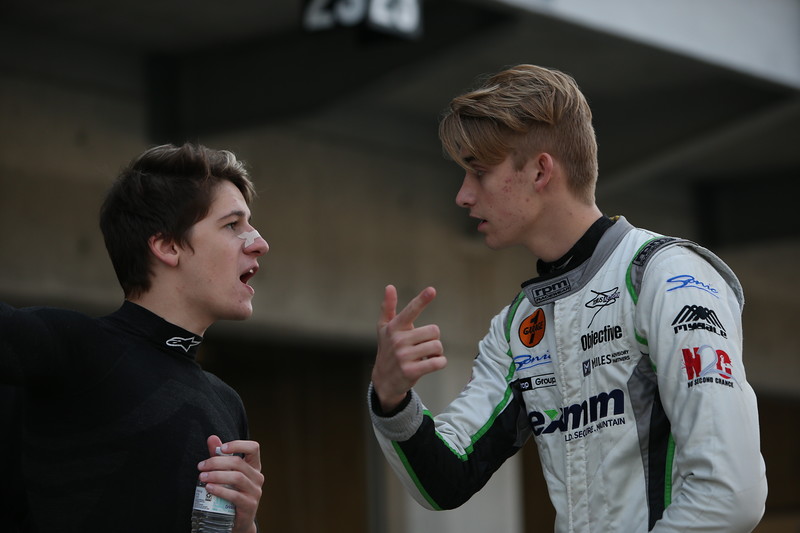 Drivers and teams alike have raved about the pace, and the rather loud sound, of the new Tatuus PM-18 Mazda. Reports from private testing had the new car rather close to Indy Lights pace at Mid-Ohio Sports Car Course and rather quicker than the old car at Road America. The first tangible evidence of that occurred today as all 10 of the Pro Mazda drivers who got representative laps (second BN Racing car of Leonard Hoogenboom ran only a few laps in session four after engine issues all day) supplanted the Pro Mazda lap record at IMS – 1:22.8800 by Pato O'Ward in 2016 – easily. Oliver Askew's best time of 1:19.8920 in the second session was nearly a full three seconds quicker on the 2.439-mile, 14-turn road course.
Of the 11 Pro Mazda drivers that ran today, only Carlos Cunha, Robert Megennis, Nikita Lastochkin, Kris Wright and Sting Ray Robb ran in the 2017 season. But it wouldn't be a surprise to see any or all five of them running full-time in 2018 for what would be each of their second seasons in the championship, as returning sophomores along with what should be a glut of strong rookies. Wright, who also races sports cars, looks poised to add a second program of some other series to a planned Pro Mazda full season.
Megennis is planning to test with other teams in the weeks to come, as he tests for Juncos this week after racing in USF2000 with Pelfrey the last two years. Both he and Robb missed portions of sessions today with new car issues.
Several Indy Lights spins and off-course excursions occurred but none produced any serious issues. Rinus Veekay and Anthony Martin were among those to test the course limits but kept on going unharmed. Veekay had a spin in session three on new tires, then promptly laid down the fastest lap of the session for Belardi later on.
His teammate this weekend, Nico Jamin, wound up with the fastest lap of the day in Indy Lights – although he wasn't quickest in the cool evening session, the fourth of the day, when most of the field ran some sticker tire runs on their Cooper tires.
Pro Mazda title combatants Victor Franzoni (Juncos) and Anthony Martin (Andretti) made their Indy Lights test debuts. The perpetually happy Franzoni wrote on Instagram, "Awesome day!! We finished the day in P3!! The most import we learned a lot!! Tomorrow will be even better!!" Martin, meanwhile, said this: "It's obviously a new car – bigger, faster and a lot more downforce, so I'm adapting to it and growing up to it nice and slowly. You don't want to push yourself too early, so we're working up to a few things. You have to do things a lot quicker and you have to use a lot more brake pressure."
In USF2000, it was an excellent day at the office for Pabst Racing with Andres Gutierrez – who impressed in a pair of weekends with DE Force Racing this year – leading three of four sessions, while teammates Hunter McElrea and Lucas Kohl were also in the top-five. Pabst has been busy running cars in both USF2000 and Pro Mazda this weekend.
Beyond Pabst, Newman Wachs Racing also had an excellent day, mainly with sophomore Darren Keane and Californian rookie Jake Craig. Keane, who's coached by Ozz Negri, led the fourth and final session of the day, and stands as a driver who could make a big leap forward in performance if he secures a full season in 2018.
Another team of note today was BN Racing, with Callan O'Keefe – Keane's teammate when both drove for Team BENIK at this race weekend last May – second best on the day. The South African is poised to be that team's lead driver next season. Teammates Elliott Finlayson and Zoey Edenholm are working towards seasons of their own; Finlayson having coming off a recent Super Sweep in SCCA Runoffs competition at IMS last month and Edenholm having only just graduated from karts into cars just this month.
While the USF2000 field was primarily rookie-dominated, two-year series veteran Aaron Telitz made a cameo return today with RJB Motorsports, and brought the ex-ArmsUp chassis its best pace yet in RJB's hands as the Wisconsinite ran with Mirl Swan and Alex Barron's crew support. Past RJB driver and two-time Team USA Scholarship, Michai Stephens, was also on site today.
Speaking of ArmsUp, its top rookie from 2017, Devin Wojcik was on hand today making the rounds as well, although wasn't in a car. He looks to return to USF2000 for a second season in 2018.
USF2000 boasted some good diversity with Pabst, BN, Newman Wachs, Exclusive, Pelfrey, BENIK and RJB teams in the top 10 today, but there's one notable omission: Cape Motorsports. The seven-time defending champions in the series are not testing in USF2000 this weekend, and has just a single Pro Mazda car on site for Oliver Askew. Granted, the team is also at Circuit of The Americas this weekend for F4 U.S. Championship action, where Kyle Kirkwood has taken that series' championship. DE Force, which also ran in USF2000 this year, is also not here this weekend as it's at COTA. ArmsUp isn't here this weekend either.