Add Lance Stroll and Kevin Magnussen to the list of drivers – Stoffel Vandoorne (five spots), Max Verstappen (15) Nico Hulkenberg (20) and Brendon Hartley (25) – penalized in qualifying for the United States Grand Prix, and starting in a place other than where they qualified.
Stroll and Magnussen have each been docked three grid spots for impeding another driver during the session. For Stroll, it was Magnussen's Haas F1 Team teammate Romain Grosjean while Magnussen was judged to have impeded Sergio Perez as well. Before any penalties are applied, Stroll was 17th and Magnussen 20th in qualifying, having both been knocked out of Q1.
—
The first penalty point assessed to Stroll came as a result of his running wide exiting Turn 19, which then forced Grosjean onto the excess pavement at corner exit and onto the grass.
A statement from the FIA race stewards reads as follows:
"The Stewards examined multiple angles of video evidence, including CCTV not available on the broadcast and radio calls to car 18, and heard from Lance Stroll, the driver of car 18, Romain Grosjean, the driver of car 8 and the team representatives.
"STR was on a slow lap, GRO on a fast lap. STR was changing settings under direction of his engineer and got a very late call about GRO overtaking. STR immediately moved right and off the track, but GRO was already outside track limits and made the decision to overtake on the right, as STR moved right.
"It was obvious STR was not able to see GRO was approaching in his mirrors, and he stated he could not move to the left as KVY was passing him on that side.
"The Stewards believe STR did what he could do in the circumstances but this was potentially a very dangerous situation as the speed differential between the two cars was in excess of 100 km/h at the apex of turn 19. The Stewards believe the team should have given STR more advance warning that GRO was approaching rapidly."
Grosjean later told BBC Radio 5 Live's Jennie Gow afterwards, "The one on Lance Stroll was close. I was lucky not to spin in the grass. That would have been the end of it."
—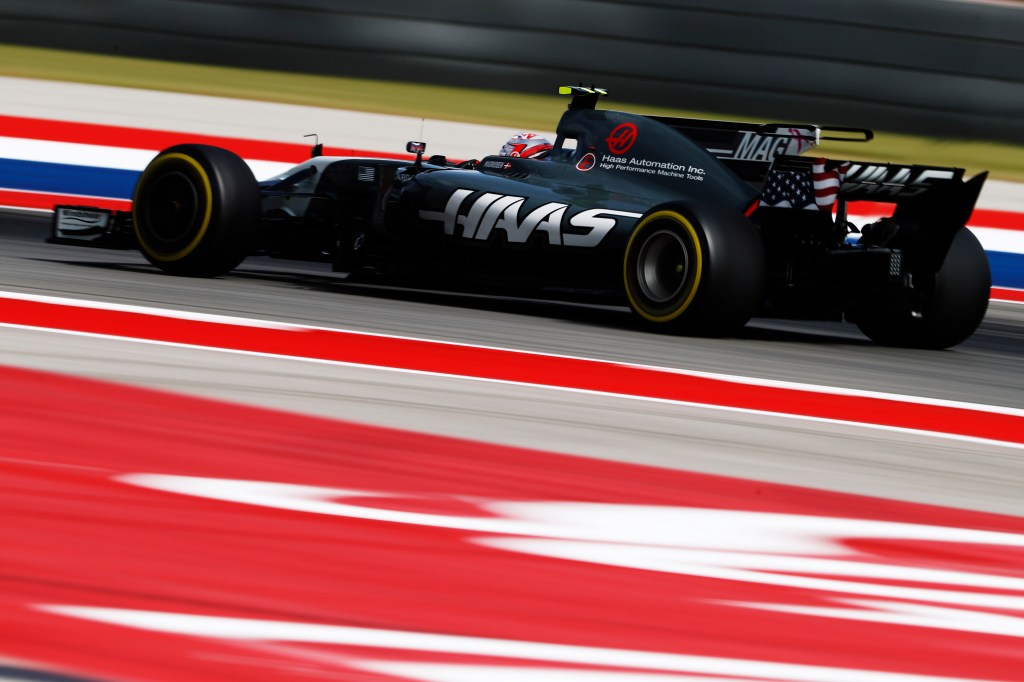 Magnussen, meanwhile accrued his sixth, seventh and eighth penalty points in a 12-month period for having been judged to impede Perez. The FIA's statement here reads:
"The Stewards examined multiple angles of video evidence, including CCTV not available on the broadcast, the team radio calls, and heard from Kevin Magnussen, the driver of car 20, Sergio Perez, the driver of car 11 and the team representatives.
"The driver of car 20 admitted he had impeded car 11, and the team admitted it had inadvertently incorrectly advised the driver that PER was on an out lap.
"The driver and team apologized to the driver of car 11 for the error."
Perez told Gow afterwards," We had good pace in the car today. But my qualifying was compromised big time when Kevin blocked me. I had to use an extra set. So in Q3 I only had a single set. It was strange; it was quite understeery. Lost four tenths to Q2, and that meant P10. Definitely tomorrow I will be able to recover, move forward."
The full grid will be revealed on Sunday, with live coverage from Austin beginning with pre-race coverage at 2 p.m. ET on NBC.