This weekend, the Formula 1 world came to the United States for the United States Grand Prix from Circuit of The Americas. But it was also a big weekend for Americans racing in Europe this weekend.
American teams claimed titles in European Le Mans Series competition in Portimao, Portugal, while this year's two Team USA Scholarship drivers excelled in the Formula Ford Festival at Brands Hatch, England.
—
PAIR OF AMERICAN TEAM CHAMPIONS IN ELMS
At the European Le Mans Series finale in Portimao, Portugal, two American teams captured titles with the DragonSpeed-run, G-Drive Racing-backed entry driven by Memo Rojas, Leo Roussel and Ryo Hirakawa in LMP2 and with the Anglo-American United Autosports team in LMP3, with a pair of American drivers in Sean Rayhall and John Falb.
Rojas and Roussel are the LMP2 driver's champions with Hirakawa not on equal points after missing a couple races in the No. 22 Oreca 07 Gibson. Elton Julian's DragonSpeed team has focused primarily on Europe in recent years, and propelled both the team's No. 22 and 21 cars to success in ELMS throughout the year, and made its debut at the 24 Hours of Le Mans.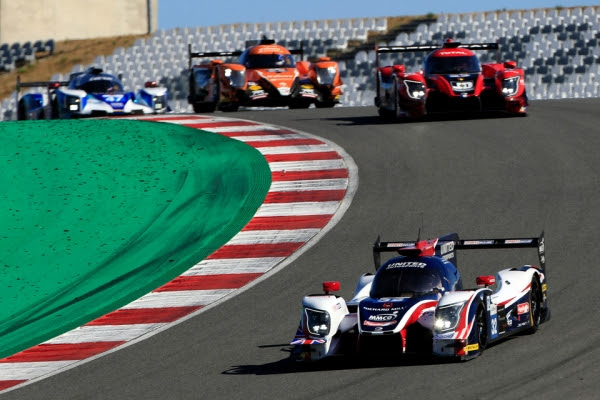 United Autosports missed out in LMP2 with its trio of Filipe Albuquerque, Will Owen and Hugo de Sadeleer in its No. 32 Ligier JS P217 Gibson, coming both second in the race (to Graff Racing's trio of Richard Bradley, James Allen and Gustavo Yacaman) and the championship (down 12 points to Rojas and Roussel). The result was unfortunate as it came with a 55-second stop-and-go penalty for exceeding the maximum pit speed limit.
But it did defend its LMP3 title as last year, with Rayhall and Falb finishing second in the race in its No. 2 Ligier JS P3 chassis, behind teammates Wayne Boyd, Mark Patterson and Christian England in the No. 3. Rayhall has blogged for NBC Sports this season and undoubtedly will have a fun read soon as the pair recovered from an issue in qualifying that resigned them to the back of the field.
"Winning the ELMS LMP3 title is extremely satisfying – it's a great series – six, four-hour races is a great formula. Zak (Brown) and Richard (Dean) at UA have been fantastic as have our car crew. Their professionalism gives us confidence in the car and its paid dividends for us all. Christian [England] was catching me before I made a small mistake which allowed him to get ahead," Falb said.
—
JEANSONNE, KOTYK IMPRESS IN FORMULA FORD FESTIVAL
We'll leave it to Team USA Scholarship founder Jeremy Shaw to recap the outings of Aaron Jeansonne and Jonathan Kotyk, this year's recipients, in the Formula Ford Festival at Brands Hatch this weekend, linked here.
The pair finished just outside the top 10 in the 20-lap final, Kotyk in 11th and Jeansonne in 13th. Both improved from 16th (Kotyk, in No. 21) and 18th (Jeansonne, in No. 22) on the grid, with Kotyk's fastest time of 50.809 seconds slightly quicker than race winner Joey Foster's best of 50.892. The full results from the weekend are here.
All the news covering this year's crop is linked here, and here's a link to their blog pages (Jeansonne, Kotyk).