In a Formula 1 season filled with driver swaps and changes, 2017 offered up its latest twist when Toro Rosso confirmed on Monday it would enter this weekend's Mexican Grand Prix with its third different line-up in as many races, and fourth in the last five.
Having drafted in Porsche factory driver Brendon Hartley to replace Pierre Gasly in Austin last weekend due to the latter's Super Formula commitments in Japan, Toro Rosso confirmed it would be fielding the 2017 Le Mans winner once again this Sunday for his second F1 start.
With Gasly returning, Daniil Kvyat finds himself on the sidelines for the second time this season – and, quite likely by the looks of it – the final time.
Kvyat's fall over the past 18 months has been one of the hardest stories to watch in F1, with the Russian going from Red Bull's top scorer to the sidelines, being dropped three times along the way through its B-team.
Ever since Max Verstappen burst onto the scene as a fresh-faced 17-year-old with Toro Rosso in 2015, Kvyat's position looked at risk.
In truth, Kvyat's F1 position has always seemed that way, as his appointments or demotions to seats have always come with an element of surprise.
He got the initial call at Toro Rosso over Antonio Felix da Costa going into 2014, which was not expected. Then, he got the promotion to Red Bull after Sebastian Vettel's shock departure the end of that year, and after the team had reneged on a promise it'd made to Jean-Eric Vergne should it happen.
Alas, Kvyat did well to ease some of the pressure through 2015 with a solid year, taking one podium en route to finishing as Red Bull's top scorer in a fraught season for the team as teammate Daniel Ricciardo suffered regular reliability issues.
Even so, the 2016 season begun with Verstappen already being talked about as a rival for his seat, leading to questions for Kvyat at the launch of Red Bull's new car, the RB12, in London that February.
As would become his approach for much of the last 18 months, Kvyat brushed it off and said he wasn't bothered by any pressure Verstappen may apply, seeming at ease in life at Red Bull's top team.
February 2016 also saw the emergence of a viral internet meme, 'Damn Daniel' (or, more accurately, 'daaaaaaamn Daniel!') featuring a school kid admiring his friend's shoes, specifically white Vans. In the months that would follow, it would be Daniil who would be left saying "damn" as his Red Bull career fizzled out.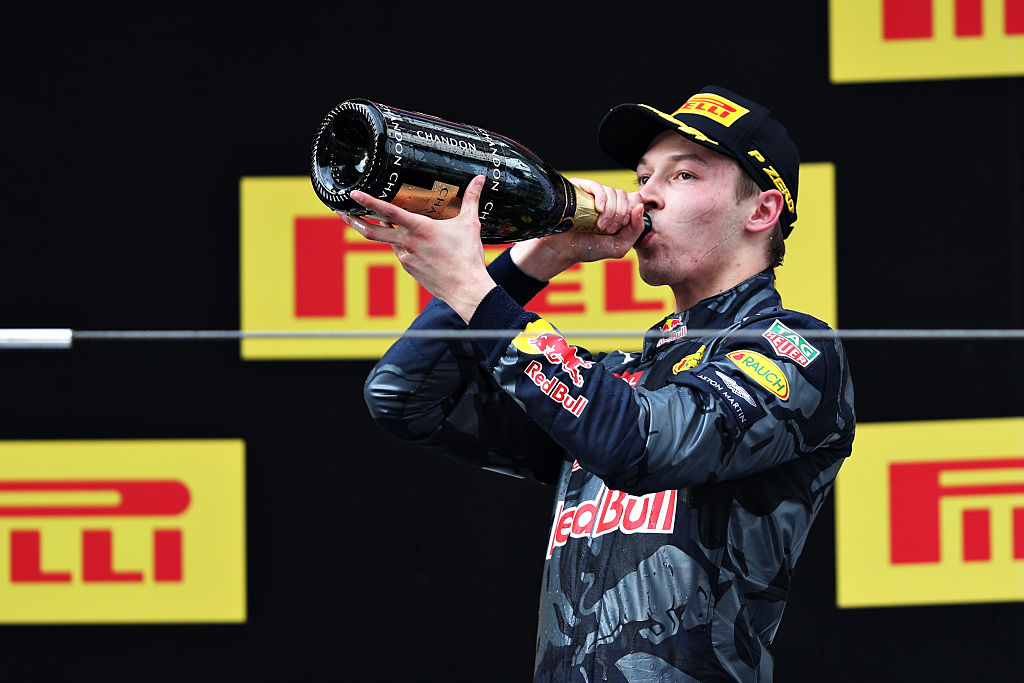 An opportunistic podium in China after a bold first-lap move that earned him the nickname 'The Torpedo' appeared to breathe fresh life into Kvyat's hopes at Red Bull, only for a disastrous home race at Russia to give the team the excuse it needed to swap seats with Verstappen at Toro Rosso.
The rest of 2016 proved tough for Kvyat mentally. He maintained the outer steel that the machismo nature of F1 apparently obligates, but the cracks were there below. It was good to see him refreshed after the summer break and deliver some good displays that would get him a reprieve with Toro Rosso for 2017, leaving Gasly waiting in Red Bull's wings.
A lack of on-track success proved costly, though. A crash in Singapore saw Red Bull take action and replace Kvyat with Gasly after he'd scored just four points all season long. Teammate Carlos Sainz Jr., by comparison, had racked up 48 in the same period.
Toro Rosso stressed in announcing Gasly that Kvyat remained firmly a part of the Red Bull family, with the team announcing after Japan he would return for the rest of the season after Sainz's early move to Renault.
Things changed when Gasly was taken out, Hartley came in and did a fair job, leading Red Bull to commit to fielding the pair in Mexico, with this announcement making no mention of Kvyat at all.
It is possible for Hartley to see out the season alongside Gasly without missing any WEC races for Porsche, although it would commit him to a brutal eight-weekend run of races, starting with Petit Le Mans at Road Atlanta two weeks ago and finishing with the Abu Dhabi Grand Prix via Fuji, Austin, Mexico City, Shanghai, Sao Paulo and Bahrain.
While no commitment has been made by Toro Rosso, such a call seems likely. Hartley looks set to wrap up the WEC title next weekend in Shanghai for Porsche, easing the late-season pressure. And as Toro Rosso has hit the season limit of four drivers already, Hartley and Kvyat must see out the year alongside Gasly.
If Red Bull truly does not have any plans for him in the future, it would be for the best that Kvyat does not return – for his own good more than anything.
Sportsmen rarely open up about the mental effect of defeat and disappointment, but they are human; they feel it. And Kvyat has felt it more than anyone in F1 of late. Three droppings must have sapped his confidence, particularly after delivering what he called a "perfect" display in Austin on Sunday despite limited track time and a month out. There was nothing more he could do.
Kvyat stressed in interviews in Austin he would talk to Red Bull advisor Helmut Marko to try and get some answers, wanting clarity more than anything. Why was he dropped after Singapore? Does he have a future? Apparently he has a long-term contract in place with Red Bull – will that be honored? And are both sides willing?
Kvyat needs to be given the chance to get on with his career. A GP3 and Formula Renault champion, he undoubtedly has talent, and could certainly find success in other series were he unable to find a spot in F1 given the lack of available seats. He just needs the chance to give it a go, be it Formula E, WEC, IndyCar – whatever takes his fancy.
The long-term contract in place with Red Bull is interesting. It could be that like Hartley or Sebastien Buemi, Kvyat remains a part of its wider motorsport family, just not in its F1 plans. Red Bull-backed drivers are always of interest to teams; someone with F1 pedigree even more so.
As for Toro Rosso? Hartley continuing points towards him being a contender for a 2018 seat, despite him appearing before to be nailed on for a ride with Chip Ganassi Racing in the Verizon IndyCar Series. The absence of other Red Bull juniors vying for the seat aids his bid, but the team could yet explore other options outside the program's umbrella to find a partner for Gasly.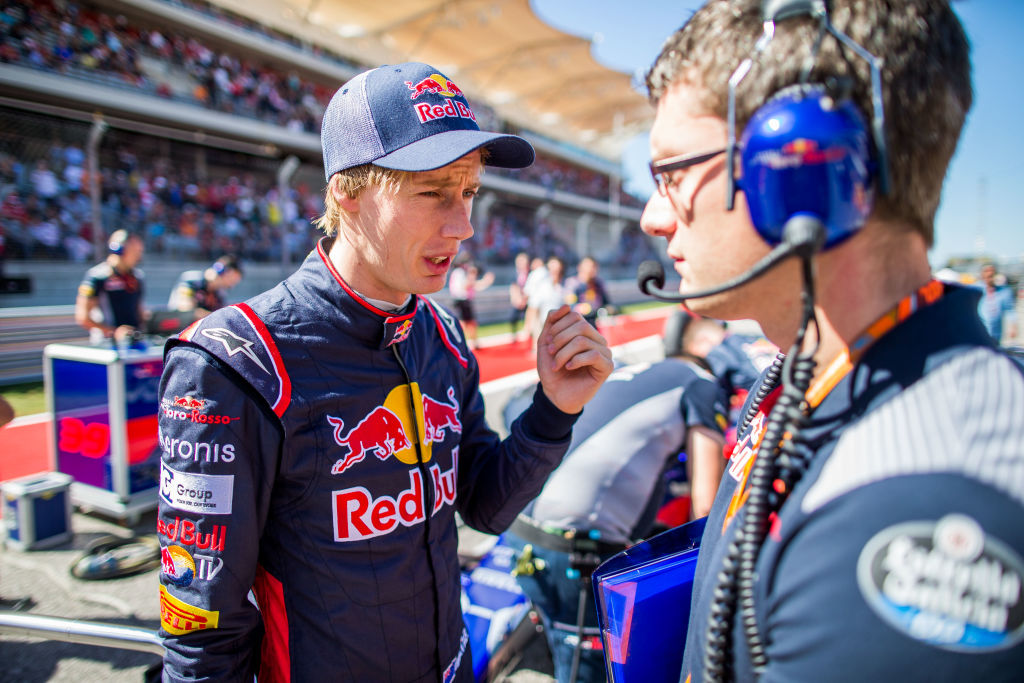 What Kvyat does next will be of interest to the entire F1 paddock. Nobody likes to see a driver go through prolonged struggles. To see him move on and enjoy success elsewhere after a tough couple of years would be a real good news story in the sport.
But his time here does seem up. Results do not lie. Under the old points system, Kvyat would never have scored a point during either of his stints with Toro Rosso.
And that's not the 'old old' points system that only saw the top six score points – that's the top eight being covered, as used from 2003 to 2009. Kvyat's highest finish for Toro Rosso is P9.
And in F1's most cut-throat driver program at Red Bull, that simply does not cut it.