Yesterday's confirmation that Brendon Hartley would be in the second Scuderia Toro Rosso race seat for at least the next Formula 1 race in Mexico this weekend does build the case that his eventual switch into the Verizon IndyCar Series in 2018 isn't yet solidified.
Although no one from Chip Ganassi Racing has confirmed it publicly, there's been enough chatter among IndyCar insiders within the paddock that Hartley is destined for that team's second seat next season alongside four-time champion Scott Dixon, in what would be an all-Kiwi lineup to counter Schmidt Peterson Motorsports' all-Canadian pairing and Andretti Autosport's all-American quartet.
However, such a confirmation appears delayed because of the now greater possibility that Hartley's F1 career could continue past this brief 2017 cameo.
If it did, there would be ripple effects to come, and suddenly a guy who hasn't made his IndyCar debut is the domino that triggers what's left of IndyCar silly season.
Essentially there's two scenarios at play, so let's forecast them here:
HARTLEY COMES TO INDYCAR, AND DOESN'T GET F1 SEAT
If Hartley is confirmed at Ganassi, it lessens the likelihood of significant movement in the other remaining seats. Beyond the No. 10 Honda, there are three "official" seats and anywhere from two to three "unofficial" seats still standing for 2018.
Those remaining "official" seats are the three cars that raced in 2017 but whose 2018 plans aren't solidified: the No. 19 Dale Coyne Racing Honda, No. 4 A.J. Foyt Enterprises Chevrolet and No. 20 Ed Carpenter Racing Chevrolet for road and street courses. The two or three "unofficial" seats would be one or two at Carlin, provided Trevor Carlin's team makes a step up from Indy Lights (although they weren't present at the Chris Griffis Memorial Mazda Road to Indy Test this weekend at Indianapolis Motor Speedway road course) and perhaps a second seat at Harding Racing, which has been rumored in recent weeks.
Incumbents Ed Jones and Conor Daly are rumored to be favorites at the Coyne and Foyt seats at this juncture, while Carpenter's road and street course seat is a wild card. Carlos Munoz has said he's out of Foyt, leaving the team in a Daly-or-bust situation if it's to retain one of its two 2017 drivers.
Among others, RC Enerson is believed to be exploring his options to make a comeback into the series after his impressive three-race cameo the end of 2016.
Carlin is earmarked for Max Chilton in at least one seat but whether Charlie Kimball would come along with him seems a question mark based on what NBC Sports is hearing about the amount of potential budget he could bring to a program.
Or…
IF HARTLEY GETS 2018 F1 SEAT, SUDDENLY IT ALL CHANGES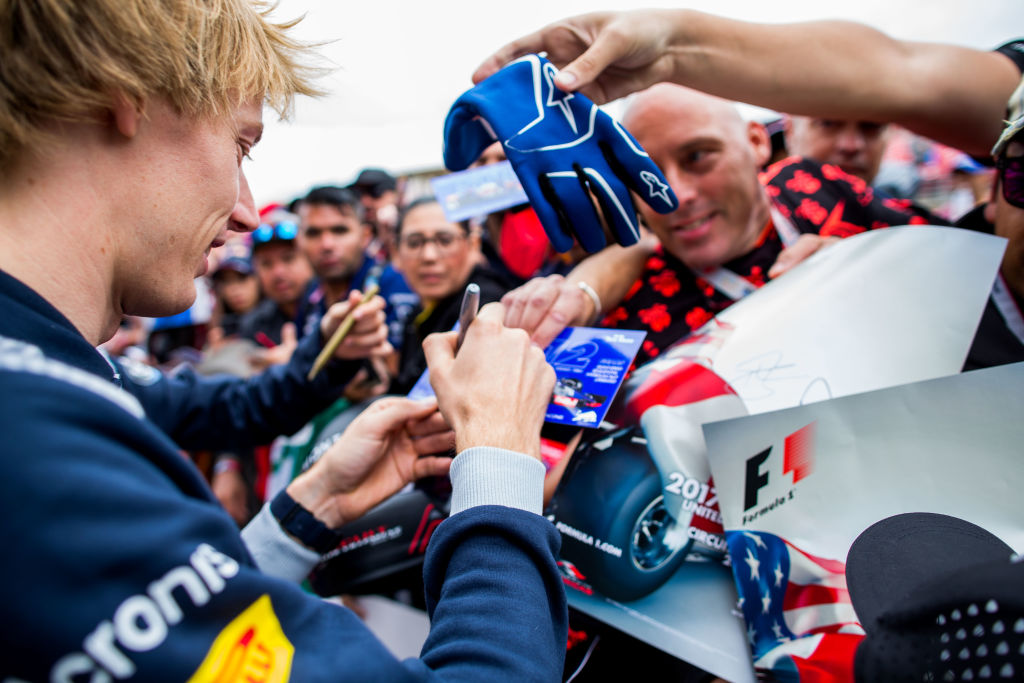 So beyond Mexico there's two more Formula 1 races – and for that matter two more FIA World Endurance Championship races – for Hartley to complete this year.
After Mexico, he'll go to China for the FIA WEC penultimate round of the season on November 5, and then in succession if he got the F1 slot for the final two races he'd come back to the Americas with the Brazilian Grand Prix on November 12, then complete a Middle East double dip with the Bahrain FIA WEC finale on November 18, and then the Abu Dhabi Grand Prix November 26.
It'd be a grueling stretch but one Toro Rosso may well opt for him to do so as to stop its rotating driver lineup, with Daniil Kvyat all but dismissed again following this past weekend's United States Grand Prix.
Red Bull's management will have a greater sample size to judge Hartley's potential on with at least two Grands Prix, if not four, by this stage of the season. And after Mexico this week, they'll have their first look at a direct head-to-head matchup between Hartley and Pierre Gasly, two young drivers with a combined 3 Grand Prix starts between them entering the weekend, but two young drivers who are more in the mold of what you'd expect a Toro Rosso lineup to be.
Provided Hartley can be extricated from his potential IndyCar bow at Ganassi, if such an arrangement has already been agreed upon between the two parties, it opens up a couple intriguing possibilities with both this seat and others in the series.
One such option sees Coyne moving back to its status of "TBA" despite it wanting to keep both Jones and Sebastien Bourdais for another season.
Both Coyne and Jones said at Sonoma they hoped to reach a deal within "a couple weeks" of the Sonoma season finale but as we near the end of October, that hasn't been done – and Coyne's team is back to having one standing TBA driver in its lineup.
Could Jones and/or Enerson be in the frame for the Ganassi seat if it becomes available? And what then would follow at Coyne, in terms of who could line up alongside Bourdais if Jones isn't there for a second successive season? Enerson would be a natural choice and his former Indy Lights teammate, Santiago Urrutia, is also believed to have sniffed around that team's situation.
THE WAITING GAME
IndyCar silly season has stalled out of late, with expected confirmations coming at Schmidt Peterson and Foyt – but not at Ganassi or Carlin – in the last few weeks since the season ended at Sonoma.
The delay now sees IndyCar waiting on an F1 driver's fate, over what is a crazy travel stretch of racing over several countries and continents.
It goes back to our pre-United States Grand Prix look at Hartley's stunning 2017 rise, in that a guy who's never as much even sat in IndyCar before suddenly holds the keys to the remainder of IndyCar's 2017-2018 silly season.