Several partnership announcements revealed during Motul Petit Le Mans weekend perhaps didn't get as much attention or coverage as they might have had they been revealed prior to or after the weekend. Alas, they're still worth noting and exploring a bit more.
One of them was Motul, confirmed as the "Official Motor Oil" of the IMSA WeatherTech SportsCar Championship, and the IMSA Continental Tire SportsCar Challenge from 2018.
Motul's lineage in endurance racing dates back to the 24 Hours of Le Mans in the 1950s, and Motul has been active in other forms of motorsport mainly across Europe in recent years.
It hasn't made as big of a leap into the North American market and the new partnership with IMSA is one where the company is keen to expand its presence here.
"We look at the quality of a championship, and whatever support there is from factories," Motul USA president Guillame Pailleret told NBC Sports at Petit Le Mans.
"There are not many other series in America with this many factories or companies. There's 15 to 19 at least, and it's tremendous. We're a small company. We're not an oil company; we focus on performance lubricants. So the range of brands here is a big opportunity for us."
Within the agreement, Motul has the entitlement rights for the Motul Pole Award for the WeatherTech Championship Prototype (P) and GT Daytona (GTD) classes, as well as all Continental Tire Challenge classes which includes cars eligible for the award running two Motul decals.
In addition to its entitlement of the Motul Petit Le Mans and overall partnership with Road Atlanta, Motul has established partnerships with seven additional WeatherTech Championship venues and events.
Having the title sponsor branding at Petit Le Mans, a race that celebrated its 20th anniversary this year, was Motul's first proper arrival from an activation standpoint. Petit Le Mans has not enjoyed as much consistency in its title sponsorship role as have the 36 Hours of Florida races, with Rolex (Daytona) and Mobil 1 (Sebring) both entrenched in their roles.
"It's thrilling really. We're so proud and honored. It's a huge deal for us," Pailleret said.
"As we talked about before, it's about what are we going to do with it? We're committed to drive it as much as possible.
"It's endurance racing… it's a very different type of environment because there is so much pressure on all the competitors for such a long time. What we can take out of it for us, is the content we can't see anywhere else. This is why we started in Le Mans in the '50s."
So what, in fact, are Motul's plans beyond the obvious? Pailleret explains what the company is trying to accomplish within IMSA, a series the company feels is on the rise.
"We're going to try to activate as much as we can for all races of the calendar. That's a big deal; it requires a lot of resources. We want to do it right," he said.
"The second goal is to take it at a consumer level. The goal is to put IMSA and Motul at the consumer level, not just at the trade level.
"We have this weekend, about 200 customers coming from 70 different countries. Just like with Michelin, what we're doing here isn't just for North America, but also globally."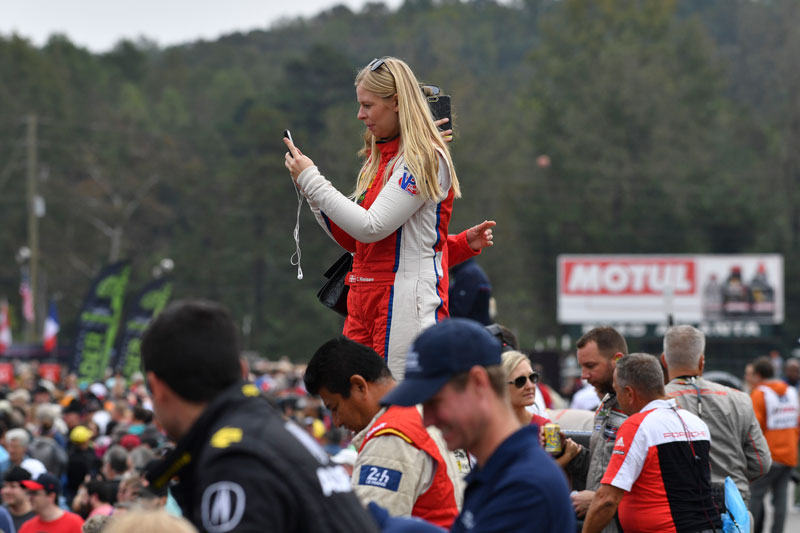 Pailleret also said the education of Motul for a U.S. audience will be key, and he elaborated on the difference between pure motor oil and performance lubricants. Oil is something that isn't a glamorous topic, per se, but it's amazing how oil selections can enhance performance within the automotive and motorsports industries.
"It's really amazing, you touched on a very interesting point," he said. "There's a lot of people that work with mechanics, and that don't know anything about oil, so it's a challenge. It's the second biggest challenge we have.
"The first is to get the brand name out there. It's kind of what we're doing here. The second is to help our customers understand what oil is all about. It's a tough challenge to educate, but that's what we are working on."
Perhaps the most humorous part of the announcement at Petit Le Mans was that the North American series had back-to-back announcements from French companies, with Motul and Michelin revealing their expanded IMSA plans in the same time frame.
Add in Onroak Automotive, the French outfit but which also has a U.S. arm, which also had one of its Ligier JS P3 show cars present as part of the D3+Transformers Racing team announcement, and you could be forgiven for thinking the Circuit de La Sarthe had voyaged from Le Mans to Braselton, Ga.
"I never thought about (all the French connections) until I met the Ligier and Michelin guys!" Pailleret laughed. "I don't think of us as being French… although I can't deny my accent!
"Yes we happen to be here and happen to be French, but the key for us is making it more into North America."