The shining light among Canadian drivers in the Mazda Road to Indy presented by Cooper Tires is Parker Thompson, the 19-year-old out of Red Deer, Alberta who completed his third season in the Cooper Tires USF2000 Championship Powered by Mazda this year.
Thompson had perhaps the busiest weekend of any driver at last weekend's Chris Griffis Memorial Mazda Road to Indy Test at the Indianapolis Motor Speedway, as one of three drivers (Aaron Telitz, Carlos Cunha) who balanced driving in two series.
For Thompson, the return to the Griffis test for the first time since 2014 – when he was a then-unheralded 16-year-old making his debut with JDC Motorsports in advance of a season where he overachieved as a one-car entry in his 2015 rookie year – proved a major milestone in his career. The Griffis test is always the first look at the next year of what the MRTI will look like and after missing the 2016 test and not knowing what his future may hold within the ladder system, being back on track and as busy as he was was a welcome relief.
"I was so smiley around the paddock, even more than normal!" Thompson told NBC Sports. "Last year I had no options for Griffis to test. So I'm sitting at home in my office, watching the timing & scoring on my computer! So that was a big turning point to be not at the test.
"Coming back, I know how grateful I am to be back in a seat. I'm not sure where I'll be yet but I know I'm hopeful to have a seat, and being with Exclusive Autosport, I couldn't be in a better spot than here to showcase myself."
Michael Duncalfe's Saskatoon, Saskatchewan-based team made an immediate positive impact on the MRTI paddock, running up to four USF2000 cars in its first season last year but mainly two or three, with Thompson as its lead driver. He ended the year on a roll with three wins in the last five races, including a popular weekend sweep in Toronto. Unfortunately his title charge was blunted by mechanical issues outside his and the team's control.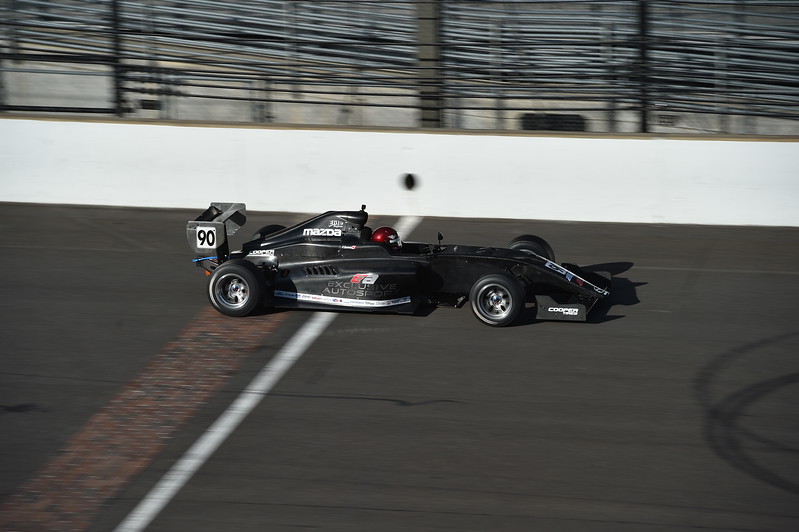 Alas, Exclusive has now acquired two of the Tatuus PM-18 chassis for Pro Mazda Championship Presented by Cooper Tires next year, with one car that was all set from day one of the test and the second built up Saturday by the Exclusive crew before its maiden shakedown Saturday afternoon.
It meant Thompson, who'd initially only planned to test the USF2000 Tatuus USF-17 last weekend, would then be thrust into double duty with both cars, and always carrying his seat insert between the two cars. With USF2000 and Pro Mazda sessions back-to-back, Thompson wasn't just making laps on track, but he was gathering a lot of steps to-and-from the paddock between cars.
"The USF2000 was the primary plan to have a refresher in that car, and help develop the next generation of Exclusive Autosport drivers," Thompson said. "So heading to Indianapolis I didn't know if I would be in the Pro Mazda. But Michael Duncalfe pulled some strings. He managed to get (the second) car within a week's notice.
"The crew pulled a couple big nights getting the car together. It was almost ready when I got there, and they completed a few final finishing touches on Saturday before I could jump in fully. The crew did an awesome job to get a tub and engine two days before the event to piece it together, and it ran flawlessly Sunday. I was gracious to get to drive both when I thought it'd be only one!"
Even more impressive was how quickly the new car was on the pace. Barely half a second off Oliver Askew's leading time on old Cooper Tires, Thompson's engineer then stuck him on a set of sticker Coopers in Session 5 on Sunday morning, which propelled Thompson to a 1:19.9815 best lap – just 0.1673 of a second off Askew's best time of the weekend at 1:19.8142 at the 2.439-mile road course.
Thompson was the only USF2000 veteran to really get on top of the new USF-17 chassis in that series this year, as it moved on from the Van Diemen. Other USF2000 veterans either struggled for consistent pace, or ran out of funding midseason. Stepping up to the PM-18, which Thompson is targeting to race next year, revealed a car more attuned to his driving style.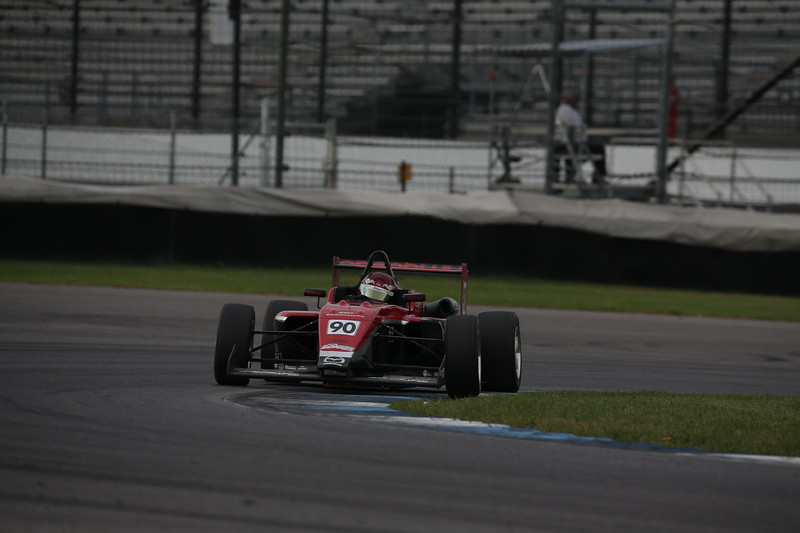 "It actually suits my driving style better than the USF car," Thompson said. "I'm pretty aggressive and the new Pro Mazda seems to love that. The more you are pushing under the brakes, and rolling through the corner on power, the better it gets. If you're not on the knife edge it doesn't feel proper. You need the extra speed for the aero; you need the extra G-force in the corners for the car to work mechanically. The USF2000 car didn't need it.
"I had the experience of jumping back and forth, so you had to switch up your style every time. The USF2000 is more about finessing the car; you want to keep the (corner) roll speed up. You can be aggressive but it's a different type of aggression. The Pro Mazda car, you can unleash the anger, and it's much better on the stopwatch!"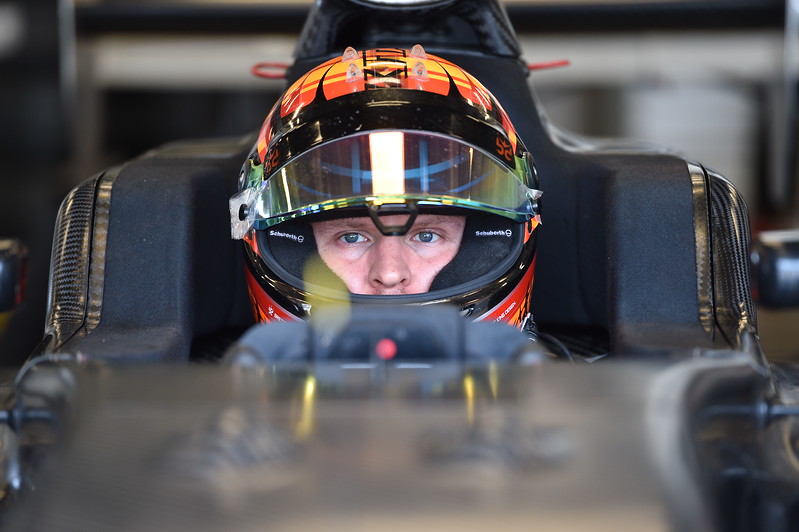 Thompson also had a chance to reunite with Los Angeles-based Russian teammate Nikita Lastochkin in Exclusive's Pro Mazda entry. The two were teammates with Cape Motorsports in USF2000 in 2016 and are working towards an encore of that with Exclusive in Pro Mazda next season.
"It was great to work with Nikita again," Thompson said. "We worked with Cape a couple years ago. He's been one of my best teammates. Off the track you can be so open. At end of the day that allowed us to develop the car so quickly. That's a team effort. Props to Nikita for working well together and hopefully I get to work more with him."
Thompson, who also conducts anywhere from 50 to 100 events annually for his Drive To Stay Alive campaign – a program meant to cut down on distracted driving – again hailed Exclusive's program and also offered a suggestion to a team trying to own the "Team Canada" moniker: IndyCar operation Schmidt Peterson Motorsports.
"Compared to any other team, for a rookie team, Exclusive Autosport and Michael Duncalfe have, like you said, jumped in with both feet," he said. "They've been a huge supporter for MRTI. He's shown the commitment level and it's the place to be, where the next drivers for IndyCar will come from. It fits perfectly with his 1600 program. We have a 'mini IndyCar program,' to grab drivers out of karting, then move them onto our own ladder. He'll have a great farm team for future IndyCar drivers because of the dedication.
"It's too funny you bring that up. I talked with Michael this weekend. So we have to trademark, 'Eh team.' We came up with the hashtag off the Canadian phrase, and people get pretty used to it when they're around me. We wanted to trademark it… so we're worried this new 'Team Canada' might take it!
"But I'm happy Canada is getting more awareness of racing; that's what James Hinchcliffe and Robert Wickens will do. So more will watch in Canada. I'm happy there's another Team Canada. And with more of a Canadian presence in IndyCar, I think that'll help me in the future.
"Hopefully by the time I'm ready for that jump to IndyCar, we'll have more fans. It'll benefit all of us."