Mission accomplished for Daniel Ricciardo on Sunday at the Monster Energy NASCAR Cup Series race at Texas Motor Speedway.
He met Dale Earnhardt Jr., and completed a helmet swap.
Ricciardo told NBCSN Formula 1 pit reporter and insider Will Buxton at the United States Grand Prix at Circuit of The Americas last month he planned to see Earnhardt's final race at Texas before he hangs up his helmet as a full-time driver at the end of the year. A lifelong fan of the Earnhardt family, Ricciardo said he wanted to see him in person.
"The Earnhardt family is a huge name in motorsport, not only in America but all over the world. Yeah I wish him well," Ricciardo told NBCSN. "Hopefully I get to see him perform well in Texas. I'm gonna try to do a helmet swap with him. We'll see how we go."
The Red Bull Racing driver will be back in action in F1 next week at Brazil, but with an off week between Mexico last week and Brazil now, he headed to Texas this weekend.
As it was, Ricciardo was a guest of Chase Elliott at Sunday's Cup Series race and toured the grid and soaked in the atmosphere before the race. He was wearing a Dale Earnhardt No. 3 shirt, with "The Black Knight" signage.
Here's the helmet swap, which Earnhardt said was Ricciardo's idea. Earnhardt also said at his media availability on Friday he needs to get to a Formula 1 race.
"I've never been to a Formula 1 race. It's something, you have to check that box," he said Friday before expanding on that on Sunday, "I'm bound for an F1 race to see Daniel wheel it next year!"
Ricciardo posted several times to his Instagram story and also took a few photos with drivers and teams on pre-grid.
Instagram story posts via @DanielRicciardo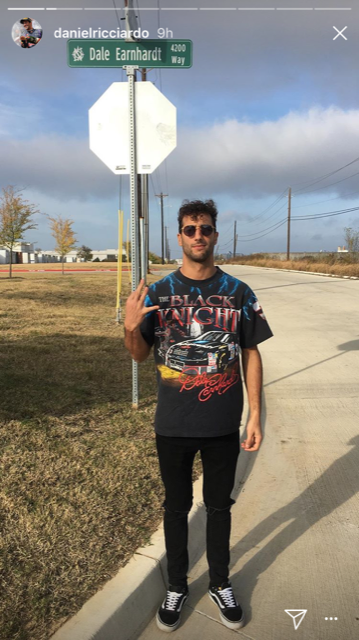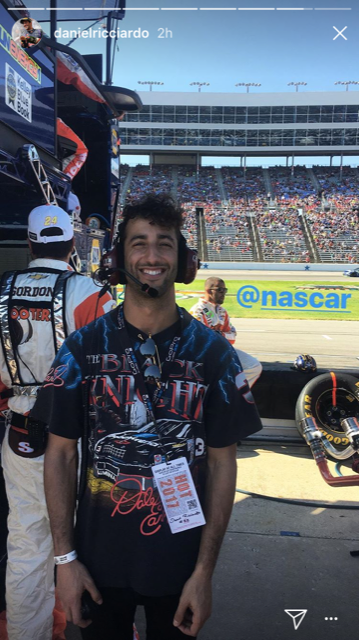 Tweets/Instagram posts