For the third time in the last 12 months, the open-wheel motorsports world has been smacked across the head with unexpected, shock news that definitively qualifies as the proverbial "jaw-dropper" of a story.
Just under one year ago, Nico Rosberg dropped the mic and retired after winning his first and only Formula 1 World Championship. Last April, three days after IndyCar raced at Long Beach and F1 raced in China, Fernando Alonso and McLaren pulled a somewhat bigger surprise by announcing they'd run this year's Indianapolis 500 with Andretti Autosport.
And now, a driver equal parts popular and polarizing in this country – Danica Patrick – has announced Friday at her last full-time race as a NASCAR Cup Series driver that she'll sign off her career at North America's two biggest 500-mile races in Daytona and Indianapolis in 2018.
If such a comeback seems hard to believe, it's largely because it is.
But the allure of going out at the race that made her name in North America is a tantalizing prospect and gives Patrick, who'll be 36 next March, one last chance at glory at a race that, it's easy to forget, she did rather well at.
The pure stats are solid: six top-10 finishes from seven starts, with 29 laps led, are very respectable numbers. More than the results though, Patrick helped lift the revival of the race that had sputtered for a good seven or eight years following the divisive Indy Racing League/CART split of 1996, and lifted the 2005 TV rating to a significantly higher number than it had been since the split.
There's a nice closing here that could come with a return, as well, depending on the team she selects.
Looking at the Indianapolis 500, it'd only stand to reason Patrick would return to the race with one of the top-line teams that could be considered an Indianapolis favorite.
Perceived 'big three' outfits Team Penske (five cars), Chip Ganassi Racing (four) and Andretti Autosport (six) combined to field 15 of the 33 cars themselves last year.
A Ganassi bow is more than possible considering the team will run only two full-time cars next year and will have both the cars and crew (from its Ford GT sports car program) available for extras. The question now about an extra Ganassi car is if this announcement changes the potential idea of Kyle Larson running in 2018.
Meanwhile Michael Andretti's team can run at least six, with five already confirmed as Stefan Wilson joins that group's full-season four (Ryan Hunter-Reay, Marco Andretti, Alexander Rossi, Zach Veach). However a return here for Patrick is "not in our plans," an Andretti Autosport spokesperson told NBC Sports.
An extra Penske car is unlikely given that team's four cars, and a fifth would presumably only be added for Juan Pablo Montoya if circumstances develop that way.
The only other realistic option to consider would be Rahal Letterman Lanigan Racing, where Patrick made her IndyCar debut and ran with her first two full seasons. The team has significant strength in its engineering department, the defending Indianapolis 500 champion driver in Takuma Sato added in a second car, and recently Graham Rahal made comments saying he'd welcome Patrick back if her plans allowed.
"I mean, Danica I would consider a great friend of our family. Certainly was a big part of the history of our program years and years ago," Graham Rahal said during IndyCar's teleconference announcing its 2018 schedule.
"It would always be great to have her back to drive at Indy. But really that's completely up to her and the decisions that she makes."
Any of those teams figure to offer a car and an engineering staff with top-10 finishing potential. The question for Patrick is whether she'd acclimate back to IndyCar like a driver with no IndyCar experience (Kurt Busch, Fernando Alonso) or as one with IndyCar experience, but a long time ago (Jacques Villeneuve).
Her six seasons in NASCAR have produced little in terms of on-track results (only seven top-10 finishes, total), but her success there is not quantified solely by the stats.
She's positively impacted a generation of young female fans, as well as provided beneficial exposure for companies associated with her. It'd be hard, for example, to think about GoDaddy as a company without the relationship they fostered with Patrick. And a year like this year where she experienced turbulence in the sponsorship side served as the exception to her career, not the norm, for a driver used to having built her brand with some good people and companies around her.
The teams she'll have for Daytona and Indianapolis next year, particularly at the latter, will have to prepare themselves for the inevitable media circus that will follow. But they can also be prepared for good potential performance on-track in both races.
At Indianapolis in particular, Patrick is another early "extra star" that comes beyond the other story lines set to materialize for next May, and her presence will be chronicled heavily.
Next year's Indianapolis 500 will be the first big oval race with the new 2018 Dallara universal body kit, which features significantly reduced downforce. This new car has both a significantly different aero package, as well as a reduced engine displacement – the 2.2L twin turbocharged V6 engines are a far cry from the 3.5L normally aspirated V8s she last drove in 2011. If she handles the change well, it speaks volumes of her ability through significantly different car transitions in the sport, which she never had to worry about in her 2005 through 2011 tenure.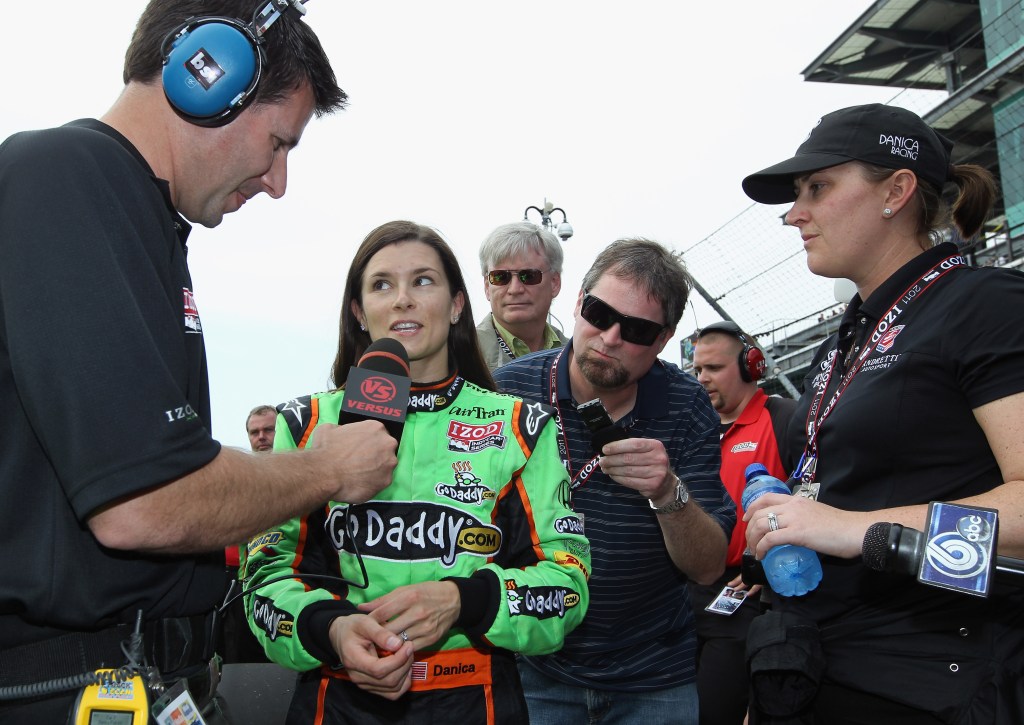 It could, again, provide a boost in TV ratings after two consecutive years where the number has been down in 2016 and 2017. Alonso's presence this year was a significant media generator throughout the month – almost to the point of overkill – but it turned out his impact was more important internationally than it was domestically. Alonso's dalliance with North America though has grown into another major U.S. race start next year in Daytona, for the Rolex 24 at Daytona. Now, Patrick and fellow longtime IndyCar driver Helio Castroneves are the two featured guest attractions this year – and it'll feel like old times all over again. Both figure to be good not just for TV ratings, but for ticket sales at the Indianapolis Motor Speedway throughout the month.
And for Patrick, it's a chance to come back to a race that always felt like home. An open-wheel racer in her upbringing and at heart, the competitor in her couldn't have been satisfied by the years of 20th-odd place finishes with the occasional "solid top-20 finish" serving as a "good day."
Much has changed since. As of this writing, only nine drivers who raced in the 2011 Indianapolis 500 are still confirmed full-time in IndyCar for 2018 (Graham Rahal, Tony Kanaan, Scott Dixon, Marco Andretti, Ed Carpenter, Will Power, Ryan Hunter-Reay, James Hinchcliffe, Takuma Sato) with a few more from that race to be added.
So it's a different landscape of a series now, an IndyCar Series that's really grown with its own drivers over the last several years compared to one where her presence – often through no fault of her own – overshadowed the other stars.
In a final guest starring role, Patrick has one last chance to steal the spotlight in a beneficial ending to her own career, and the Indianapolis 500 as a race… if not the Verizon IndyCar Series as a whole.
"I never thought I would do it. I always thought never but I never said never. Here I am," she said today.
The story of her new finale in IndyCar's biggest race has only just begun.