With little else to play for this weekend in the Abu Dhabi Grand Prix season finale, it's the battle for sixth place in the Constructor's Championship that has received a bit more attention than normal as one of the last key items to get decided in the 2017 Formula 1 season.
The top five positions from Mercedes, Ferrari, Red Bull, Force India and Williams are set, before a six-point spread covers Scuderia Toro Rosso (53 points), Renault (49) and Haas F1 Team (47) heading into Sunday's race. The difference in payout between sixth and eighth is significant, and as such all three teams have extra incentive to end as high as possible.
TORO ROSSO AND RENAULT'S YEAR AS F1'S ODD COUPLE
Somewhat joined at the hip all year, Toro Rosso and Renault have enjoyed a particularly weird year being F1's "odd couple."
Carlos Sainz Jr. provided Toro Rosso 48 of its first 52 points, with a fourth place in the Singapore Grand Prix the best result for the team all season.
But that Singapore weekend saw things change substantially on several fronts. At the weekend, the McLaren/Honda divorce was made official, with the Toro Rosso/Honda link-up revealed, and then Sainz confirmed to get loaned by Red Bull to Renault for 2018.
Kvyat then was surprisingly dropped before Malaysia to give Pierre Gasly an opportunity for his F1 debut, and after Japan two weeks later, Jolyon Palmer got himself out of the way by announcing that was his final drive for Renault, clearing the way for Sainz to switch early. Gasly's Super Formula commitments at Suzuka meant Toro Rosso needed two new drivers for Austin and so Kvyat was reluctantly brought back, and Brendon Hartley made his shock F1 debut after his Red Bull relationship was rekindled.
At Austin, Sainz then provided Renault the team a shot in the arm with seventh place on debut and six crucial points, while Kvyat delivered a 10th place to ensure Toro Rosso got one more point… and then was promptly dropped again.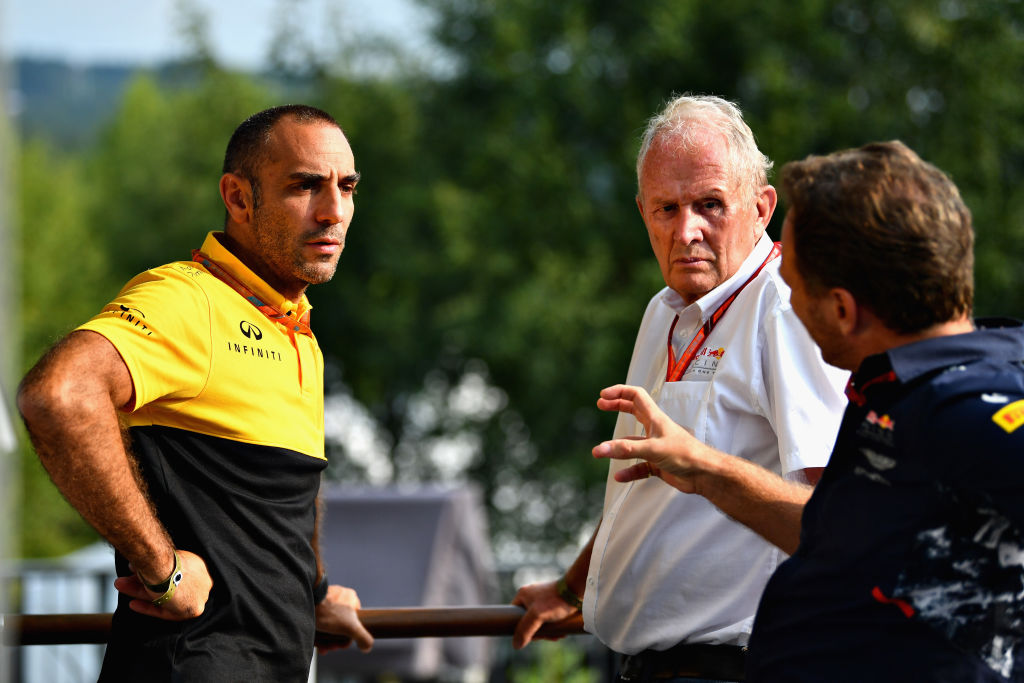 That has set up the drama of the last two race weekends, then, as Toro Rosso has endured the brunt of unreliability from its engine partner Renault in Mexico and Brazil.
The two sides nearly came to blows in a war of words in the Interlagos paddock. Red Bull motorsport advisor Dr. Helmut Marko stepped in to stem the tide, briefly, but the damage has been done.
Such an unusual situation will reach its climax this weekend with Toro Rosso trying to beat its engine partner for sixth place in the constructor's championship. This would equal the team's best result (sixth in 2008, with Sebastian Vettel and Sebastien Bourdais) if it holds. But it will have to stave off its former driver, Sainz, at Renault to do so.
"We go to Abu Dhabi aiming to finish this rollercoaster season on a high," said Cyril Abiteboul, Renault Sport Racing Managing Director, who has both teams to worry about it.
"This race is almost a championship in itself as we are in a tight battle with Toro Rosso and Haas, and everything is still to play for. Either one of us could finish between sixth and eighth position so we are being very careful with our preparations. We will have to combine an approach that is at the same time attacking, as we need five points more than Toro Rosso to get sixth, but also conservative as we are just two points ahead of Haas."
Renault, the team, feels it has a good chance of overhauling Toro Rosso. Both Sainz and Nico Hulkenberg have delivered double Q3 appearances the last two races in Mexico and Brazil, although they only have a single 10th place (Hulkenberg in Brazil) to show for it.
"We will look at the balance of risk and reward with the aim of maximising our chances of overhauling Toro Rosso for sixth in the Championship. We'll fight for every point," said Bob Bell, Renault Chief Technical Officer.
"I get a great sense that the momentum in this team is building for the longer term and that's what we're interested in. Clinching sixth in the Constructors' is important as this team wants to show progress en route to being successful and winning championships. It's important to feel and build on this momentum."
Hulkenberg has a solid record in Abu Dhabi, coming sixth, seventh and seventh in the last three races here with Force India.
"The constructors' championship will go down to the wire for sixth in Abu Dhabi and I'm really relishing the challenge. The track should suit us better than Interlagos. It's the season finale, there's plenty at stake and that makes me very excited," said the German, who holds the record for most Grands Prix started without a podium finish.
"I head to Abu Dhabi hoping to score well. I want to kick back on Sunday night at Yas Marina with the team and celebrate a job well done."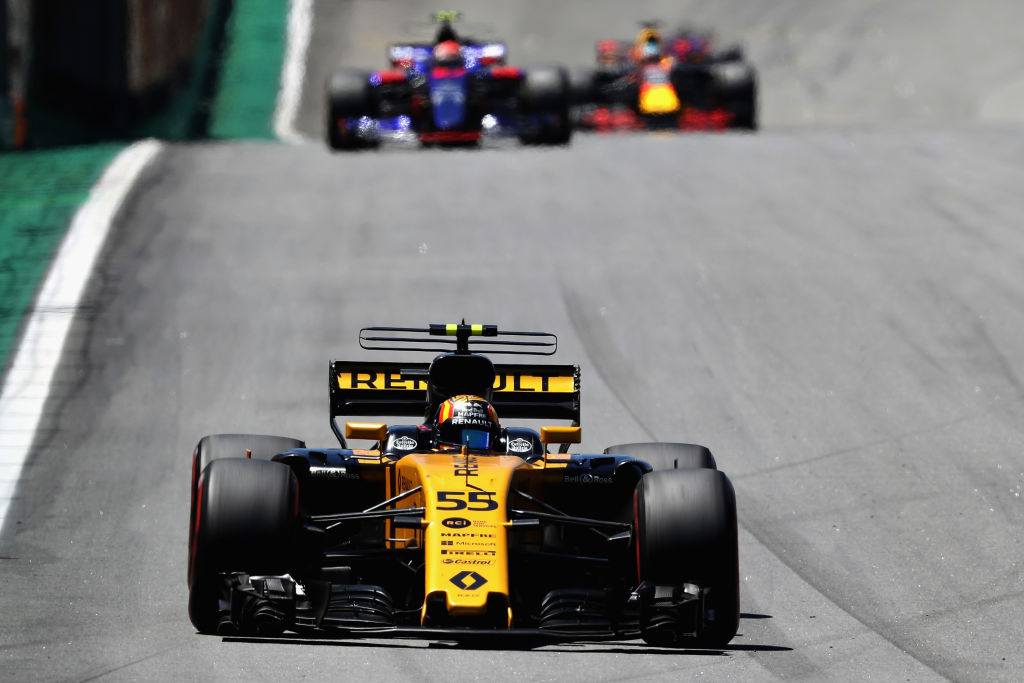 Sainz, who with 54 points scored is also in the unique position of having scored more points himself than either of his two teams (Toro Rosso 53, Renault 49) all season, thinks the Abu Dhabi track will suit Renault better. Sainz is yet to score at Abu Dhabi in two prior starts (best finish 11th in 2015).
"I left Brazil with a positive mindset as I'm starting to feel at home in the car and we head to Abu Dhabi with confidence and an aim for points. It's going to be a tight fight in the championship for sixth, but we are ready for the challenge," Sainz said.
"There's been a lot to learn but I think we've been able to face the challenge in a positive manner. It's been an education for me to come to a manufacturer team, and there's been a lot to do because of joining mid-season. I'm still on a steep learning curve with the car so I hope for another step forward in Abu Dhabi."
TORO ROSSO'S YOUNG GUNS HOPE TO SAVE SIXTH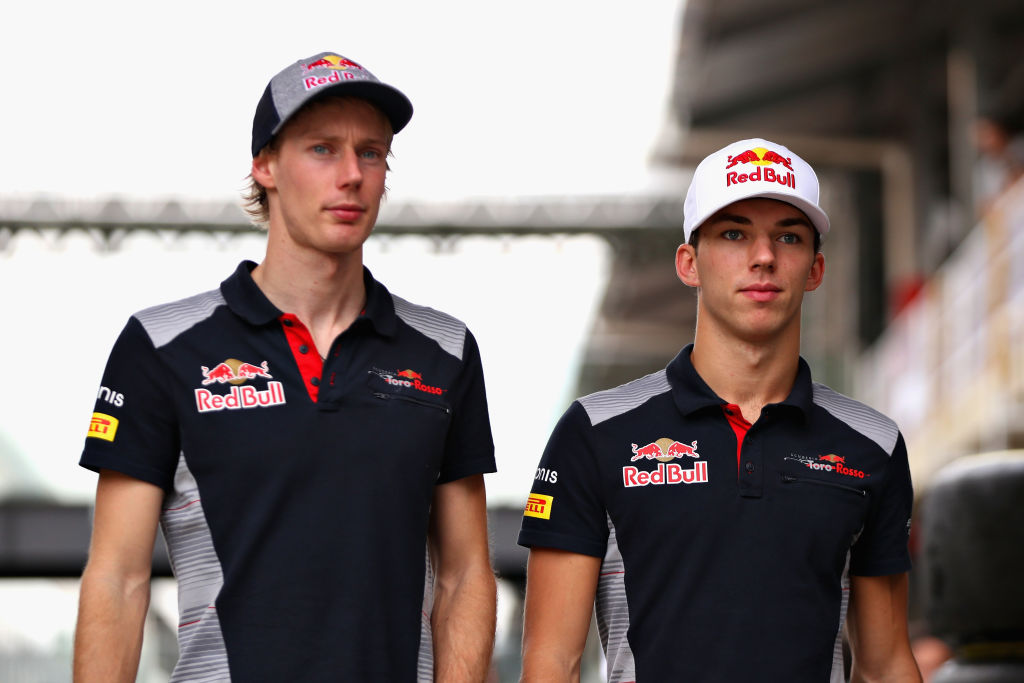 For Toro Rosso's pair, despite the relative lack of F1 experience, the newly re-signed Gasly and Hartley also enter Abu Dhabi with optimism. Gasly sealed the GP2 title here last year while Hartley has track experience there from Porsche LMP1 testing among other outlets, and brings to an end his epic eight-week, seven-country, three-continent, three-series, three-car "Brendon Hartley Boogaloo World Tour."
"I'm really excited and looking forward to the last race of the season in Abu Dhabi! It's a track I really like, especially because I have some really good memories from racing there last year, where I won the GP2 Series title. It's a place that therefore means a lot to me, also because I was on pole position there for the last two GP2 seasons!" Gasly said.
"I will give my very best; we need to really push and keep our sixth position in the constructors' championship – it's really important for the team and us drivers, as we want to make sure the team can develop the car as much as we'd like for next year."
Hartley added, "Wow, what a way to end a year… Abu Dhabi will mark the end of a very busy and surreal few months for me! This will be my fourth Formula 1 Grand Prix of my career and I have to say that I've been feeling more and more comfortable in the Toro Rosso F1 car if I compare it to the first time I drove it. I now feel right at home within the team too, which is always a nice feeling to have. Abu Dhabi is a track I have raced and tested on in other categories and I remain optimistic that I can score my first F1 point!"
HAAS WITH OUTSIDE SHOT AT P6, BETTER SHOT AT P7
Haas is the underdog in the battle for sixth, but, at only two points back of Renault for seventh, can still manage to end one spot higher than it did in its debut season – and hit its preseason target of 50 points scored in the process.
Romain Grosjean has a best finish of fourth at Abu Dhabi in 2013 with Lotus, and just missed a point here last year with Haas in its somewhat traditional P11. Teammate Kevin Magnussen has a best finish at Abu Dhabi of, you guessed it, 11th, in 2014 with McLaren. After a miserable Brazil where both cars had incidents on the first lap, there's nowhere to go but up in Abu Dhabi.
Team principal Guenther Steiner outlined the team's goals heading into the weekend. Thus far, there's been 47 points scored in 11 Grands Prix a big uptick on the 29 points scored in five last year.
"I think points tell something, but not everything," Steiner said. "Even if we race the same teams, there are different levels of performance. I wouldn't have said we've gotten better if we had less points, but looking in from the outside, I think we've made progress at all levels. We wanted to better our position, but at this moment in time we are equal, so sure we will try to get better in Abu Dhabi. I was hoping to better our end-of-season position by one spot.
"Absolutely. We will have a go at it. In Brazil, without the two accidents on lap one, I think we'd have had a good chance to get some points. Then again, we didn't do it, so it's just 'if' and 'would'. We will, for sure, try hard in Abu Dhabi."