We mentioned last week how the Borg-Warner Trophy was set to embark on its first ever trip outside the U.S., en route to Japan for a couple weeks.
A highlight event for the trophy, for 101st Indianapolis 500 presented by PennGrade Motor Oil race winner Takuma Sato and more than two dozen other Honda drivers was Honda Racing's THANKS DAY – held this weekend at Twin Ring Motegi, Japan.
With more than 20,000 fans in attendance ranging from babies to more senior fans, questions, pictures and memories flowed throughout the day to catch their glimpse of the trophy and Sato in his home country.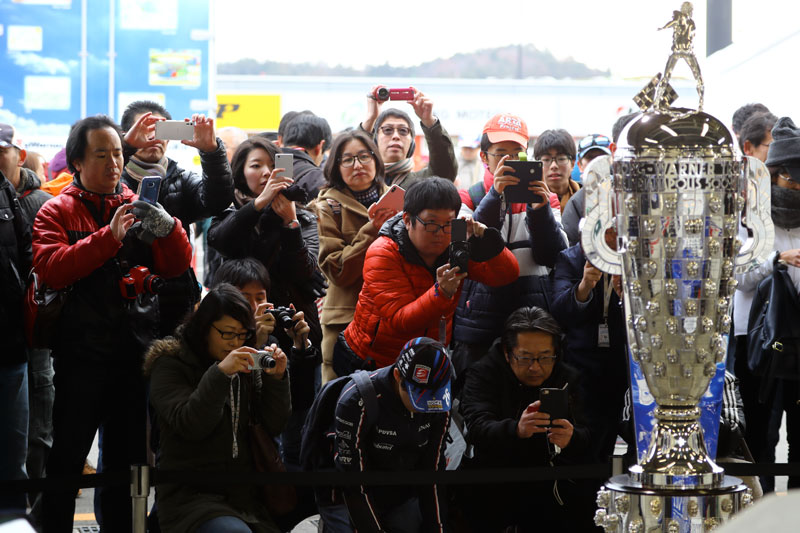 Beyond the event and reveal of the trophy, Sato also ran some demonstration laps on the Twin Ring Motegi oval in his No. 26 Ruoff Home Mortgage Honda that he won the '500 with for Andretti Autosport. The laps were the first turned on the oval since the Fukushima earthquake in 2011; the last Verizon IndyCar Series race held in Japan was at Motegi's road course, a one-time only event held in 2011. The last oval race ran in 2010.
"Today has been amazing, one of the most special days of my life. I want to thanks Honda and BorgWarner for all they have done to make today great," Sato said.
"Honda Racing THANKS DAY is about the fans and all their passion and loyalty. It was historic for the Borg-Warner Trophy to leave the United States for the very first time ever and come to Japan, it makes us all proud!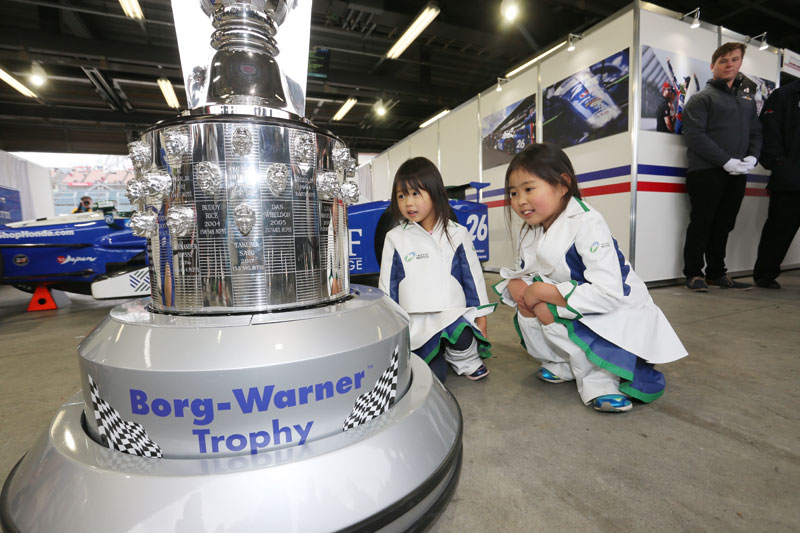 "I have been very fortunate to spend so many years with Honda and to win the Indianapolis 500 with them has been a dream. I love the Indianapolis 500 and the Borg-Warner Trophy and to share my win and the trophy here in Japan has been something I will never forget!
"I have had a big smile all day through all the events. Running laps in my Indy winning car today in front of all the happy fans was a thrill. I loved the cheers and appreciate their support. I am a happy smiling man like the man on the Borg-Warner Trophy."
Past McLaren Honda F1 driver Jenson Button, who announced his return to Super GT at the weekend, and Repsol Honda MotoGP riders Dani Pedrosa and Marc Marquez were thrilled to see the trophy and Sato during the day as well. Former Honda chief Mr. Michihiro Asaka was there to witness the trophy and car. All of them chimed in on the day, as well.
"That is one amazing trophy!  There are so many of my friend's faces on it and so many Formula 1 drivers who won at Indy too.  Neat to see Dario (Franchitti) and his three silver faces and look at Takuma, what a proud smile!" Button said of the trophy, and his friends.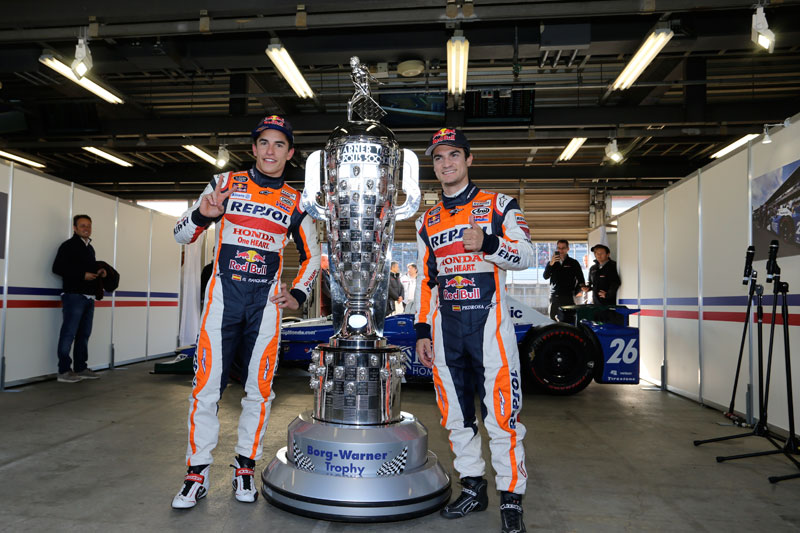 The Repsol Honda riders had the chance to race at Indianapolis, but hadn't really understood the measure of the trophy until seeing it up close.
"That is one big trophy. So cool. That would be worth winning. I like the history it represents at a great track, Indianapolis. It is nice to see Takuma with all the other winners!" said Marquez.
Pedrosa added, "Wow, I like that trophy, I wish I won that for winning my races racing at Indianapolis. That is a great trophy representing racing in the United States."
Mr. Asaka, who was instrumental in bringing Honda into IndyCar in 1994, said this was a truly special day for the company given its racing heritage and the success being able to come home.
"We were so happy getting the first Honda driver's face on the Borg-Warner Trophy," he said. "There are now so many great Honda drivers represented over the years. I am very proud of our success in racing and at Indianapolis. It was not always easy but we worked very hard to reach our goals. We are very honored the trophy came to Japan. It is historic and all the fans and media can't believe they get to see it with their own eyes today. I have seen it many times at Indianapolis Motor Speedway but I never, never thought I'd see it in Japan and at Twin Ring Motegi. This is a special, special day for all of us to share and remember."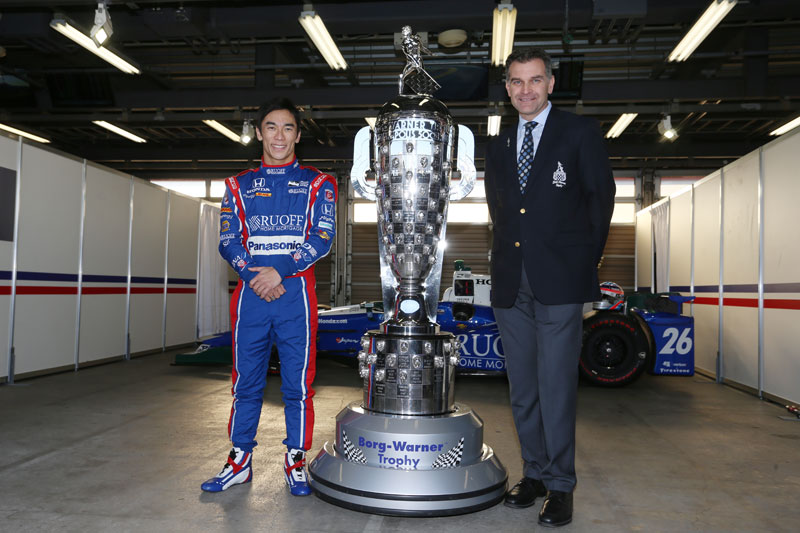 Scott Gallett, Vice President of Market, BorgWarner Inc., put into perspective the day's proceedings.
"It was my first time at the Honda Racing THANKS DAY. To see all the Honda Motor Sports drivers, cars, motorcycles and fans in one place at the same time makes it truly unique.
"Everywhere the Borg-Warner Trophy goes it attracts attention. The fans at the event brought this to a new higher level. They gathered to see the trophy in person non-stop all day long taking pictures and just staying to be in the presence of the iconic trophy on it's first trip to Japan.
"Takuma Sato thanked BorgWarner and Honda repeatedly throughout the day and we could see the true joy on his face. BorgWarner was proud to help make the day more special for Takuma Sato and Honda. It was a very historical event."
Social media (more than just Sato and IndyCar)