K-PAX Racing, one of the stalwart teams of Pirelli World Challenge, revealed today that they will be switching from McLaren, with whom they have contested the past four PWC seasons, to Bentley and confirmed that they will field three Bentley Continental GT3 entries in the 2018 season.
In their four years with McLaren, K-PAX notched 15 race wins and claimed the drivers', team, and manufacturer championships in 2016, with Alvaro Parente taking the drivers' crown.
K-PAX team owner Jim Haughey expressed confidence that K-PAX will continue its strong form under the Bentley banner.
"We competed with the very best from Porsche, Cadillac, Ferrari, Mercedes-Benz, Audi, Acura and many others. We are looking forward to working with Bentley to win races next season and compete for another championship," said Haughey.
K-PAX program manager Darren Law added that they are currently evaluating drivers and that, while the team enjoyed its partnership with McLaren, the potential in the Bentley platform caught their eye.
"Working with McLaren GT for the past four years has been a great experience and produced tremendous results. At the end of each season we evaluate the performance of our team and our program as well as what the future looks like. With the introduction of the new Bentley Continental GT3 we see a lot of potential. Currently we are in the process of finalizing K-PAX's 2018 Driver line-up and will be making an announcement soon. We look forward to joining the Bentley Racing family and continuing our success beginning with next season."
Elsewhere in Pirelli World Challenge, the GTS class will get a boost in the form of 2017 Trans Am Champion Gar Robinson and sportscar standout Shane Lewis, who will compete under the Robinson Racing banner and pilot a pair of 74 Ranch Resort Mercedes-AMG GT4 entries.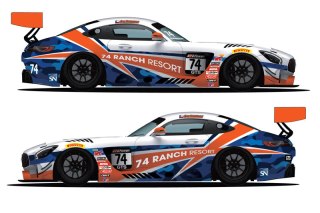 In addition to their success in the Pirelli Trans Am Series, where they have won two of the last three championships, Robinson Racing has also seen success in IMSA, and previously Grand Am, winning races in the GT and Prototype categories and even securing a triumph at the 12 Hours of Sebring.
"This is a big, positive move for everyone at Robinson Racing," said team owner George Robinson. "In the nearly 30 years this team's been racing together, it's probably been at least 20 years since we've entered a paddock so ripe with manufacturer presence and support. That's huge, and not just for the opportunities it presents to all the drivers, but it has also had very real benefits to teams like ours through the ability to campaign factory-built cars with factory support on- and off-track in terms of engineering support, parts and spares, and of course the marketing power that we all get to enjoy. This is one of the few series we haven't raced in, and we're very excited to compete there."
Gar Robinson revealed that he is often resistant to change, but feels this move is going to be a positive for Robinson Racing.
"Sometimes my friends give me a hard time because I don't always like change, but I'm really looking forward to this one. Plus, my crew is my dad's old crew – the same guys I've been racing with since they were running prototypes for my dad and quarter midgets for me, so no matter where we're racing, it always feels like family," Gar revealed.
For Lewis, this marks a return to World Challenge competition, as he competed in World Challenge in the 1990s, and added that the series is on the upswing, especially regarding its range of manufacturers in the series.
"This is a bit of a homecoming for me as I raced in World Challenge earlier in my career, though there's obviously a typo in the record books because it's impossible that that was nearly 22 years ago," Lewis quipped. "No matter how long it's been, Pirelli World Challenge is without peer in its ability to attract and engage global manufacturers."