INDIANAPOLIS – Mike Shank's dream of becoming an IndyCar team owner was realized with his debut at last year's 101st Indianapolis 500 presented by PennGrade Motor Oil, running in partnership with Michael Andretti and with driver Jack Harvey.
Two of those three components are reunited for the 2018 Verizon IndyCar Series season as they both look to grow their respective careers and gain a bigger foothold in this series.
Shank and Harvey are back together again, with Harvey's other 2017 team – Schmidt Peterson Motorsports – serving as the third member of this unit for a technical partnership .
The part-time effort will run the AutoNation/SiriusXM Honda for Michael Shank Racing with SPM for at least six races in the 2018 Verizon IndyCar Series season, with St. Petersburg, Long Beach, the Indianapolis 500 and Sonoma Raceway races confirmed and more to be added.
"I'm so happy to have everything come together and to be able to make this announcement—there was a ton of work that went into just getting to this point, and of course it is just the start," said Shank. "This is a very big deal— for me and my wife Mary Beth, and for my race team. We are really excited to have Jack (Harvey) back with us, and very focused on making the most of this multi-year program. It is a big undertaking but I've been working on this nonstop, every day for months to have everything in place for us to be able to go out and build a competitive program."
"Ric, myself and everyone at SPM are really excited for this partnership with Mike Shank, his team and, of course, Jack Harvey who we're so pleased to welcome back into the organization," added Sam Schmidt. "We're really looking forward to working with AutoNation and SiriusXM again as well. We continue to look for ways to strengthen our team and improve our core operations, and we think this multi-year partnership will do just that. Mike's history in motorsport speaks for itself, and we're pleased he has decided to expand his INDYCAR program and involving us in that endeavor."
This brings Honda's engine lease number up to 13 cars for 2018, this car joining the 12 full-time carried over entries from Andretti Autosport, SPM, Chip Ganassi Racing, Rahal Letterman Lanigan Racing and Dale Coyne Racing.
Andretti's team runs four cars with each of the other four teams running two; Honda has stated it can supply a maximum of 13 cars at non-Indianapolis 500 events, and the manufacturer has gone up to 18 engine leases for that race.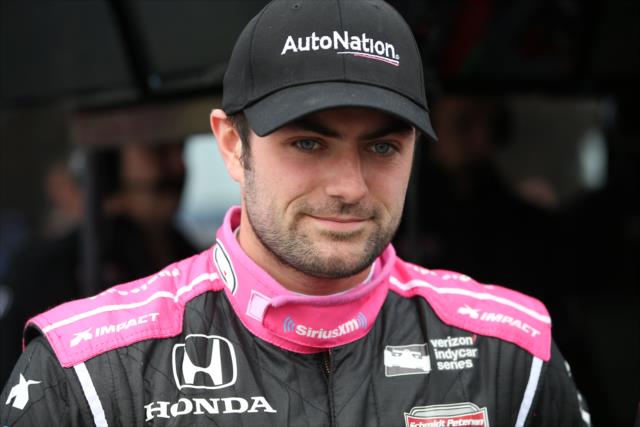 "I'm absolutely thrilled for this to come together and for everything to be moving forward," said Harvey. "I had a very positive experience racing for Mike Shank in the Indianapolis 500, and it was great to build on that with SPM in the last two races of the year. Now to be racing for Mike and to also have the support of SPM for this program, it is the best of both worlds for me. I want to do as well as we possibly can for AutoNation and SiriusXM,  and I cannot wait for St. Pete to get here."
AutoNation's Chief Marketing Officer and EVP, Marc Cannon said, "Jack is a talented, dynamic young driver," Cannon went on to say, "AutoNation is excited to partner with Jack, SiriusXM  and the Michael Shank Racing team."
"Jack Harvey and Michael Shank Racing are a great team and we are pleased to support them as they expand their IndyCar race schedule," said Jim Meyer, Chief Executive Officer, SiriusXM.  "We were proud to sponsor them in last year's Indy 500, and we look forward to having SiriusXM represented on the car for several races this coming year, starting with the IndyCar season-opener in St. Petersburg."
The English driver who now lives in Indianapolis took over SPM's No. 7 AutoNation/SiriusXM Honda for the final two races this year and acquitted himself decently well, hoping to lay a foothold for further races in 2018. Harvey and Shank remained in contact immediately after the month of May to begin building for additional races.
Shank, meanwhile, has long sought a greater IndyCar program beyond his two toe-in-the-water attempts. Despite buying a new chassis before 2012, no engine manufacturer worked with him and faced with a Lotus-or-bust effort, Shank opted instead to sell his chassis and bow out before ever turning a wheel.
The collaborative effort with Andretti at this year's Indianapolis 500 was a proper effort with a Honda engine, with Shank's sports car crew running the Andretti-prepared car. The team and driver fought through adversity throughout the month and showcased steady improvement.