Carlin's long-rumored and even more long-awaited step-up into the Verizon IndyCar Series has become a reality.
Trevor Carlin's team has confirmed the first details of its graduation into the top level championship in North America, and sees the team that has been one of the best training grounds for countless drivers for decades in Europe and now the last three years in the Indy Lights Presented by Cooper Tires at the highest level of a series.
Carlin's Indy Lights accolades, among other items, included a double win on debut with Ed Jones at St. Petersburg in 2015, Jones claiming the team's first Indy Lights title in 2016, and Matheus Leist winning this year's Freedom 100.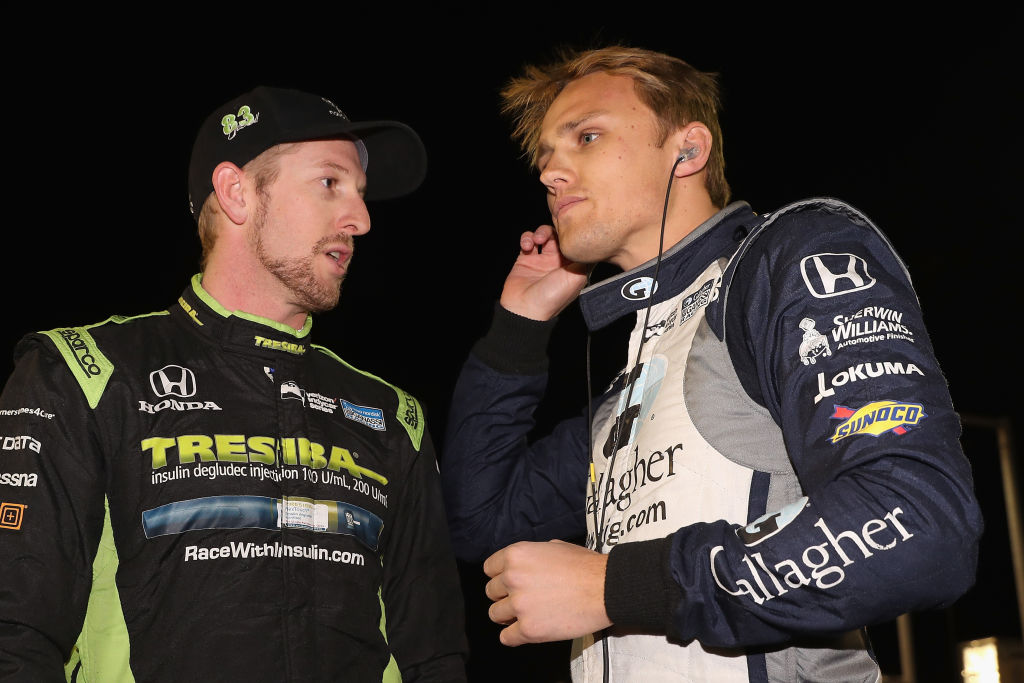 The team has confirmed a two-car Chevrolet-powered entry for 2018 to be driven by Max Chilton and Charlie Kimball.
"We're delighted to finally be able to announce our entry into the Verizon IndyCar Series, the result of a long-term ambition of the team," Team Principal Trevor Carlin said. "To be joined on that journey in our debut season by brands such as Gallagher and Novo Nordisk and with drivers we already have a race winning history with in Max and Charlie, is beyond what we could have expected. By no means do we underestimate the challenge and competition that lies ahead, but I have great faith in the young and passionate team that our Team Manager Colin [Hale] and I have put together."
On the IndyCar side, Chilton shifts to Carlin after driving with Chip Ganassi Racing the last two years. Chilton's father Grahame is CEO of the Carlin team and Max had the chance to drive for them in GP2 for two seasons, finishing fourth in 2012, and in Indy Lights in 2015, finishing fifth.
Alongside him, another of Chilton's teammate from Ganassi the last two years, Kimball, will also make the switch to Carlin. Kimball raced for Carlin in British F3 in 2005, and finished second behind teammate Alvaro Parente. His IndyCar career has been entirely spent with Ganassi, from 2011 through 2017.
Both continue with longtime partners Gallagher and Novo Nordisk.
"We are proud to partner with Carlin in the Verizon IndyCar Series for 2018 and look forward to the thrilling prospect of driver Max Chilton winning with our Gallagher brand prominently featured on his Chevrolet. Millions of fans around the world enjoy this sport, as do our clients and employees.
"It is our intent to leverage this sponsorship to showcase Gallagher's extensive brokerage services and risk management expertise and to celebrate the values of innovation and collaboration our brokers and sales consultants deploy in creating solutions for their clients around the globe," said Christopher E. Mead, Chief Marketing Officer for Gallagher.
"As we begin the 10th year of our partnership with Charlie Kimball, we are excited to continue the legacy of the Race with Insulin program to inspire people with diabetes to pursue their dreams and support them in their disease management journey," said David Moore, senior vice president, Commercial, Novo Nordisk. "We are encouraged by our new relationship with Carlin, who has a proven reputation for winning in a variety of motorsports series. We are looking forward to being part of a strong season in 2018 for Charlie, Race with Insulin and for the entire Carlin family."
Carlin's listed its IndyCar headquarters in Delray Beach, Fla., same as where its Indy Lights program has been set up the last two seasons after moving from Poughkeepsie, N.Y. where it started.
Jones took home Carlin's first Indy Lights title in 2016, and established himself in the U.S. from his first ever weekend following a weekend sweep at St. Petersburg in both his and Carlin's series debut in 2015.
In three years in Indy Lights, the team has expanded its car count each year. Jones and Chilton were teammates in 2015 with Nelson Piquet Jr. filling in for Chilton at Toronto as he was at Le Mans with Nissan's LMP1 program. Jones returned for a sophomore season in 2016 alongside Felix Serralles and Neil Alberico. Alberico was meant to be team leader in 2017 as part of a four-car effort, but both Leist and Zachary Claman DeMelo and won races with Garth Rickards rounding out the quartet.
Jones, Chilton and Leist make up Carlin's immediate Indy Lights-to-IndyCar alumni, with Claman DeMelo poised to join them if he secures a spot, and countless others – including both Kimball and reigning Verizon IndyCar Series champion Josef Newgarden – who can count Carlin as a previous stopping point on their own roads to Indy.