United Autosport nearly completed an LMP2 and LMP3 title sweep in the European Le Mans Series this season, with American drivers figuring in both Ligier prototype lineups for the Zak Brown and Richard Dean-led, Anglo-American squad.
Certainly while American drivers Sean Rayhall and John Falb had significantly more sports car experience under their belt and time together as a collective unit, their LMP3 title wasn't a massive surprise and spoke to both drivers extracting the maximum with their team all year. Rayhall recapped the ride for NBCSports.com all year.
However in LMP2, seeing a lineup with sports car veteran Filipe Albuquerque paired with rookies Will Owen and Hugo de Sadeleer, each transitioning from open-wheel racing, a title didn't seem as viable a prospect. This group not only had to overcome the experience deficit but also a pace one, with the new-for-2017 LMP2 chassis locked into a homologation and the Oreca 07 a clear pace-setter over the Ligier JS P217, the next generation chassis from Onroak Automotive after its Ligier JS P2 premiered to great acclaim in 2014.
The hurdles got cleared quickly. United opened its 2017 account with a bang and a sweep of the Silverstone opener, with an LMP2 win overall in dramatic late-race fashion and an LMP3 win and third place.
Owen, the 22-year-old Texan who now lives outside Denver in Castle Rock, Col., couldn't have asked for a more dream start, and especially after so few previous sports car races. He debuted with Flying Lizard Motorsports in NASA's 25 Hours of Thunderhill in December 2016, and then made a one-off IMSA bow with the No. 52 PR1/Mathiasen Motorsports Ligier JS P217 Gibson entry at Long Beach a week before Silverstone in April.
While the series and tires were different, getting one race under his belt in the otherwise identical car for his ELMS debut was pivotal for Owen and as he explained, a good opportunity to get his feet wet from procedural and strategic standpoints.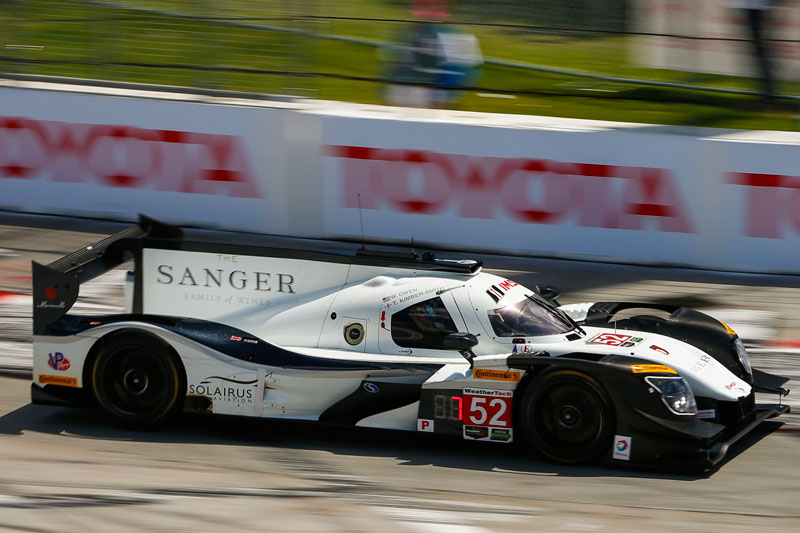 "Looking back, (Long Beach) was super helpful," Owen told NBC Sports. "That was by far the event where to be honest, I'd been in over my head! When you're in a debut like that, you're learning the car, you're learning endurance versus sprint, and you're learning the procedures. It was super tough but great preparation for what was to come."
Owen could rely on Albuquerque, the rapid Portuguese star, to assist in his and de Sadeleer's respective growth and development. Albuquerque at one point was an Audi factory ace and now will be full-time in two series in 2018 – continuing with United's LMP2 entry in all but one race and full-time in IMSA with the No. 5 Mustang Sampling Racing Cadillac DPi-V.R.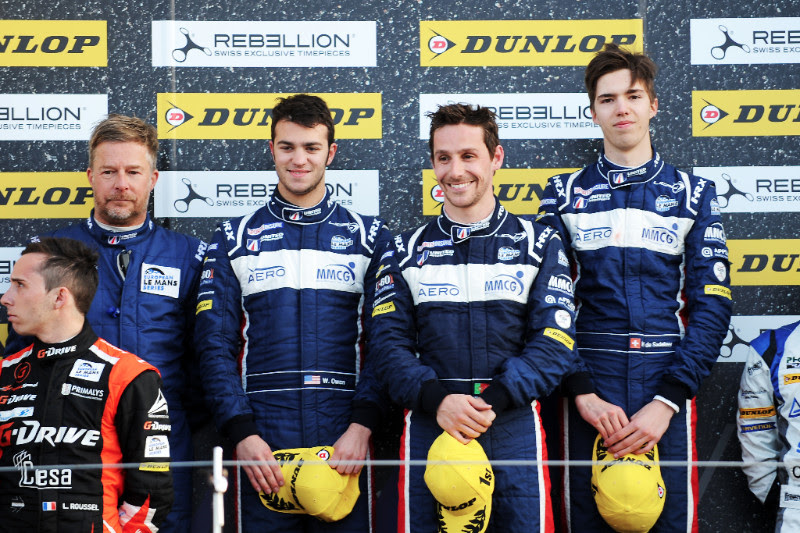 "Filipe was my driver coach, and taught me to do almost everything," Owen explained. "He was a huge part of the driving side. He showed how to set up a sports car, how to go to the team and ask for changes. The key is how can we make the whole package better and make a compromise?
"His approach to tuning the car was one of the biggest things I learned. Not to date him (Albuquerque is only 32, matching United's car number), but he's been racing literally longer than we've been alive! So having his experience and everyone in the team has so much. Anything we come across, they know how to handle it."
Learning the car was one element but as an American racing abroad in-between studies (Owen takes classes at TCU when his schedule allows) and an internship in Dallas, learning how to manage time and travel to-and-from Europe was one of the keys to his season.
European drivers that race in America are regularly accustomed to the jetsetting, and are primarily based there. There's fewer Americans that go the other way, but the nature of the only six-race ELMS schedule helped Owen ease into the back-and-forth travel rather than feel it was overkill.
"Traveling to Europe from America was a big challenge actually. I wouldn't have wanted to do too many more trips," Owen said. "You're not only traveling but you have to get ready to go to a track on a new weekend and get up to speed straightaway – that is where I really learn. There's trade-offs. The ELMS provides a really good amount of racing, and you still get quite a bit of testing."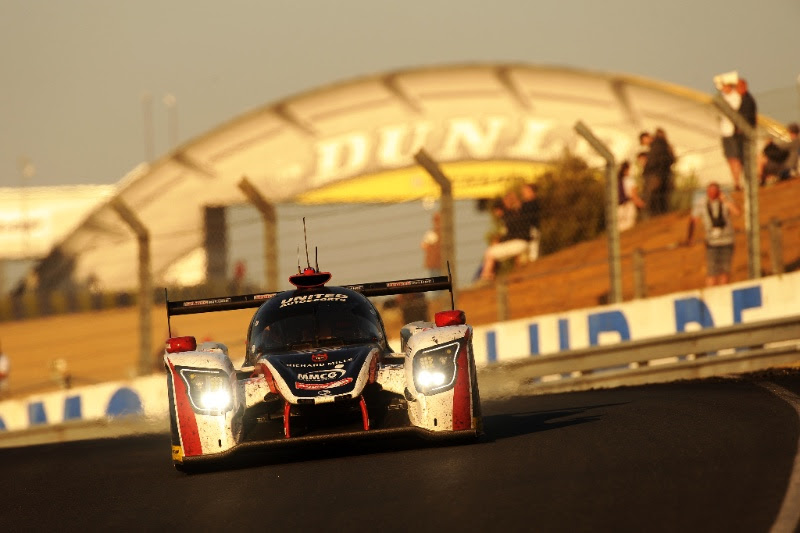 Continuing with the learning mantra, there was nothing that could have prepared Owen for his maiden 24 Hours of Le Mans experience.
"Does madness and craziness summarize it?" Owen laughed. "You don't understand the significance until you do it.
"The last part of the race was a blur, and there's so much pressure. You're tired, not enough to where it affects your driving, but you get out of the car and the transition from adrenaline to 'I need a nap' is almost instant! It's so crazy on another level compared to any other event.
"I'm so thankful and proud of how we performed. A perfect race of execution like that was great; everyone was so happy and with fourth, we did the best we could."
Fourth may not sound like a result worth celebrating but again it's worth considering the hurdles at play. The Oreca was the pacesetter for the top dozen cars and Albuquerque had worked a minor miracle for the straight-line speed deficient Ligier to even qualify 15th in the 25-car class; Orecas locked out 13 of the top 14 spots on the grid. Ending fifth in class and sixth overall after the avalanche of LMP1 retirements, and best non-Oreca, was more than could have been hoped for.
With one of Vaillante Rebellion's cars disqualified, that promoted the United entry up to fourth and fifth, respectively. Albuquerque joked that one more disqualification was tempting to think about to provide them a podium.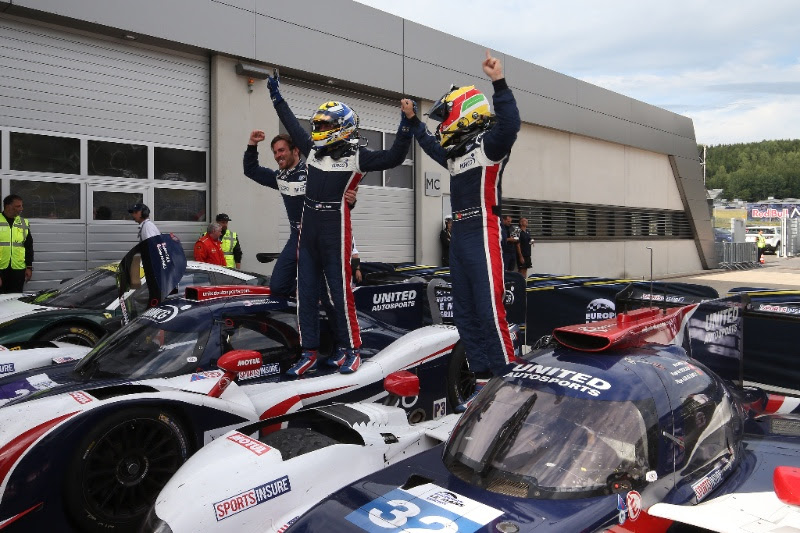 United's LMP2 team had two wins from the first three ELMS races, with a second win coming at Red Bull Ring, but a tough race at Monza was sandwiched in-between. United had a shot at the ELMS title heading into the Portimao, Portugal season finale but came up short by 12 points.
The loss stung for Albuquerque, who's become something of an eternal bridesmaid in that series. Hard-luck second and third place finishes occurred with Jota Sport in 2014 and 2015 before this year's runner-up.
Alas, Albuquerque, Owen, de Sadeleer and Phil Hanson are all part of United's 2018 ELMS LMP2 lineup. Owen, together with his managing outfit Speed Group, worked together to complete the deal over the final couple ELMS races.
There's a key 24-hour race to prepare for first, though, coming in January from the shores of Daytona Beach. The Rolex 24 at Daytona will see Owen part of a lineup with de Sadeleer, Paul di Resta and a fourth driver to be named later in one of the two Ligiers.
Oh yeah, and the other car has young guns Hanson and Lando Norris sharing their car with a certain two-time Formula 1 World Champion in Fernando Alonso. All have tested at some point, in Portimao, Paul Ricard or Daytona in recent weeks.
Owen, who's doesn't get too high or low at any stage, downplayed the extra media attention that'll be expected to hit the United garages in Daytona.
"I haven't thought about it too much, but you can't let it distract you," he said. "It's a good thing obviously. I haven't thought if it would be a bad thing. They had Jeff Gordon last year and that was pretty mad, wild; maybe a little too crazy."
What's been cool for Owen, who was a solid prospect in the Mazda Road to Indy presented by Cooper Tires after three years in the Cooper Tires USF2000 Championship Powered by Mazda and Pro Mazda Championship Presented by Cooper Tires, has been his embrace of sports car racing and not feeling as though he'd left open-wheel racing behind to shift.
"Reflecting back, it's still all happened quickly time-wise in the grand scheme of things as you process and think it over," Owen said. "It's crazy to have done what we did this year with no sports car experience for Hugo and I. The more time goes on, I learn to value a year like this one.
"Between my dad, Toni (Calderon) and United, they've all pushed so hard and worked to help get to where we are now. Everything I've gained this year was immense. I've come a long way since Laguna (Mazda Raceway Laguna Seca) last year. If I can keep making gains, that'll be huge."