The 2016 Verizon IndyCar Series champion Simon Pagenaud went back to France in the wake of that title for a champion's homecoming, with a media tour and a series of events in his home country to celebrate his maiden title.
He went home just after the end of this year's season too, but for another reason entirely: to rest and recharge ahead of a busier 2018, and with the goal of regaining his crown.
"I went back to France, as I really needed some time to go home," Pagenaud told assembled reporters at the PRI Show in Indianapolis last week, where the Team Penske driver was on hand on behalf of Chevrolet.
"We arranged with Penske for my schedule to have me go home and be with (my sister) as she was having a baby. I went home, and managed to restart my training with my trainer. It was good to do a full month of training.
"I feel super refreshed. It's been a long season, but not being the champion helps you to rest. It's a very different situation than last year. This time last year I was worn out. So now I am excited about 2018 already. It's a fresh start."
Pagenaud opted against balancing both sports car and IndyCar responsibilities for his championship defense season in 2017, but when Team Penske launched its Acura sports car program for 2018, going back to double duty was always a natural next step.
The 33-year-old now is in the process of learning two new cars simultaneously, and given his career trajectory where he's often jumped between different machinery depending on the weekend, it's classic and par for the course.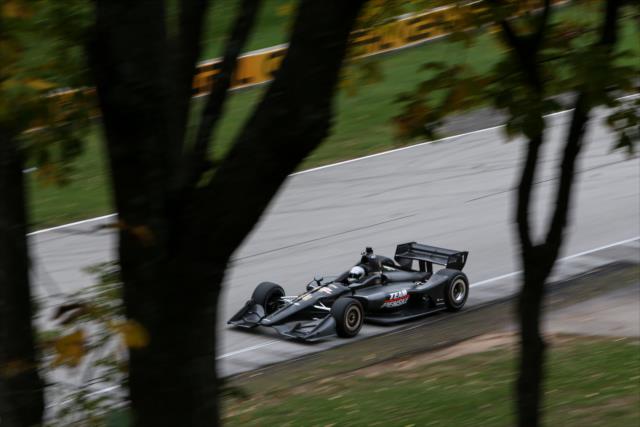 Pagenaud has had his first tests in the new 2018 Dallara universal aero kit at Road America and at Sebring's short course, while then also putting Penske's Acura ARX-05 DPi through its paces at Daytona last week.
The busy testing schedule came after the France trip, to keep Pagenaud testing and race sharp over the winter months.
Of the new IndyCar, Pagenaud compared it most to the initial Dallara DW12 chassis, which ran as the spec car from 2012 to 2014, but with a significantly better weight distribution.
"When I drove it in Elkhart Lake, it's a lot more challenging, which is great. The rear tires look huge! You get to see them again," he said, noting that with the rear wheel guards removed, the vision is adjusted.
"They look exciting. The acceleration is better. Also the driving is more difficult. It's more permanent to sliding. You feel it sliding a lot more in the high speed corners. So it'll be 'dirt tracking.' There's a big skill to it. It'll be more difficult to put a good lap together next year. I imagine there will be less turbulence, but I can't give an honest answer yet.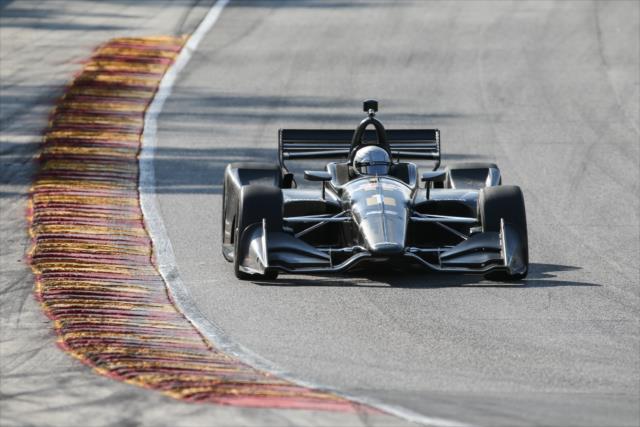 "So far it reminds me of the DW12 when it came out. I don't have recollection of the old car (the Dallara IR03 that ran through 2011), as I only drive it three times. But it's closer to the DW12. The weight distribution is a bit different. I think it will be a big change. You may not see the same teams up front at beginning of the year. It might take time to adjust to the setups."
Pagenaud also addressed the changing dynamic within Team Penske's IndyCar program. With Helio Castroneves moved to the Acura program on a full-time basis, the team is down to three cars full-time. Each of Pagenaud, this year's champion Josef Newgarden and Will Power have one title apiece; none yet has an Indianapolis 500 victory and Castroneves will return for the month of May in a fourth car for a shot to win his fourth.
Without the pressure of any of the three full-timers needing to win a title, and with all three having the same goal of trying to get that elusive first Indianapolis 500 victory, Pagenaud said the trio should be on solid, similar ground.
"It'll be different for sure. Helio was the 'daddy' of the group," Pagenaud expressed. "It was good to have him.
"But his attitude is different to anyone else I know. He was so positive. He still is! He's able to be happy and find the positive in any moment. It's a big quality. I want to understand how he does it. I think it's his strength. Next year we'll have to do a bit of that!
"We're all very competitive, the three of us, and it'll push the team forward. All three of us are champions will help. We don't have this weight on our shoulders to get it done. The dynamic should be pretty good; there's no reason it won't be."
Following up on the somewhat humorous 'daddy,' line, Pagenaud now called Power – the team's most senior driver in terms of tenure (joined part-time in 2009) and age (at 36, is three years older than Pagenaud and nine older than Newgarden) – the new 'daddy.'
"I'm not sure where his sense of humor comes from," Pagenaud laughed about his longtime friend and occasional rival. "I don't know if it's from Australia. It might be from Jupiter…"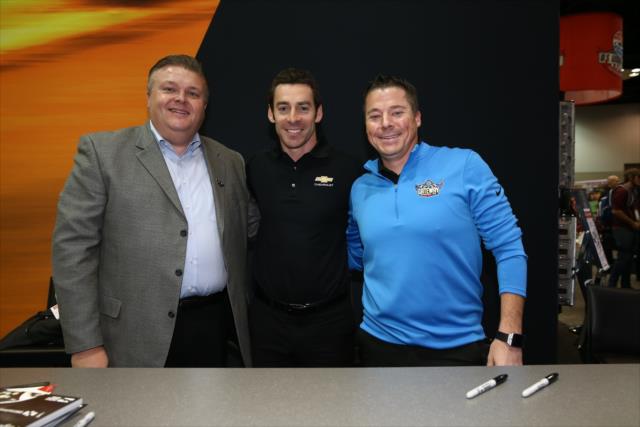 Pagenaud, who then later made an appearance at Chevrolet's stage, also expressed the goals he thinks Chevrolet has in mind to continue its pursuit of excellence. The manufacturer has won six straight championships since re-entering IndyCar in 2012.
"I expect Chevrolet to make big progress," he said. "They've made big progress since beginning of '17. It's been neck and neck with Honda. Constantly the Chevy boys have brought updates. They've won the championship six times!
"Obviously Honda has put a lot into Indy 500. We've been focused on the championship. I'm pretty convinced we'll have a big evolution," he added. "You can only focus on your game. I'm expecting some good evolution. Our weakness we had last year might not be as bad because of the aero kit going away. Less grip on the car. Our driveability will be better in these conditions. So I'm very hopeful."
Testing for IndyCar's 2017 calendar concludes this week and restarts in mid-January 2018 with team testing. Pagenaud will still be busy though, with that as well as the Roar before the Rolex 24 and the Rolex 24 at Daytona itself in the Penske Acura program.