Dogged determination is a phrase that can be used to describe Mike Shank, a racing lifer whose eponymous team based just outside Columbus, Ohio has survived and thrived for north of 20 years.
Patient persistence is one that can be used to describe Jack Harvey, the Englishman whose American dream has taken a few years to properly realize.
Their mutual dedication combined with Shank's Honda relationship and Harvey's relationship with Schmidt Peterson Motorsports helped produce a likable new entry for the 2018 Verizon IndyCar Series season, with a six-race program in the No. 60 AutoNation/SiriusXM Honda to start off in the first year of a multi-year program.
You should know Shank's story if you've followed him in the past, but the cliff notes version is this. A driver turned team owner who has both high reputation and integrity from various paddocks tried to become an IndyCar team owner for 2012 in addition to his sports car program. He bought a car, but couldn't get an engine lease.
This soured him at the time but he continued winning in sports car racing. A popular overall triumph at the 2012 Rolex 24 at Daytona, the 50th anniversary edition, was the team's biggest win with the quartet of Ozz Negri, John Pew, AJ Allmendinger and the late, great, Justin Wilson.
Although the initial hurt of not getting into IndyCar stung, Shank wouldn't give up on the dream. Circumstances brought Harvey to Shank's Indianapolis 500 entry last year in tandem with Andretti Autosport, and so both of their IndyCar careers were finally able to take hold.
It was the adversity the unit fought through all month and the relationship established that has led to now, as both Shank and Harvey explained during the PRI Show in Indianapolis.
"At any point, there were a lot of times when he could have just flat given up, and he just didn't," Shank told NBC Sports. "I just kept talking to him 'Jack, we're on this.' When things went wrong, we knew why they went wrong, which is always actually good to know. It was not our fault, but it didn't matter, it happened anyway. We got through it, and once we got through those first three or four days, we were fine. And in fact, a historical note, if you go back and look at the practice before qualifying, at Indy, we were eighth quickest, with a 231.8 (mph). I was really happy with where we were."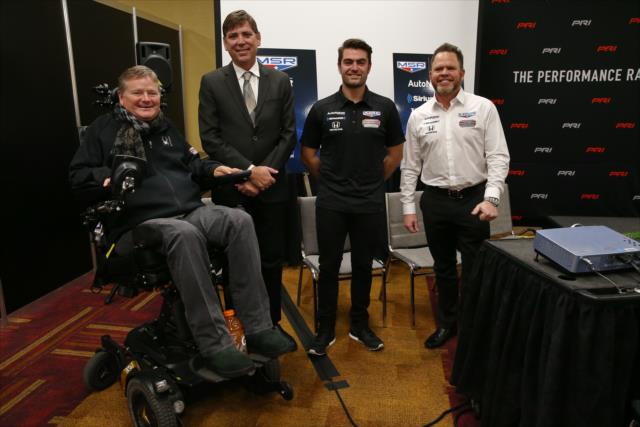 Shank explored a partnership continuation with Andretti Autosport for 2018, but it didn't make sense for either party. With SPM available to run a third car in a technical partnership and with Harvey already having the established relationship there, that made more sense for all parties.
"I'll say one thing that I haven't mentioned to anybody here today (at PRI), we had a great relationship with Andretti," Shank explained. "We talked to them about this program a little bit, because we had that program with them before, and it just didn't work for both parties. I have a lot of respect for what Michael's done over there and J.F. Thormann. It just didn't line up.
"With Sam and I: we've trying to do it for a while and it lined up. It made sense."
Harvey recapped the unlikely union between he and Shank, but noted how much support and dedication Shank gave to him despite the two not knowing each other before May.
"How we even met was kind of random," Harvey told NBC Sports. "It wasn't what either of us thought we were going to do at the (Indy 500). And that relationship grew very quickly. I think it grew quickly because of the difficulties we went though, which I don't think are a bad thing.
"Detroit immediately followed Indy and we sat down at a meeting at whatever hotel he was staying in and we said 'This is what we're looking to do in the future. Is there any interest to do it with us?' He then expressed an interest to do it with us, and then we went back to SiriusXM and AutoNation and said 'Look, this is what we're trying to do. This is how we want to finish off '17 and this is what we want to move to in the future.'"
Harvey gathered enough from those two supporters to run the final two races of 2017 with Schmidt Peterson Motorsports in its No. 7 Honda, which had seen a revolving door of drivers after Mikhail Aleshin and the team mutually parted ways. Having two races at Watkins Glen and Sonoma, two more traditional race weekends instead of the month-long slog that is Indianapolis, allowed Harvey to get his feet wet in a more normal manner.
"The '500 itself is a unique beast. There's nothing quite like the month of May. I'll be the first to say it's a slog, it's a grind, and it's a grind for everybody. Every single person who goes, goes to work," Harvey said.
"Throughout the 500, there was nothing that happened that didn't think I could, you know. Maybe I needed a bit more time and a bit more experience, but I believed I could do it.
"We went to the road courses and I feel like I backed it up, I was certainly comparable to (James Hinchcliffe), who was my teammate those weekends. I felt good. Again, I felt that, given a bit of time, I know I could do this.
"We sat down with Michael and had about as frank of a conversation as you could expect, one that when the phone rang I probably wasn't expecting it. And it was along the lines of 'Can you do this?' I was like 'I can do this. I absolutely can do it.' I believe in myself. We have modest expectations for next year that are realistic, and honestly if we're right in that window, maybe we will surprise a few people on some weekends."
Shank's often been known as doing a lot with a little; that being said, he has a solid core of local companies who are longtime supporters. Thanks to long-running partnerships with Curb Records, CAP and Associates, Rocky Fork Company, and Roberts Service Group, all have helped allow Shank's dual programs next year both in IndyCar and his Acura NSX GT3 program in IMSA.
"There are so many positives that are going on right now. It's been really difficult to get this together. A lot of credit on the IndyCar side goes to Jack (Harvey) and his guy Bob Perona," said Shank (editor's note: Harvey now has new representation from MBK Sports Management, a full-service sports agency founded by long-time NFL agent and attorney Eugene T. Lee).
"For us it's just keep pushing, don't give up, we'll find another way to do it, and we just kept on it. Truly, the AutoNation/Sirius XM (partnership) is what pushed it over. These people really believe in us and we want to over-deliver for them and that's what we're going to try to do."
The team will run a loaned SPM chassis for its initial testing in January before moving to Shank's newly purchased chassis in February. Will Anderson, a longtime junior engineer with SPM, will be Harvey's race engineer. The program will run St. Petersburg, Long Beach and the Indianapolis 500 for sure, with Shank still finalizing which other three races they'll do – but he expects they'll be road or street course races.
Harvey, meanwhile, now has a multi-year plan to build upon with Shank and Schmidt Peterson. This comes as a welcome relief after not having any racing in 2016 and just keeping his face present as SPM's Indy Lights driver coach, then doing a mix of coaching and driving last year.
"It's a huge relief. I've gone from having nothing in '16, like no racing at all, to trying to put together something for '17," he said. "There was a late '500" deal, there was a late last two races deal.
"To know what we have for next year is going to be ironed out, there's going to be some testing before it – dude, I'm a lucky person, there's no doubting that. That being said, we've worked incredibly hard to get back to this point. So we'll take a little bit of the good fortune that comes with that.
"It's nice to have it wrapped away for Christmas. I'm going to go back to the U.K. on the 22nd of December, shut the phone down for probably three or four days, and enjoy Christmas with my family, because without them, I wouldn't be here. I've got a great management team, a lot of people who I need to thank for making it happen. Honestly, the multi-year agreement part of it is hopefully my opportunity to say thank you."