One of the emerging sports car talents in North America is Kenton Koch, who we've chronicled for several years throughout his growth and development through the sports car ladder system.
A veteran Mazda driver, Koch was a champion at the MX-5 Cup and Prototype Lites series levels, fought through a challenging 2016 season without a full-time seat even though he won the Rolex 24 at Daytona in the PC class on debut, but took on a greater role with J.C. Perez's new P1 Motorsports group in 2017, leading the team's Ligier JS P3 LMP3 effort in IMSA's Prototype Challenge series.
With P1 Motorsports advancing its IMSA plans for 2018 and Koch riding high on life after a couple key items, including getting married to his fiancée Dani and moving from Glendora, Calif. to Charlotte, we thought it a good time to catch up with him for a year-end Q&A.
MotorSportsTalk: After a year where you seemed to bounce around but not get solidified, how key was this year with P1 Motorsports in the LMP3 field?
Kenton Koch: "Yeah it's awesome to have consistency, as sometimes it can be hit or miss. We'd hoped with the Mazda relationship there was still something there, but they announced their plans for this year and I wasn't part of it, so we kept looking.
"Going to the Roar (test) with helmet in hand, networking, I'd met a friend of mine named Alberto Pena – which brings back the Mazda connection because we were friends from when I spotted for SpeedSource and other previous things we did together. So we'd had an established relationship.
"Little did we know that he'd started a team with one of the clients from his previous shop, who's now the team owner, J.C. Perez! It turned out they wanted to do P3 for this whole season and map out their business plan for the following years.
"I have to thank Alberto for putting my name in the hat to test, and eventually become part of the program. Obviously it came together after Sebring so we missed the first race, but, we hit the ground running from the off and I was able win the first race for the team at Barber. You could already tell it was a well-oiled machine and great group of people, and we built on it all season."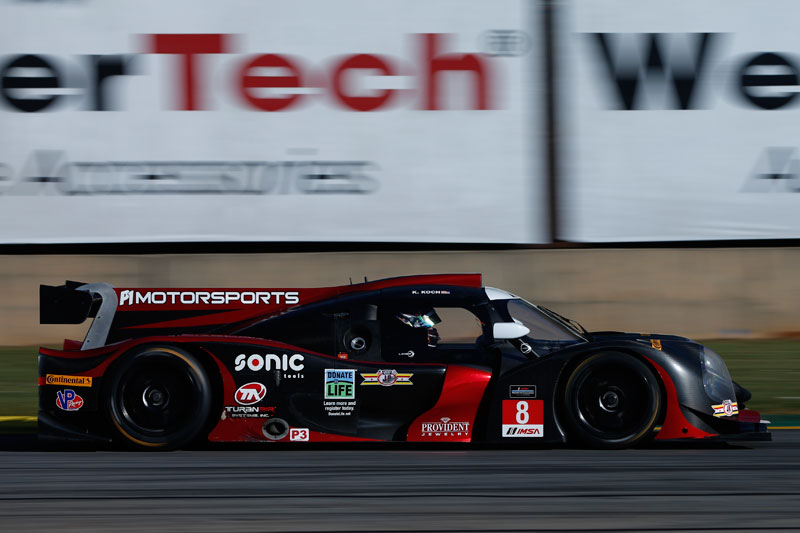 MST: You're used to running open-top prototypes in both P Lites and PC, so how big of an adjustment was the LMP3 chassis at first?
KK: "The funny thing is you can't see out of right side of car! You wish the A-pillar was out of the way, and at certain right handers you can't see the apex. After you drive it for a bit though, you learn how to put the pieces together. You kind of learn to adapt. Once you get going and a couple days, it ended up not being a factor. But for the first little bit, it's definitely interesting."
MST: With seven wins from 11 starts, you still almost won the title despite missing the first race weekend. Was that bittersweet or was it a case that you and the team had overachieved?
KK: "Obviously it would have been great to win the championship, but we knew it was a tall order having missed the first race. I think we proved what P1 Motorsports could do having won the Team Championship."
"It was also amazing to finally get a break like this. It was something I never would have expected. You always hope to get this break, then capitalize on that, and make it into something more. This year was that, and more. It's been a blessing of a year. Next year looks even better. It's cool to start to snowball and continue that momentum. It's huge from a confidence standpoint to know that everything you knew deep and down inside of you, to have other people see that, and be able to I guess know that other people see what you've felt."
MST: Beyond your full-season LMP3 role, you also got the chance to race the car in Europe with another team and reprise your MX-5 career in the Global MX-5 event at Mazda Raceway Laguna Seca. How do you reflect on those?
KK: "I'd met Joel Janco before and we'd kept in touch, but I didn't think it would come to anything for a race chance. But I'd received a recommendation from a mutual friend and he wanted to race with me. I was super ecstatic and pumped, getting to drive Paul Ricard and Spa. The circumstances there were tough but I had a blast there, experiencing Europe and seeing some epic tracks.
"Coming home to the Global MX-5 race, it felt like old times! In race two it was just a perfectly timed start. The rest of field started leaving me out of the hairpin and I was accelerating. Right as I was about to lift to slow back down again to get back on the bumper, the green flag flew and I popped, so I had so much momentum from three or four car lengths back! The inside line then opened up and it created a three-in-one deal at least. So I wound up gaining seven positions, going from ninth to second and battling for the lead out of Turn 2. It was a stunning start and the race didn't end well unfortunately, but that was a blast as well."
MST: Can you give a quick update on your 2018 plans and framework?
KK: "J.C.'s invested a lot with this team. So he wants to do GTD and get his feet for the long races, so that's the plan for the team is to do those with the Mercedes-AMG GT3 and see what that means for 2019.
"For me, since I'd been in at the beginning, they wanted to put me in the car since it's a logical thing to do. We'd worked really well together and it made it easier for them since we know each other. I'm grateful to be in this position.
"J.C. burst onto the racing scene from nowhere. He's involved in multiple businesses and is learning the racing aspect. He trusts this group of people. He started racing two and a half years ago from track days, but this is his first year of being committed to racing and cars.
"There is a certain level of comfort with what things have become now. With being comfortable to me doesnt mean laziness, I always want to do more, learn more and be the best person I can be."