A new-look lineup will greet Michael Shank Racing's now customer-based Acura NSX GT3 program for the 2018 IMSA WeatherTech SportsCar Championship season.
The car itself, however, appears a much more solidly well-rounded machine after its first full year of racing and development in 2017, which should help the team build on the performance and results achieved last year.
"It's 100 percent better," Shank told NBC Sports at last week's PRI Show in Indianapolis. "Steve Eriksen (vice-president and COO, Honda Performance Development) mentioned (in a meeting), it's so much better than we were last year. I don't know what that means ultimately, except to say we're more prepared."
Owing to IMSA's designation that the team can't run a works, factory-backed entry as that was only allowed for one year, the MSR GT Daytona class effort in 2018 takes on a customer role.
The team has a new full-season pairing in the No. 93 Acura, with IMSA veteran and multi-time Pirelli World Challenge champion Lawson Aschenbach alongside Justin Marks, a bit of a renaissance man in his own right as a NASCAR Xfinity Series race winner and one of the principals of DryLake Group, which runs the GoPro Motorplex among other businesses.
At present, the team's No. 86 Acura for Katherine Legge and Alvaro Parente is a Tequila Patron North American Endurance Cup entry, but the team and Acura are working towards filling that car for a full season return with additional drivers to be named later.
Mario Farnbacher and AJ Allmendinger have been announced as two of the extra drivers for Daytona for MSR's team, Farnbacher also being confirmed with the No. 93 car for the full Tequila Patron North American Endurance Cup schedule.
Shank explained how methodical he has to be from a budgetary planning standpoint and how this new look lineup came together.
"It never comes real easy. I don't want to cry too much because when you look at this, I've got 25 full-time people, I've got a fairly large budget for a "smaller team" – we're not poor, but we just have to watch our steps," he said.
"The reason why we're still here after 20 years is that we've been conservative financially, meaning we only do what we can do and then we got to draw a line. As much as I want another set of $100,000 dampers, I got to pull back!"
"We truly, truly got lucky with that one (the No. 93 car). Justin flies under the radar a little but, but I promise you he's going to surprise some people this year. Once we get into January – he's got some kind of cool commitments in early January, he's climbing a mountain in South America, one of the tallest in the world. He's going to contend for a lot of cool stuff this year, I'm anxious to see where he goes."
Aschenbach, for his part, is relishing the opportunity. He and Shank have known each other more than a decade going back to when he tested an Atlantic car, and he and Marks have finally synced up after years of wanting to work together.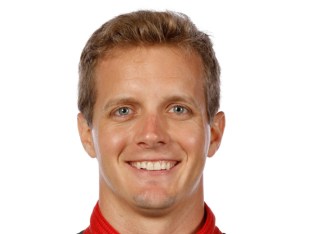 "Michael's assembled a very successful team. It's a professional organization. It's very well managed with a common goal of winning," Aschenbach told NBC Sports. "Even for a seat fitting you feel at home. It made the decision very easy. I have a lot of respect for Shank, and for what he's accomplished. He's always in the paddock with a program. You have to give props to that, to have that staying power.
"When I started to realize I'd have to move from Stevenson, Justin was my first call, strictly because we've been friends for so long. He wanted to do more sports car racing. He did great in the Turner BMW last year, and I think it re-energized him to focus on sports car racing in the future.
"I tested at Sebring for a few laps in the Acura. It's definitely different than the Audi but suits the track. I was very impressed with the car. You can tell they've worked really hard in a lot of specific areas, and that lets you see how successful it is. Winning two IMSA races against the caliber of competition in the first year was an incredible effort and showed the dedication of Acura, HPD, Michael Shank Racing and the drivers assembled."
One of the unfortunate side effects is that Ozz Negri, who's been as much a Shank lifer as the team has been, doesn't appear to be in the frame for another year. He's been with Shank for nearly 15 years.
"It's just circumstances," Shank reflected. "We're talking about 14 straight years of working together (with Ozz). I haven't gotten real sad about it because I feel like times change sometimes. His contribution to our team is so much more than driving a race car. So, it's just fortunate that's it has to come to this. Hopefully, he'll be a part of our team somehow, some way."
Andy Lally (Magnus Racing) and Jeff Segal (Scuderia Corsa) have also moved on to new teams next year, although both have experience with those teams.