With a flurry of announcements in recent days, the grid for the IMSA WeatherTech SportsCar Championship season-opening Rolex 24 at Daytona is starting to form up. There are plenty more to come, but here's what we know so far:
PROTOTYPE
The combination of Daytona Prototype international (DPi) and LMP2 spec cars could author the biggest class on this year's grid, with upwards of 20 cars possible after there were 12 cars in the class last year. IMSA's DPi formula has attracted at least nine DPis alone with a flurry of LMP2 cars coming over either for a full-time IMSA effort or a partial season campaign thanks to IMSA's planned 36 Hours of Florida initiative to attract pro-am teams from Europe.
Here's how the grid looks so far:
DPi
Tequila Patron ESM, Nissan Onroak DPi: 2-Ryan Dalziel/Scott Sharp, 22-Johannes van Overbeek/Pipo Derani, Endurance drivers Olivier Pla, Nicolas Lapierre cars have not yet been assigned.
Mustang Sampling Racing, Cadillac DPi-V.R: 5-Filipe Albuquerque/Joao Barbosa/Christian Fittipaldi
Whelen Engineering Racing, Cadillac DPi-V.R: 31-Felipe Nasr/Eric Curran/Mike Conway/Stuart Middleton
Acura Team Penske, Acura ARX-05: 6-Juan Pablo Montoya/Dane Cameron/Simon Pagenaud, 7-Helio Castroneves/Ricky Taylor/Graham Rahal
Konica Minolta (Wayne Taylor Racing) Cadillac DPi-V.R: 10-Jordan Taylor/Renger van der Zande/Ryan Hunter-Reay*
Mazda Team Joest, Mazda RT24-P*: 55-Jonathan Bomarito/Harry Tincknell/Spencer Pigot, 77-Tristan Nunez/Oliver Jarvis/Rene Rast
*Mazda has not formally confirmed the lineups for its two cars but has tentatively outlined these trios. The same is true for the No. 10 team, which expects IndyCar star Ryan Hunter-Reay to reprise his role as third driver as he did at last year's Motul Petit Le Mans.
LMP2
JDC-Miller Motorsports, Oreca 07 Gibson: 99-Stephen Simpson/Misha Goikhberg/Chris Miller, 85-Simon Trummer/Robert Alon. Fourth driver TBA for the GAINSCO-backed No. 99 car and rest of lineup to be revealed later for second car.
CORE autosport, Oreca 07 Gibson: 54-Colin Braun/Jon Bennett/Romain Dumas/Loic Duval. CORE moves into P class from GT Daytona.
AFS/PR1 Mathiasen Motorsports, Ligier JS P217 Gibson: 52-Gustavo Yacaman/Sebastian Saavedra. Third and/or fourth driver TBA to be revealed later. Link-up of Gary Peterson's AFS Racing with Bobby Oergel's PR1 Mathiasen team.
Performance Tech Motorsports, Oreca 07 Gibson: 38-TBA. Brent O'Neill's PC class-winning team steps up with a new Oreca 07, but hasn't named drivers. James French and Kyle Masson expected full-season, but not yet announced.
BAR1 Motorsports, Riley Mk. 30 Gibson: 20-TBA. With Yacaman setting a baseline, BAR1 veterans such as Don Yount, Tomy Drissi, Mark Kvamme and Marc Drumwright have tested the car. Brian Alder has yet to finalize this car's lineup.
United Autosports, Ligier JS P217 Gibson: TBA-Fernando Alonso/Lando Norris/Phil Hanson, TBA-Paul di Resta/Hugo de Sadeleer/Will Owen/Bruno Senna. The Zak Brown and Richard Dean-led Anglo-American team features this year's highest profile guest star (Alonso) in his sports car debut, along with a combination of other F1 veterans and young stars-in-waiting.
Jackie Chan DC Racing, Oreca 07 Gibson: TBA-Lance Stroll/Daniel Juncadella/Robin Frijns/Felix Rosenqvist. Second car also expected of team veterans for the Jota Sport-run operation that starred in LMP2 in the FIA WEC this year, although Jarvis has gone to Mazda and Thomas Laurent is the subject of a contract dispute between JCDCR and Rebellion Racing, per Sportscar365.
D3+ Transformers Racing, Ligier JS P217 Gibson: 84-Robbie Kerr. Details of the Dawson Racing-led team's plans have been sparse since Petit Le Mans announcement.
PLANS UNKNOWN/FLUID/TBD
VISIT FLORIDA Racing/Spirit of Daytona Racing: Highest profile question mark in the P class is Troy Flis' team, which ran both a Riley Mk. 30 and Ligier JS P217 chassis this year but has lost van der Zande to the No. 10 Konica Minolta Cadillac DPi-V.R and hasn't finalized its program status for 2018.
Other European prototype entries could also materialize here, but the cars and teams above have been announced either in full or in part.
GT LE MANS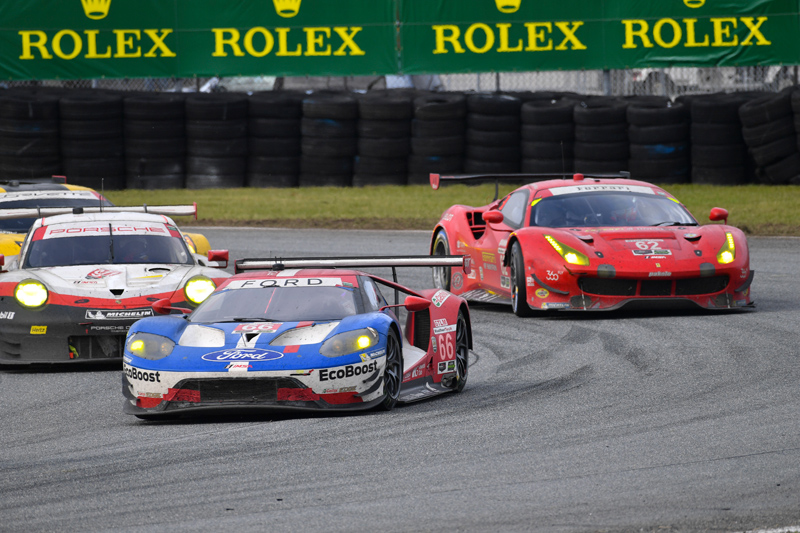 The manufacturer-driven factory GT class will look similar as it did in 2017 at the Rolex 24, albeit with fewer one-off entries. With recent manufacturer end-of-year events in Germany, lineups for most of this class have been revealed.
CONFIRMED
Corvette Racing, Corvette C7.R: 3-Jan Magnussen/Antonio Garcia, 4-Oliver Gavin/Tommy Milner. Endurance drivers to be named later; Mike Rockenfeller and Marcel Fassler were in this role in IMSA last year.
BMW Team RLL, BMW M8 GTE: 24 and 25, lineups to be determined but drivers include: John Edwards/Connor De Phillippi/Alexander Sims/Jesse Krohn (full season), Bill Auberlen/Augusto Farfus/Philipp Eng/Nicky Catsburg (endurance races).
Ford Chip Ganassi Racing, Ford GT: 66-Dirk Mueller/Joey Hand/Sebastien Bourdais, 67-Ryan Briscoe/Richard Westbrook/Scott Dixon. No changes.
Porsche GT Team, Porsche 911 RSR: 911-Patrick Pilet/Nick Tandy/Fred Makowiecki, 912-Laurens Vanthoor/Earl Bamber/Gianmaria Bruni. "Mako" and Bruni are the extras here while Tandy and Bamber return back to the U.S.
EXPECTED, NOT YET ANNOUNCED
Risi Competitizone, Ferrari 488 GTE: Lone Ferrari and lone privateer is usually the last to confirm its plans in this class and 2018 is no different. Hope is a return to full-season after missing handful of 2017 races.
GT DAYTONA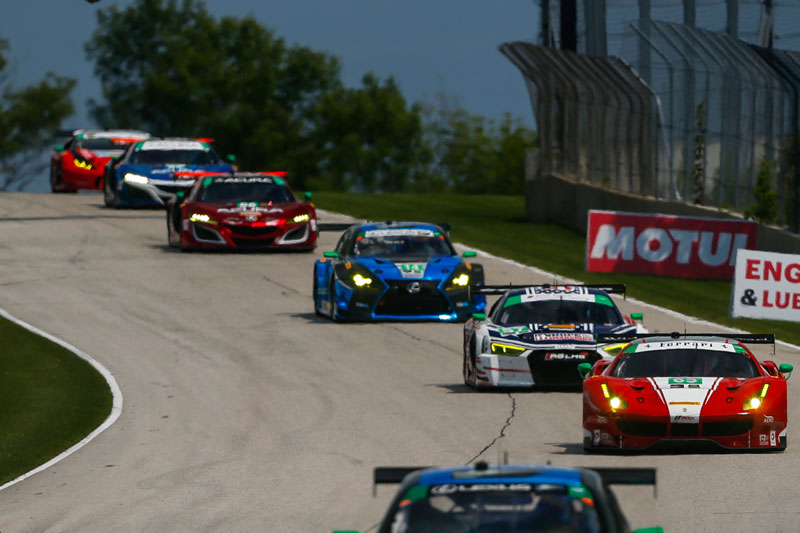 Lots of changes in this class, but the last couple weeks have seen a bevy of announcements.
CONFIRMED
Scuderia Corsa, Ferrari 488 GT3: 63-Alessandro Balzan/Cooper MacNeil/Gunnar Jeannette/Jeff Segal, 64-Townsend Bell/Bill Sweedler/Frankie Montecalvo/Sam Bird. Balzan and MacNeil are the lone full-season pair here, MacNeil replacing Christina Nielsen, with the No. 64 car the Tequila Patron North American Endurance Cup second car extra.
Michael Shank Racing, Acura NSX GT3: 93-Lawson Aschenbach/Justin Marks/Mario Farnbacher/Come Ledogar, 86-Katherine Legge/Alvaro Parente/Trent Hindman/AJ Allmendinger. Lots of change here with seven of eight drivers new, although Allmendinger is one of Shank's longtime friends and drivers. The No. 86 car was announced as a Tequila Patron North American Endurance Cup entry but could grow into a full-season.
Wright Motorsports, Porsche 911 GT3 R: TBA-Patrick Long/Christina Nielsen. Last year's PWC GT champ (Long) and IMSA GTD champ (Nielsen) join forces with Wright in its full-season WeatherTech return. Wright's usual No. 58 wouldn't be a surprise selection and the extra drivers will be announced later.
Riley Motorsports-Team AMG, Mercedes AMG-GT3: 33-Jeroen Bleekemolen/Ben Keating. Pairing back for another year; lose both Mario Farnbacher and Hindman to Shank, but Riley is still renowned for completing lineups with aces throughout.
3GT Racing, Lexus RC F GT3: 15-Jack Hawksworth/David Heinemeier Hansson. First car revealed here will see the talented Silver-rated Dane, "DHH," share with Hawksworth. Second car and endurance drivers remaining a work in progress.
HART, Acura NSX GT3: 69-Ryan Eversley/Chad Gilsinger. Popular pair to drive Honda of America employees' car in Tequila Patron North American Endurance Cup events, again with extra drivers to be announced later.
P1 Motorsports, Mercedes-AMG GT3: New team that's run in IMSA Prototype Challenge (LMP3 class) and Lamborghini Super Trofeo North America series expects to run a Tequila Patron North American Endurance Cup schedule, likely with Kenton Koch as lead driver. Team has tested at Daytona.
A PAIR OF AUDI PROGRAM UPDATES
Magnus Racing has confirmed Andy Lally for 2018, and John Potter always drives, but the team hasn't outright it'd be back to IMSA in 2018 after a one-year trip to Pirelli World Challenge. It's expected though that Magnus will be back in the IMSA paddock next season with at least one Audi R8 LMS.
Meanwhile with Stevenson Motorsports closing its doors and the unfortunate and untimely loss of the team's founding patron Johnny Stevenson shortly after the season, the remnants of that team with its Audi R8 LMS could be revived under a new name and structure. Formal details haven't been revealed.
2017 ENTRIES THAT HAVEN'T YET ANNOUNCED 2018 PLANS
It'll be easier to list the cars that ran in 2017 whose teams haven't formally announced their full 2018 plans. Those are below:
FULL SEASON 2017
No. 28 Alegra Motorsports Porsche 911 GT3
No. 73 Park Place Motorsports Porsche 911 GT3 R
No. 96 Turner Motorsport BMW M6 GT3
No. 48 Paul Miller Racing Lamborghini Huracán GT3
No. 16 Change Racing Lamborghini Huracán GT3
No. 75 SunEnergy1 Racing Mercedes-AMG GT3
PART SEASON 2017
No. 29 Montaplast by Land-Motorsport Audi R8 LMS
No. 80 Lone Star Racing Mercedes-AMG GT3
TRG, either No. 007 Aston Martin V12 Vantage GT3, or No. 991 Porsche 911 GT3 R
There were a number of Daytona and Sebring extras in this class last year and there usually figure to be some again, and often it's extra Ferraris, Lamborghinis, Porsches and/or Aston Martins.
With some combination of north of 20 cars in both the Prototype and GT Daytona classes, and at least nine GT Le Mans entries, the 60-car cap for the January 27-28 race seems well within range for IMSA.