Three more driver signings have occurred for the 2018 Mazda Road to Indy presented by Cooper Tires season in the last couple days, with a pair in the Cooper Tires USF2000 Championship Powered by Mazda and one more in the Pro Mazda Championship Presented by Cooper Tires series.
Team Pelfrey, which won the 2015 and 2016 Pro Mazda titles with Santiago Urrutia and Aaron Telitz, respectively, has signed Sting Ray Robb for his second season. Robb shifts over from World Speed Motorsports, as the teenager occasionally impressed throughout the year. He will drive the No. 82 Trademark Dental, Munk Family Dental, Intervention.com / Team Pelfrey Mazda. Robb tested with Juncos Racing at the Chris Griffis Memorial Mazda Road to Indy Test in October.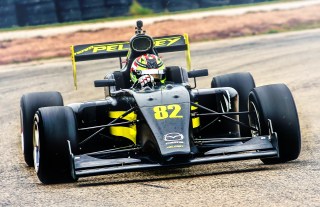 "It's hugely exciting to welcome Sting Ray back to Team Pelfrey," commented Team Pelfrey General Manager, Jonny Baker. "I say back, because he tested with us a few years ago in F1600 and we immediately saw how much potential he possessed then. We have had Sting Ray in the new PM-18 for a couple of tests now, and we are convinced he will surprise a lot of people next year. He's still only 16, and we will work hard together not only to keep developing the car, but also to get the most out of him. We are looking forward to an exciting year!"
Also of note in Pro Mazda was that Milan, Italy-based team RP Motorsport Racing has announced its intentions to race in the championship next season.
"After a successful experience in the World Series Formula V8 3.5, we immediately started looking around to fix our plans for 2018. We found a very interesting context in the Pro Mazda Championship," said Fabio Pampado, RP Motorsport Racing team principal. "Thanks to its partnership with INDYCAR and to the new Tatuus chassis in 2018, it will receive a new boost. We believe it is the best choice for us to continue to guarantee our team the presence in a championship with international visibility, and the opportunity to compete on tracks full of charm represents a challenge with a unique flavor."
The Pro Mazda grid includes Juncos Racing with three drivers confirmed (Carlos Cunha, Rinus VeeKay, Robert Megennis), Cape Motorsports with its first (Nikita Lastochkin, over from Pelfrey), BN Racing with David Malukas, and Oliver Askew (USF2000 champ, expected with Cape once Mazda announces). Exclusive Autosport and Pabst Racing are a couple of the other teams expected to race in the series, having tested extensively with the Tatuus PM-18 Mazda.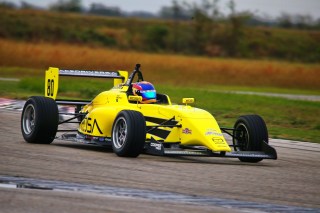 In USF2000, Pelfrey has also been busy there. It has signed its first driver in South African Julian van der Watt. Pelfrey had at least one vacancy to fill with Robert Megennis moving up to Pro Mazda with Juncos Racing. The Cape Town native has tested a Tatuus USF-17 Mazda thus far and will move Stateside for his racing next year.
"Julian came over and tested with us in October, his first outing in a USF2000 car, and we immediately saw why he dominated the South African F1600 Championship," Baker said. "Not only was he fast, but his consistency and work ethic were all on display for us to see.  Julian's decision to move to the Mazda Road to Indy is fantastic news for Team Pelfrey and the series and we are looking forward to seeing how he gets on throughout the 2018 season."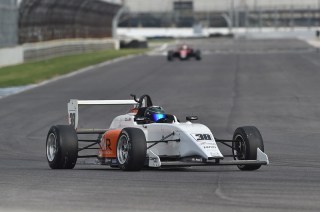 Newman Wachs Racing has added its second driver in the form of Oscar DeLuzuriaga, a UK-born Singapore resident who joined the team for the first time in June, and also ran at the Griffis test in October. He joins Darren Keane in that team's lineup.
"I'm really excited to add Oscar to our team for the 2018 season," offered Brian Halahan, NWR Team Manager. "We began a testing program a few months back to see if he would be ready for next year and he has come a very long way in a short time. He has put in a lot of work in, so I feel he deserves a spot on the team."
Two other drivers you can expect to see in the USF2000 field include Keith Donegan, who won the $200K Mazda Road to Indy Shootout, and will have his team revealed at a later date and Mathias Soler-Obel, a 15-year-old Bogota, Colombia native now living in Atlanta. He's planning to move over after a year in the Formula 4 United States Championship.