While the start of the 2018 NHRA season is still a month away, I'm already looking beyond what's to come and instead thinking about the sport's future.
I'd like to talk about three things in particular. Think of them as three columns in one – with one key related outcome at the end.
First off, Peter Clifford has been promoted from president of the sanctioning body to its first-ever Chief Executive Officer. And as of New Years Day, Glen Cromwell has been officially promoted to assume Clifford's former role as president.
Like Clifford, Cromwell is essentially a lifer at NHRA and it is expected he will continue the programs and changes Clifford implemented in his 2 ½ years as president.
But one thing is certain: the future of the NHRA is solidly in Cromwell's hands.
Second, the NHRA's own version of P.T. Barnum, the sport's greatest promoter as well as its greatest driver ever, John Force, will turn 69 in May.
While still competitive and the biggest force – no pun intended – within the sport, one must wonder just how much longer Force will continue racing.
He's said previously that several of his current contracts will expire at the end of the 2019 season, when he'll be 70 years old. Will that also mark the end of Force's career?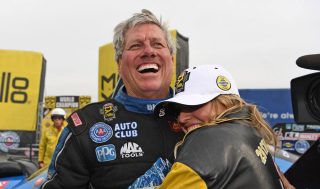 Realistically, how long will John Force be able to continue on behind the wheel? That his daughter, Brittany, won the 2017 NHRA Top Fuel title, and son-in-law Robert Hight won his second Funny Car title, as well, is encouraging that John Force Racing will continue for many years to come with Brittany, sister Courtney and Hight (also president of John Force Racing) even if John Force retires at some point.
Yet at the same time, what will the sport become without John Force? You know that day is coming – and perhaps sooner than many of us may want to think about.
John Force has been the face of the NHRA for pretty much the last 30 years. No other driver even comes close to him in wins (148) or championships (16) – and no one likely ever will in the future.
He's been the biggest asset the sport has had when it comes to selling tickets. Folks oftentimes buy tickets to NHRA events to see Force first and the rest of the other drivers second.
What will the sport become when John finally does hang up his firesuit? Will Brittany, Courtney, or some of the other young drivers in the sport be able to have the marketability, attention-getting and ticket selling prowess that John Force has had?
And thirdly, there's one of my biggest concerns about the sport going forward – particularly when John Force climbs out of his Funny Car for the last time.
It's no secret that NHRA, like NASCAR, IndyCar and most other forms of motorsports is hurting when it comes to sponsorship. Let's face it, the multi-million sponsorship dollars that were so prominent in the 1990s and the first part of the 2000s have been substantially cut.
Even the best-funded teams are hurting in NHRA, oftentimes having trouble finding enough dollars to get through the entire 24-race Mello Yello NHRA Drag Racing Series.
And how many times have we seen less than full 16-car fields in races in the last few years? In 2017, we saw several races with less than full fields in Pro Stock and Top Fuel, and if I'm not mistaken, at least one short Funny Car field. It's a definite concern, for sure.
So what do all three of those items have to do with one another? Plenty – and the sooner the NHRA starts thinking in that direction, the stronger its future will look.
The NHRA has to decide going forward what it wants to be, plain and simple – or what it needs to be, particularly in the PF era – Post-Force, that is.
Sure, it's still the largest motorsports sanctioning body in the country, with over 70,000 members, not just its pro ranks, but also its thousands of sportsman racers.
Hopefully, Cromwell will do what his predecessors – Wally Parks, Dallas Gardner, Tom Compton and Clifford – didn't do: get with the times and evolve the sanctioning body into a modern-day entity, rather than be stuck in the same time warp it has been in for the last 20 to 30 years.
Change must come to the NHRA in several ways, most notably race weekends and event schedules.
Do we REALLY need three-day pro race weekends? Do Top Fuel, Funny Car and Pro Stock teams REALLY need four qualifying passes (typically two on Friday and two others on Saturday) in every national event weekend?
The days of fans coming to Friday, Saturday and Sunday for an NHRA event weekend are all but over. Between ticket prices, travel and potentially 2-3 nights of hotels, food, gas, etc., many fans have been priced out of going to tracks from Pomona to Epping.
Plus, the NHRA's old business model of mixing the pro ranks with sportsman classes simply isn't working any more. Don't believe me? Have you been to a NHRA national event over the last few years? What happens when the pros finish up a particular round and hand the track over to the sportsman drivers?
Answer: the stands typically empty by at least half. Usually the only folks left in the stands are either fans or friends of some of the sportsman drivers.
When the sportsman drivers attempt to show their skills, most other fans go out to the food court or product midway. Sure, those racing fans eventually go back to the stands, but usually not until the next pro round of qualifying or eliminations.
While it may be difficult to make changes for 2018, certainly 2019 could – and should – see some major significant changes, provided NHRA starts listening to its drivers, team owners, crew chiefs, media and fans, all who have been clamoring for change rather than the same old, outdated thing.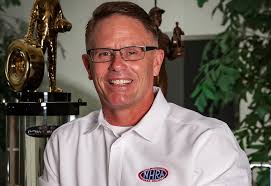 That's been easier said than done over the sport's history. For too long, it's been NHRA's way or the highway. That has to change, lest the sport will slip into virtual anonymity, particularly after John Force retires. Why do you think the NHRA wants Force to stick around forever? Even if he stops being competitive, his name and appearance will still sell tickets – and money is often the name of the game with the NHRA.
I've covered NHRA for more than 30 years and during that time I've easily talked to hundreds of competitors and team owners, not to mention countless fans. They're almost unanimous in their comments on the fate and future of the sport.
Based upon many of those conversations, here's some suggestions for changes the NHRA should implement, as well as my own personal perspective.
1) Cut most national event weekends to two days. Do we really need to have four qualifying/practice runs? Can't we get along with one day of qualifying of two rounds (including one round at night for the visual effect fans love) and then final eliminations on the following day? I firmly believe fans would be more amenable to attending two days of national events this way, given they wouldn't have to pay for a third day – not to mention the race-related expenses (like travel and hotels) they'd incur.
2) It's long overdue to split the pro ranks from the sportsman ranks. If NHRA still wants to have sportsman drivers compete in national events, let them race on Fridays (and potentially even on Thursdays), if not at their own separate races and locations. Leave Saturday and Sunday to the pros only.
3) In addition, run NHRA's so-called semi-pro cars on the same days as the pros to fill in the time that would previously have been filled by sportsman drivers on track. In other words, Top Alcohol Dragster and Top Alcohol Funny Car, along with Pro Modifieds, would not only easily fill the Sportsman driver hole on Saturday and Sunday, it's no secret they already have a very healthy and loyal fan base that sportsman drivers just don't have. I'd also increase the number of events for Pro Stock Motorcycles from 16 to 20 races per season.
4) NHRA has to decide what kind of organization it is going to be under Cromwell's leadership. It no longer can be all things to everybody, pro and amateur driver alike. If, by shortening race weekends or revamping them entirely, it will definitely save money in the process – which almost every team is clamoring for – and that's for the betterment of everyone: the organization, its teams and its fans. A perfect model to follow would be the example set by NASCAR. It's version of sportsman drivers – those in the ranks including the K&N Pro Series, Whelen Modifieds, etc. – have their own series and racing venues. Sure, there may be a Cup race weekend or two that the lower-level drivers will have a race to compete in, but for the most part, they're their own standalone entities. NHRA should pursue that path.
Many of you know how passionate I am about motorsports, particularly NHRA. It was my first exposure to any form of racing back as a teenager, and it's a love affair that I have happily continued for several decades since.
But this is a different day and different era than when I and so many of you fans were kids or teens and when we first fell in love with drag racing.
As much as we wish he would be immortal, the reality is John Force isn't going to race – or live – forever. It's time the NHRA makes significant changes in preparation for the Post-Force era before it happens so that it can preserve its own future.