If I had a dollar for every race fan that has ever told me how much he or she would love to own an actual Indy car, I could retire to Hawaii tomorrow.
But now it's true: if you have a cool $89,995, you indeed can now own your own built-from-scratch Indy car – with only 2,300 original miles on it – and drive it on the street as a regular commuter ride!
Imagine pulling up to the office every day and the heads that will turn and the tongues that will wag.
I was tipped off to an ad on the Craigslist Las Vegas site and did some checking. Sure enough, the story is legit.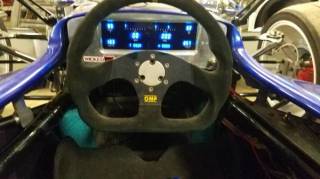 A gentleman in Wisconsin (I've reached out to him and am awaiting a response) has a one-of-a-kind unique Indy car for sale.
"Street legal Indycar! 1 off CUSTOM, beautiful & FAST! Amazing and useable — $89995 (Milwaukee)" is how the headline for the ad reads.
Now, you're probably wondering why a car in the Milwaukee area is being advertised in Las Vegas.
Actually, it's a pretty simple and logical explanation: the car will be titled and registered in Nevada, which apparently has less restrictions on what can and can't be driven on a street or highway than in other states.
For example, if the car were to be street legal in, say, Illinois, it would have to have full fender flares covering all four tires.
But if you think plunking down nearly $90 grand will allow you to rub tires at Indy or Sonoma or Long Beach with the likes of defending IndyCar champ Josef Newgarden or 2016 champ Simon Pagenaud, forget it. The car won't pass that kind of tech.
Still, having a one-of-a-kind unique ride cruising down Las Vegas Boulevard or across the Hoover Dam would make it – and you, the driver – a definite sight to see.
Oh, one more thing: while the car will be titled and registered in Nevada, the ad says the current owner will be willing to ship it to you (within reason, likely) – for FREE!
Now, if you live in, say, Dubai, there'll likely be some extra shipping charges tacked on. (But if you live in Dubai, you probably can afford to buy a real deal Indy car for probably a cool half-milion bucks, anyway.)
Click on the link here to check out the entire ad.
And if we do get a response from the owner, we'll give you a bit more insight into the car, how it was built, its history and more.