Ed Carpenter went looking for a prince to join his IndyCar team and he wound up with a King.
Jordan King, that is.
Ed Carpenter Racing made the announcement Thursday morning in a press release that King would join the team for 2018, driving the No. 20 Fuzzy's Ultra Premium Vodka Chevrolet in 11 of the 17 Verizon IndyCar Series races (Carpenter will drive the six oval races).
Then in the afternoon, Carpenter and King were on an IndyCar teleconference with reporters.
"We met in December, had some quality time together, talking racing, about his career, life in general, his goals in general," Carpenter said of King. "I think we all got real comfortable with each other at that point and here we are now."
King, 23, is from England and had been on a path that was pointing more towards eventually reaching Formula One.
"I've always had a very wide view on my motorsport career, in general," said King, who first met Carpenter at Sonoma at the end of the 2016 season. "(Meeting Carpenter) was to get a feel and understand what it's all about and get to know the people behind it and how it worked.
"That really did start the fire inside me for it. Then spending the next year pushing to making it a goal and I'm really pleased to get it finally to pay off and I'm excited to fly over and get started."
But even before he met Carpenter, being teammates with Alexander Rossi in 2015 in the GP2 Series (now Formula 2) laid the initial foundation to get King thinking about IndyCar.
And then when Rossi won the 2016 Indianapolis 500, conversations between the two friends ramped up even more about the possibility of King coming to race in IndyCar some day.
"I trust him and believe what he's saying," King said of Rossi. "I spoke to him quite a bit from everything how the car drives, what it feels like to what it's like to living in the U.S. It was quite reassuring to speak to someone who's done it and I know his driving style."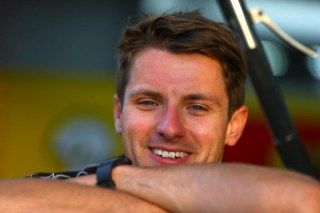 When King's discussions became serious with Carpenter, he called Rossi once again. It was that call that essentially sealed the deal in a way to join ECR.
"The most friendly advice he gave me was 'you'll love it out here' and how much he's enjoyed it," King said. "He was very focused on Formula 1 at one point in his life and he's come over here and had some great success. That was nice to hear that back from him."
Carpenter said that by having King run 11 races will allow him to get a feel for IndyCar racing and to grow and develop.
"It's a good time for Jordan to come in because he's going to have a lot to learn about IndyCar, the car, the tracks," Carpenter said. "Everybody's going to have a bit of reset from how you drive the car to what the car needs from a setup standpoint.
"So, it'll put him on a little bit more of equal footing than if he was coming in in a year where we're all coming in where we left off the year before. I'm excited to keep the development process with the car and excited to get Jordan to start with the team and beginning that process coming up at the beginning of February (first test is at Sonoma on Feb. 5)."
Carpenter has no plans to put King on an oval or run him in a third car in the Indianapolis 500. For now, it'll just be all about learning and getting more comfortable.
"I want to be like a sponge and absorb all I can, try all I can, and if I can win races, perfect, but it's going to be very much a learning year for me," King said. "The longer goal is to become a full-time IndyCar driver and work towards that in the future. It's just a matter of being a sponge and having the best success I can have in my rookie year."
Carpenter likes that King is committed to building a career in IndyCar. Both have done their due diligence on each other and they look forward to a long and fruitful partnership.
"We talked to quite a few people and really it came down to a comfort level of how we can all work together and the quality of driver we are getting in Jordan," Carpenter said. "Although he doesn't have a lot of experience here, he has a lot of experience in Europe and has raced and competed with a lot of guys that have come over here and have had success.
"One of the other things I was happy to hear when Jordan and I were talking is he's looking to come over here and build a career in America. It's not a stopgap to get back to something in Europe or to redirect his career to F1. He's looking to be a part of this series and I think that's the right attitude to approach this with.
"Obviously as a team, we have expectations to win races. We underperformed in that regard last year, but at the same time we also have to be realistic with Jordan, and I think we'll all have a better idea and set some goals for himself and us as a team as we get further into this process of working together and the new car. I always have an expectation of winning races and from my viewpoint, Jordan wouldn't be part of the team if we didn't feel he wasn't the caliber of driver to make that happen."