The first seismic news of the new season shook the racing world Friday – and it was nothing short of an earthquake.
Veteran racer Scott Pruett, who is competing in his 50th year of racing, announced Friday afternoon at Daytona International Speedway that he will climb from behind the wheel for the final time following the Rolex 24 at Daytona on Jan. 27-28.
"I have met a lot of wonderful people and have had some amazing experiences because of my motorsports career," Pruett said. "I am humbled and grateful for all of my accomplishments and to all of those who have helped me along the way.
"At the end of the day, the good Lord has blessed me with a great career and a wonderful, supportive family. I'm excited and ready to open the next chapter. I might slow down a little, but I won't stop for fear I'd rust."

This is Pruett's 50th year in racing, beginning in 1968 as an eight-year-old go-kart competitor.
He's earned a record 60 wins in American sports car competition, including a record-tying five overall wins in the Rolex 24 at Daytona.
He hopes to end his illustrious career with one more Rolex win, which would make him the all-time Rolex winner.
In addition, he's a five-time Rolex Grand-Am Champion (2004, 2006, 2008, 2010 and 2012) and two-time IMSA champion (1986 and 1988).
Pruett, who turns 58 in March, will compete in this year's Rolex 24 for 3GT Racing in the No. 15 Lexus RC F GT3. He'll be teamed with co-drivers Dominik Farnbacher, Jack Hawksworth and David Heinemeier Hansson.
"Daytona is a magical place for me and I love it," Pruett said. "I've always said the Rolex 24 at Daytona is like the Super Bowl of Motorsports because you're bringing the best of the best from all over the world and the challenge of both man and machine is fierce.
"What better way to say goodbye to the sport I love than at this revered place, surrounded by my respected peers and die-hard fans."
In addition to his prolific sports car career, Pruett has also mastered several other series, collecting 88 combined wins.
He spent 10 years in the now-defunct CART series from 1988 to 1999, earning 2 wins, 5 poles, 15 podium appearances and was 1989 Indianapolis 500 co-rookie of the year.
He also was a standout in the SCCA Trans Am Series, earning 24 wins and capturing three championships (1987, 1994 and 2003).
He also competed part-time in NASCAR from 2000 to 2008, with best finishes of second and third place in the Cup Series.
He also earned two wins in eight seasons of IROC competition. He also was a class winner in the 24 Hours of Le Mans in 2001.
Off-track, he was inducted into the Motorsports Hall of Fame and the West Coast Stock Car Hall of Fame last year, adding to being enshrined in the World Karting Hall of Fame in 1991 after 10 karting championships.
He also received the prestigious Phil Hill Award of Excellence in 2016 and is a 10-time recipient of the AARWBA (American Auto Racing Writers & Broadcasters Association) award.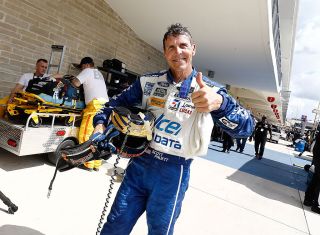 Pruett and wife Judy have published four children's books and they also own and operate Pruett Vineyard in his native Northern California, which produces ultra-premium wines.
Other career achievements include visiting U.S. troops in the Persian Gulf, carrying the torch for the 2000 Winter Olympics and work with several charities including Make-A-Wish Foundation and Give Kids the World.
But don't think Pruett's retirement means he'll move from a driver's seat to a rocking chair. On the contrary, he plans to remain busy, including in the racing world, including continuing his partnership with Lexus.
"Instead of retirement, I prefer to call it transitioning into my next phase," Pruett said. "I'll be refocusing all of that energy and passion towards other areas of my life.
"Spending more time with my wife and kids will be the first thing on my list. I am very excited and honored to continue my partnership with Lexus. I am also honored to be an Ambassador for Rolex and of course Pruett Vineyard keeps me busy."