Given that the Rolex 24 takes place in January, when most other racing series are in their off seasons, it often draws in drivers from a number of championships outside of the IMSA WeatherTech SportsCar Championship. While most one-off drivers come from INDYCAR or NASCAR, and the various series they sanction, other series also are represented, such as the FIA World Endurance Championship.
Yet, one series is consistently unrepresented in terms of its full-time drivers making the trek over for the Rolex: the Formula 1 World Championship. While many drivers on the grid have Formula 1 experience on their resume, rarely do current drivers on the F1 grid make an appearance at the 24-hour endurance race.
However the 2018 iteration sees a change in that vein as a pair of full-time Formula 1 drivers, two-time world champion Fernando Alonso and second-youngest ever podium finisher Lance Stroll, are set to enter the event, Alonso with United Autosports and Stroll with Jackie Chan DC Racing, with both scheduled to be at this weekend's Roar Before the 24.
In terms of fanfare, Alonso arrives with possibly the most among any of the drivers entered in this year's Rolex. His entry at the Rolex 24 is a continuation of an American odyssey that began last May when he made a surprise appearance at the Indianapolis 500, kicking off his personal journey to complete the triple crown – victories at the Monaco Grand Prix (of which Alonso has two), the Indianapolis 500, and the 24 Hours of Le Mans.
Although Alonos's Indy 500 effort ended on lap 179 with an engine failure, he endeared himself to many by simply making an attempt, and he handled every challenge with dignity, humility, and even humor, and he quickly became a fan favorite.
Now making the jump to sports cars, Alonso's Rolex 24 entry is widely regarded as a tuneup of sorts for a possible venture to this year's 24 Hours of Le Mans. United Autosports confirmed Alonso's Rolex entry in October, and the 36-year-old completed his first outing with the team in a November test.
Alonso's transition has appeared seamless and has undoubtedly helped the fact that the United Autosports team co-owner, Zak Brown, also serves as executive director for the McLaren Technology group, the parent company of McLaren F1 Team, with whom Alonso competes in Formula 1. Brown lauded Alonso's initial test with United Autosports, calling his effort "awesome."
Alonso will share the No. 23 Ligier LMP2 Gibson with Phil Hanson and Lando Norris, newly named as the McLaren F1 test and reserve driver.
While Alonso may receive a lot, if not the most media attention of all the drivers, his full-time F1 counterpart Lance Stroll is not to be forgotten. The irony here is that Stroll, who is 17 years younger than Alonso, is actually the more experienced of the two when it comes to the Rolex 24.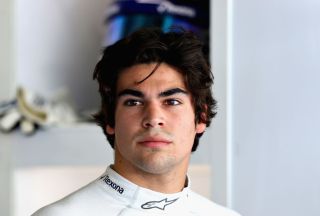 Stroll previously contested this event in 2016 with Ford Chip Ganassi Racing in a Daytona Prototype. Though his apprenticeship wasn't exactly smooth sailing that year – he crashed at that year's Roar test – Stroll did eventually finish fifth overall with co-drivers Alexander Wurz, Brendon Hartley, and Andy Priaulx.
Stroll enters this year's Rolex 24 with Jackie Chan DC Racing, which operates in a partnership with JOTA Sport. Stroll is slated to partner Felix Rosenqvist, Daniel Juncadella, and Robin Frijns, with all four include on the entry list for the Roar.
Outside of Alonso and Stroll, there are other drivers currently aligned with Formula 1 teams who will appear at the Rolex 24, beginning with this weekend's Roar. One is the aforementioned Lando Norris, a McLaren junior driver who recently claimed the FIA European Formula 3 championship along with being named McLaren's test and reserve driver. Norris will share the No. 23 United Autosports entry with Alonso, as previously described.
Additionally, 2017 Williams test and reserve driver Paul Di Resta will also feature at the Rolex 24, in the sister United Autosports No. 32 entry, and is entered at the Roar entry list alongside Will Owen, Hugo de Sadeleer, and Bruno Senna.
Of note, Di Resta is in for a busy January, as he will also be a part of the FIA Formula E rookie test next weekend in Marrakesh before returning to the U.S. for the Rolex 24.
The opening practice for this weekend's Roar Before the 24 kicks off at 11:00 a.m. EST on Friday.