The annual Rolex 24 Hours race is a high-profile event on its own, as one of the crown jewels in sports car racing in North America. Factor in its January date, and it also traditionally serves as an "all-star" event of sorts, with a number of drivers from other racing series around the world coming to take part while their full-time efforts in other championships sit dormant in the off-season.
And as has been commonplace in recent years, the Verizon IndyCar Series will sport a strong contingent of drivers across all three classes in the 24-hour endurance test that kicks off the IMSA WeatherTech SportsCar Championship.
This weekend's Roar Before the Rolex 24 test, the first official IMSA outing of 2018, offers a preview of driver and team combinations, with a number of IndyCar teams and drivers serving as leading actors.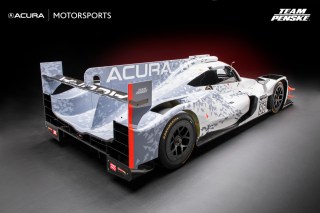 First, and perhaps most notably, is Team Penske's return to sports car racing in a partnership with Acura. The effort, deemed Acura Team Penske, is Penske's first full-time sports car program since 2009, when the organization ran a full season of Grand Am Rolex Sports Car Series competition.
While this will be the first official outing for their brand new Acura ARX-05, it will be the second one for the Penske outfit, which contested the Motul Petit Le Mans in October as a tuneup ahead of their full-season effort in 2018.
And any thoughts of Penske possibly easing its way back into sports cars were quickly squashed, as the team entered Penske IndyCar stalwarts Helio Castroneves, Juan Pablo Montoya, and Simon Pagenaud in the No. 6 Oreca 07 Gibson, with Castroneves capturing pole for the event.
While Castroneves spun early in the race after contact with GT Daytona traffic, the group rebounded to eventually finish third overall.
Penske's two-full time IMSA entries will see Montoya partner with Penske newcomer Dane Cameron, 2016 co-champion of the Prototype class, while Castroneves will pilot the No. 7 entry, sharing it with Ricky Taylor, last year's co-champion of the Prototype class. Pagenaud rejoins the No. 6 team as a third driver for the endurance races, including the Rolex 24, with Graham Rahal doing the same for the No. 7 machine.
However, while Penske may get the lion's share of attention, they will not be the only IndyCar team at the Roar Before the 24. The GTLM class features a pair of IndyCar teams in Chip Ganassi Racing and Rahal Letterman Lanigan Racing.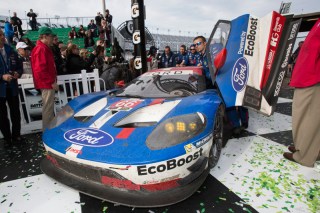 Ganassi, under the Ford Chip Ganassi Racing banner, enters this year's Rolex 24 as perhaps the favorites in the GTLM class, as Dirk Mueller, Joey Hand, and Sebastien Bourdais took the GTLM victory for Ganassi and Ford last year.
Ganassi's lineups in the No. 66 and 67 entries are unchanged, with Mueller, Hand, and Bourdais returning in the No. 66, and Ryan Briscoe, Richard Westbrook, and four-time IndyCar champion Scott Dixon sharing the No. 67 machine. Further, the full-season lineups also remain unchanged, with Mueller and Hand staying the No. 66 and Briscoe and Westbrook in the No. 67 for the 2018 campaign.
Conversely, the Rahal Letterman Lanigan squad, dubbed BMW Team RLL in IMSA competition, does see some significant changes. While Ganassi's battle-tested Ford GT is unchanged, the RLL group will field brand new BMW M8 GTLM machines in 2018.
Their driver lineup will be different as well. John Edwards returns for another full-season effort and will pilot the No. 24 entry with newcomer Jesse Krohn as well as Nicky Catsburg and Augusto Farfus, both coming over from the team's FIA World Endurance championship effort, joining him for the Rolex 24. In the No. 25, Alexander Sims returns to the team and will partner Connor De Phillippi, also a new driver for the team, while Bill Auberlen and Philipp Eng have been added for the Rolex 24. Of note here, Auberlen, a long-time stalwart with the team, is slated to dial back his driving efforts this year and is currently only scheduled to run IMSA's four endurance races with BMW Team RLL.
Additionally, new IndyCar entrant Michael Shank Racing remains a full-time IMSA competitor as well, and will field a pair of Acura NSX GT3 machines, beginning with this weekend's Roar. The No. 86 entry is slated to see Katherine Legge, Alvaro Parente, Trent Hindman, and A.J. Allmendinger, while the No. 93 will see Justin Marks, Lawson Aschenbach, Mario Farnbacher, and Côme Ledogar share the wheel.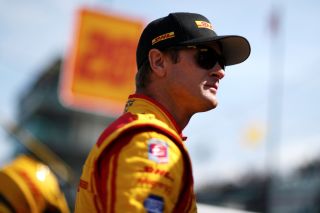 Outside of the team front, several IndyCar drivers will make appearances either in part-time drives or as part of full-season efforts, beginning with this weekend's Roar.
Andretti Autosport's Ryan Hunter-Reay joins Wayne Taylor Racing's No. 10 Konica Minolta Cadillac DPi-V.R team, a team with whom he previously raced in 2013. Hunter-Reay has contested the Rolex 24 for several years in a row, but with several different teams across both Prototype and GT categories.
Although he does not yet have a win at the 24-hour enduro, Hunter-Reay's best finish of second overall came with the Wayne Taylor-led squad in 2013.
Another IndyCar full-timer returning to the Rolex 24 is Ed Carpenter Racing's Spencer Pigot. Pigot, who will pilot the No. 21 Fuzzys Vodka Chevrolet in IndyCar, will be joining Mazda for the third year in a row, with that team now operating under the Mazda Team Joest banner. Pigot is entered in the No. 55 RT24-P.
IndyCar on NBCSN analyst Townsend Bell will also be featured at the Roar and is entered in the No. 64 Scuderia Corsa Ferrari 488 GT3, alongside Bill Sweedler and Frank Montecalvo. Outside of his duties on NBCSN's IndyCar TV coverage, Bell has become an endurance racing specialist, with a class win at the 24 Hours of Le Mans in 2016 and even an IMSA GT Daytona class championship in 2015 on his resume.
Other IndyCar drivers who will feature at the Roar Before the 24 are Sebastian Saavedra, in the No. 52 AFS/PR1 Mathiasen Motorsports entry, and Tristan Vautier, in the No. 90 Spirit of Daytona Racing Cadillac DPi.
Saavedra contested last year's Indianapolis 500 with Juncos Racing, while Vautier was drafted in by Dale Coyne Racing to sub for Sebastien Bourdais at Texas Motor Speedway. Vautier also contested a full IMSA campaign last year, in the No. 75 Mercedes-AMG GT3 for  SunEnergy1 Racing. Both Saavedra and Vautier are slated to be full-season IMSA participants.
A full entry list of the Roar Before the 24 can be viewed here and cars begin to hit the track on Friday for testing.