Formula E announced this morning a partnership with major technology company ABB that will also change the series' name.
Going forward immediately, the series will now be known as the "ABB FIA Formula E Championship."
The partnership makes plenty of sense. Switzerland-based ABB is a pioneer in electric vehicle technology, and Formula E cars are powered by electric batteries, not gas.
"Today, two pioneers are uniting," ABB CEO Ulrich Spiesshofer said. "ABB and Formula E are a natural fit at the forefront of the latest electrification and digital technologies.
"Together, we will write the next phase of the development of this exciting racing partnership and foster high-performance teams. Together, we will write the future – one electrifying race at a time."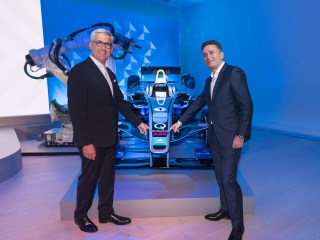 Added Alejandro Agag, founder and CEO of Formula E: "This is a historic day for Formula E and I'm honored to welcome ABB as the title and technology partner of the series, with its background and expertise in the field of electrification and digital technologies.
"Our two companies are synonymous with pushing the boundaries of what is possible. Together, as partners, we will showcase breakthrough technology on a global scale to fans and consumers who follow the ABB FIA Formula E Championship."
According to a report by The Associated Press, the deal between ABB and Formula One is seven years and reportedly worth $100 million over that term.
Formula E held its first race in Beijing, China in September 2014 and quickly became the No. 1 all-electric motor sport. The series has expanded to some of the biggest international markets in the world including New York, Hong Kong, Paris and Zurich.
There currently are 10 teams and 20 drivers competing in 11 cities across five continents, with the season championship scheduled for July.
The next Formula E race is this Saturday in Marrakesh, Morocco.