A father and son team will share driving duties in the upcoming IMSA Continental Tire Sports Car Challenge race at Daytona International Speedway.
Former sports car world champion David Murry and son Dylan will team with car owner Jim Cox in the No. 38 BGB Motorsports/David Murry Track Days Porsche Cayman GT4 MB in the four-hour BMW Endurance Challenge on January 26.
The race is one of the undercard events prior to the Rolex 24, which runs January 27-28.
This will be the first time that the Murry's, of Cartersville, Georgia, have competed together.
"This is such a great opportunity for Dylan and me to race together," David Murry said in a media release. "We're so grateful to Jim Cox and John Tecce from BGB Motorsports for making this happen. We're very excited to get on track at the end of the month."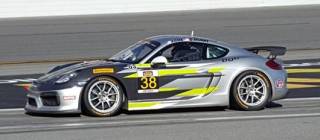 David Murry last drove for BGB Motorsports and won at Watkins Glen in 2008. Since then, he has shifted to racing part-time while focusing on his business, David Murry Track Days, which works with aspiring racers at tracks across the U.S., as well as his son's driving career.
David Murry, who turns 61 on Jan. 29, made a combined 147 starts in the former American Le Mans Series and Rolex Grand-Am Sports Car Series, amassing a total of five wins and 28 podium finishes.
Dylan Murry, 16, has been racing since the age of six and has earned 12 championships along the way, including 60 combined feature wins in Pro Class Legends and the Pro-Legends Winter Series at Atlanta Motor Speedway.
Dylan made two starts in the NASCAR K&N Pro Series East Series last season, finishing sixth at Greenville-Pickens Speedway and eighth at Watkins Glen.
"I'm so excited to make my IMSA debut," said Dylan Murry. "It will definitely be an incredible experience. To be able to have my dad as a teammate is just unbelievable."