If it seems like Michael Andretti is out to conquer the world, he is – kind of.
The former IndyCar star turned prolific team owner has won three of the last four Indianapolis 500s and five overall, second only to Roger Penske's 16 Indy 500 triumphs.
Along the way, in addition to expanding his own IndyCar and Indy Lights operation, the son of Mario Andretti and the primary shareholder of Andretti Autosport has also branched out into Global RallyCross and Formula E racing in recent years.
And now, Andretti has further expanded his brand internationally, following Penske to the world down under — as in the world of Australian V8 Supercars.
Andretti has teamed with Supercars team owner Ryan Walkinshaw, along with veteran motorsports marketer and executive director of McLaren Technology Group and United Autosports owner and chairman, Zak Brown.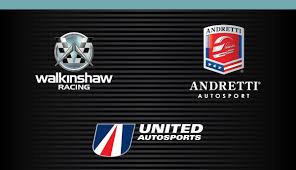 Together, the three have formed Walkinshaw Andretti United, based in suburban Melbourne, Australia. The new team kicks off the new season with the Adelaide 500 from March 1-4.
"It's just extending our brand and putting it out there," Andretti told NBC Sports. "The Supercars are such a great series.
"It all started with Zach Brown calling me and said 'You have to talk to Ryan Walkinshaw. He's got something interesting to talk to you about.'
"We talked and literally in like a half-hour, we said, 'Let's figure out how we're going to make this work.' And then Zack was like, 'Hey, what about me?' And then Zack came in as a partner and it's cool now that we have the Walkinshaw Andretti United team.
"I'm really excited about that program, the guys at the shop are excited about it, we've been doing a lot of things to try and help it because it's such a cool series and the cars are so cool.
"I went down there to Bathurst, which was to me one of the coolest tracks in the world. I wish I could have driven it, I really do. It looks like a blast.
"It's amazing how big that series is when you go down there. It's one of the biggest sports in Australia. It was just a great opportunity for us to extend our portfolio."
Admittedly, Andretti had some extra incentive to want to get involved in the Supercars world: Penske joined forces with legendary Dick Johnson Racing in September 2014.
The organization came together quickly and the rebranded DJR Team Penske went on to win the 2017 V8 Supercars championship.
"Roger was down there the last few years," Andretti said, adding that fact as incentive to get his own organization into the series. "So it's cool to go race head-to-head with Roger. That was also in the back of our minds."
This is no start-up venture for Andretti. The roots of the new venture began in 1990 as the Holden Racing Team, which went on to become one of the most successful organizations in Australian V8 Supercar racing, having won the drivers' championship six times and the Virgin Australia Supercars Championship's top race, the Bathurst 1000 (essentially Australia's version of the Indy 500), seven times.
Last season, Holden Racing team morphed into Triple Eight Race Engineering and was renamed Mobil 1 HSV Racing.
And now the company has been renamed once again for the 2018 campaign under the Walkinshaw Andretti United banner.
The team will be composed of two Holden ZB Commodores with drivers James Courtney and Scott Pye, as well as a Porsche 911 GT3-R in the Australian GT championship.
What's next for Andretti's motorsports portfolio? Right now, it's pretty full, but you can bet running for championships from Australia (Supercars) to globally (GRC) to Indianapolis (Indy 500) to the U.S. (Verizon IndyCar Series) are at the top of this year's list.