You could consider Acura Team Penske's debut in the Rolex 24 Hours of Daytona like a Silicon Valley startup.
Lots of promise, great talent, strong corporate leadership and plenty of financing – but admittedly a few bugs in its first full test.
Both teams were at or near the front of the pack at the halfway point of the 24-hour endurance race that kicked off the IMSA WeatherTech SportsCar Championship Sunday at Daytona International Speedway.
But issues in the second half of the race knocked both the No. 6 and No. 7 Acura Team Penske Acura DPi's, the latter finishing ninth out of a 20-car field and the No. 6 right behind in 10th.
The No. 6 had an alternator problem that required an extended period of time in the garage, while the No. 7 endured a crash with Helio Castroneves behind the wheel.
Damage was minimal, but the car spun and lost valuable time both on-track and also in the garage.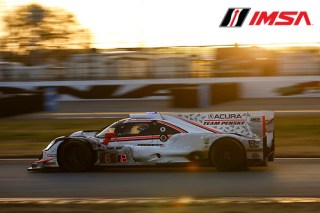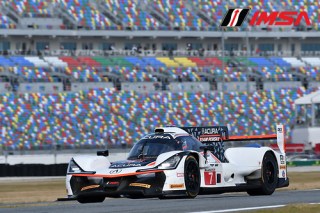 All-in-all, for a first time effort – both teams finished 15 laps down to the winning entry of the Action Express No. 5 Mustang Sampling Cadillac DPi – was not potentially lower than what both teams hoped for, but they certainly could have finished much worse, as well.
The No. 7 team was comprised of Ricky Taylor, Graham Rahal and Helio Castroneves, while the No. 6 roster was Simon Pagenaud, Dane Cameron and Juan Pablo Montoya.
Assessing how his teams ran with about an hour left in the race,, team owner Roger Penske told FS1, "I think the race has been amazing, fast cars, everybody's been racing hard the whole day and night. We had an alternator go out on one of the cars and Helio got hit, but for us, if we can finish the 24 Hours and we know we have some speed in our cars, we're looking forward to get to Sebring (next race on the IMSA schedule).
"But this is a great test for us, endurance, our pit crews and for Acura to have something as good as they've given us is terrific."
As for the 42-year-old Castroneves, who was making his first start since shifting from a long career in IndyCar to IMSA – he qualified No. 2 on Friday – former IndyCar driver Paul Tracy said he believes his former teammate still has a lot of fuel left in his performance tank as a race car driver, even if it is in a new series.
"Obviously, those guys are in their 40s now, so it's not going to go on forever in IndyCar," Tracy told FS1. "The talent level now in the younger guys that are coming up like (Josef) Newgarden, those guys are the best of the best.
"No doubt that Castroneves still has as much speed as anyone out there, he was almost on the pole for this race.
"So, changing from one type of car to another and then immediately almost being on the pole the first race, he'll continue to run in this until whenever he wants to stop driving. Until he tells Roger (Penske) one day, 'Hey, I'm going to hang up my helmet,' he's got a ride."