When Shawn Langdon hits the gas for the first time Wednesday in the annual NHRA Top Fuel and Funny Car four-day preseason test in suburban Phoenix, he'll be starting a whole new chapter in his drag racing life.
More precisely, it'll be a whole new drag racing life for the California native.
Langdon, 35, has been racing for more than 20 years, across all types of race cars, starting with Junior Dragsters and progressing to Top Fuel dragsters, where Langdon has been very successful, including winning the 2013 NHRA Top Fuel championship.
But in 2018, Langdon will be driving something that up to now, has been very familiar as an observer, but very foreign as a driver.
Langdon has switched from Top Fuel to the Funny Car class. It was a move presented to him at the end of last season while driving a dragster for Kalitta Motorsports.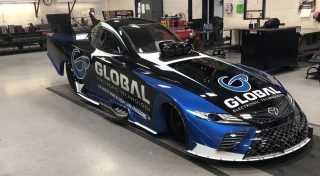 Alexis DeJoria had just announced her retirement, leaving a spot on Kalitta's Funny Car roster for 2018. Team owner Connie Kalitta didn't have far to look to find DeJoria's replacement.
It didn't make any difference that Langdon had never raced a Funny Car, let alone sat in one. And other than four runs at Las Vegas last fall to earn his Funny Car license, that's the extent of his Funny Car experience.
"I made the test but it was still Alexis' (DeJoria) car and she was going to run the next week at Pomona," Langdon said. "She asked if I felt excited or nervous or what, and I said, 'Man, I just don't want to mess up your race car. That's my biggest thing.' We were able to walk out of the weekend and didn't hurt anything too bad."
In a sense, Kalitta Motorsports salvaged Langdon's career and put him back on the path to success and continuity – and hopes for a championship or two or more.
"When Jim O (Kalitta Motorsports vice president Jim Oberhofer) came to me and asked if I'd be interested in switching over to the Funny Car, I said, 'At the end of the day, I love to race. You pay me to race a golf cart and I'll race a golf cart. Whatever you guys have, I'll race it."
"At the end of the day, I love to race. You pay me to race a golf cart and I'll race a golf cart.'
Since that license test, which Langdon passed with flying colors, there's been no other runs in the Funny Car – until he climbs back into the car this morning at about 9 a.m. PT.
"It's been the worst time for me because I haven't sat in a car in 2 ½ months, since last October and thought about all the bad or good things that can happen," he said.
He heads to Phoenix hoping for a very quick learning curve, hoping to translate the success he's had over nearly a decade in Top Fuel to Funny Car, knowing the sooner he gets comfortable with his new ride and new class, the sooner the team will be successful.
But at the same time, Langdon's past experience won't mean much knowing he'll be racing against a completely new cast of challengers in Funny Car, including 16-time Funny Car champ John Force, 2016 champ Ron Capps, two-time Funny Car champ Robert Hight, "Fast Jack" Beckman, two-time Funny Car champs Matt Hagan and Cruz Pedregon and so many more.
Here's how Langdon analyzed what he's up against in a recent exclusive interview with NBC Sports:
"I have a general idea of the differences, some of the similarities, but mainly the differences," he said. "There's quite a bit difference driving a Funny Car. With having the body, it narrows up your vision a little bit, you have different focus points, where in a dragster you look right in front of the car, to in a Funny Car, you have to look over the ejectors and have to look out quite a bit more down track to get your line of sight.
"The biggest thing is how you sit in the car. In a dragster, you sit lower to the ground, are kind of laid back, everything is kind of behind you. Whereas when you get in a Funny Car, you're sitting up more, you're up on top of the rear end, the motor is in front of you, it's a different sound, a different pitch of the motor.
"But the steering is the biggest difference I noticed, with the shorter wheelbase. They just drive completely different.
"The transition I feel with me is going to be getting the seat of the pants feel, which I think is going to come as I start getting more seat time and laps in the car. Really, when you drive these cars, they accelerate so fast and you're not processing your thoughts of when the car is making a move or whatever, it's just a pure reaction to the cars.
"So, really, you have to drive them by the seat of the pants and by the feel. Really, it's just going to take time to get accustomed with driving these cars with how much steering input and how much the car reacts to that. I'm going to have learning curves throughout the season.
"I'm excited for the challenge. It's a big challenge for me. I've established myself as a Top Fuel driver and feel very comfortable and confident. But in a Top Fuel car I can drive on any track condition and any situation I'm put in and feel I can do a good job. But going into a Funny Car, I'm kind of taking a little bit of a risk as a driver, putting myself a little bit out there to hopefully to be a diverse driver to show I can drive any kind of car.
"I've driven all kinds of different cars coming up through the ranks, but a Funny Car is kind of its own entity, there's really nothing that compares to driving it."
Over the four-day test, Langdon will likely log between 12 and 16 passes down the 1,000-foot dragstrip at Wild Horse Pass Motorsports Park (formerly Firebird Raceway).
And then one week later, he'll be competing in the season-opening Lucas Oil Winternationals at Auto Club Raceway in Pomona, California, the starting off point for yet another grueling 24-race national event schedule.
Langdon, who will have primary sponsorship from Global Electronic Technology, is both excited and admittedly a bit nervous heading into the four-day Phoenix test.
"I think it's better for me to just go out to Phoenix, get in the car and quick go make a run, how we did the licensing," he said. "As a driver, sometimes you have a tendency to overthink and overanalyze things. That, as a driver, it can get you into a little bit of trouble when you overthink things, instead of just letting your natural ability as a driver is and just go do what you do."
But at the same time, he's received a lot of advice and suggestions from teammate J.R. Todd, who also switched from Top Fuel to Funny Car last year, as well as former Kalitta driver Del Worsham, who won the Funny Car championship in 2015.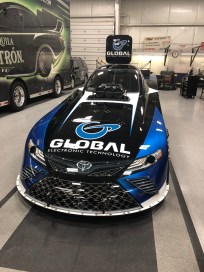 In achieving that title, Worsham became only the third driver in NHRA history to ever win both a Funny Car and Top Fuel championship (the other two are Gary Scelzi and Kenny Bernstein).
"I'm sure at some point I'll get it figured out, but I can't tell you how long it'll be," Langdon said when asked how long will it take before he feels acclimated and comfortable in his new ride.
"I think, for me, this year for our team is going to be the key to success is me minimizing my learning curve, and the quicker I can get through that learning curve and make that transition will help our team even quicker.
"Growing up, I was always a dragster guy. I loved watching Funny Cars, but I guess I never entertained the idea of driving one. I've just been very happy and content driving the dragster, which I've done since driving in my Junior Dragster days when I was a kid."
Adversity and uncertainty has been something Langdon has endured several times in his career, particularly the last four seasons.
In 2015, just two weeks before the start of the NHRA season, primary financier Al-Anabi Racing pulled all its funding, leaving Langdon and team owner Alan Johnson with little to race on.
Langdon eventually landed with Don Schumacher for the final six races of 2015 and the 2016 season, but lost his ride after that campaign due to lack of sponsorship.
He missed the first four races of 2017 before signing to drive Kalitta's third Top Fuel dragster. And even without those first four races, Langdon still managed to qualify for the Countdown to the Championship playoffs and finished seventh overall.
"I always drive better when my back is up against the wall," Langdon said. "The last couple years, I've felt like I've driven great, even though they were situations that were out of my control. That's just how those situations played out.
"Yeah, some of those situations were unfortunate. They were hard for the times I was dealing with and some of the decisions I and some of the team owners had to make.
"But I can't say I regret anything, I can't say I look back and wish anything would be different because I've learned so much these last couple years about the drag racing world and I'm fortunate to be with Kalitta and the great sponsor I have. I'm ready to roll into Pomona."
He'll have plenty of help in starting his new drag racing life. Kalitta Motorsports has been around for roughly 50 years and is one of the most successful organizations the sport has ever seen.
Plus, Langdon will have co-crew chiefs tuning his Funny Car, men that have very formidable resumes: Nicky Boninfante, who won 2015 Funny Car championship with Del Worsham, and Tommy DeLago, who won 2011 Funny Car championship with Matt Hagan.
While Langdon goes into next weekend's season opener, he'll be facing somewhat of a déjà vu situation. When Al-Anabi left, Langdon and Johnson surprised everyone by going out and winning the 2015 season opener at Pomona.
Could he do it again, but this time in his first race ever in a Funny Car?
"To be honest, yes, because that's the expectations I'm putting on myself," he said. "I'm going to a well-established team, they've got some great crew guys on the team and Tommy and Nicky know how to make that car run.
"I've done everything I can this offseason to win. We're going to testing and going to do the best to set ourselves up because we're ready to swing for the fences right out of the gate at Pomona."