One of Formula One's longest-running traditions is over.
F1 officials announced Wednesday that it is eliminating its popular "Grid Girls" and "Podium Girls," females who are goodwill ambassadors for the sport, particularly in victory lane and on the race grid before and after races.
"We feel this custom does not resonate with our brand values and clearly is at odds with modern day societal norms," said Sean Bratches, F1's managing director of commercial operations. "We don't believe the practice is appropriate or relevant to Formula One and its fans, old and new, across the world."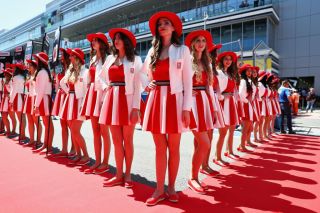 Well, judging from the overwhelming negative reaction on social media, one has to wonder just how much thought F1 officials gave to the decision and the resulting fallout.
The F1 season begins March 25 at the Australian Grand Prix.
Here's a selection of tweets – including several from now-former "Grid Girls" opposed to F1's move:
There were some fans in favor of getting rid of "Grid Girls," but they were few and far between in their support of the new F1 edict.
And then there's a man who would like to see F1 replace "Grid Girls" with "Grid Guys" (oh, brother).