Most race car drivers tend to follow a common path. They get their start as youngsters, usually in karting and often younger than the age of 10. And by the time their teenagers, most have progressed into cars, and their careers blossom from there.
However, some don't always follow the beaten path. Case in point: Pro Mazda Championship Presented by Cooper Tires driver Nikita Lastochkin. At the age of 27, he is among the oldest drivers in the Pro Mazda ranks. But, it's not because he's a veteran of the series. In fact, he didn't start racing until he was 22.
Born in Russia, Lastochkin moved to the United States at the age of 16 after graduating high school. As he explained in a "My Mazda Road to Indy" feature, Lastochkin was eager to the see world and decided to start by heading to the U.S.
"I had no family here, no friends, but I'd always had an adventurous streak and I wanted to see the world, see what was out there," he explained. "I didn't know what I wanted to do in my life, what degree to pursue, so I asked my parents if I could do it and I moved to English First, a language school in the Los Angeles area. I could speak English, so it was more about exploring the city and the culture."
Racing, however, was never the goal. "I didn't know anything about racing. You could have shown me a Skip Barber car or a Formula One car and I wouldn't know which was which," he said of his knowledge of motorsports at the time.
However, at the age of 22, Lastochkin, a thrill-seeker of sorts who has an admitted love of going fast, enrolled in the Skip Barber Racing School "for fun." From then on, he was hooked.
"I took the Skip Barber Racing School just for fun and I really enjoyed it – and I did pretty well. I heard about the racing series and decided to give it a go. I had some good success, with wins and poles, all that good stuff."
He quickly decided to switch careers – he had been working in the jewelry industry at the time – and began to focus exclusively on racing. And he did so by following a path being set by current Indy Lights Presented by Cooper Tires young gun Colton Herta.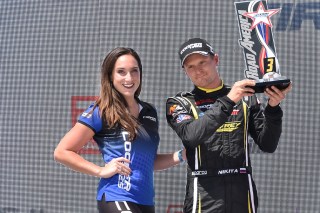 "I had raced against Colton Herta in Skip Barber, and as I was looking at where I would go next, I saw that Colton was racing in Pacific Formula F1600. I had no idea of who he was, aside from being a race car driver. But I knew that Bryan had been a driver, so I figured that wherever Colton was going would be a good move after Skip Barber. That was my logic that first year, since I had no one to advise me," Lastochkin said of his early racing career.
Now 27, Lastochkin has steadily climbed up the open wheel ladder and has been entrenched in the Mazda Road to Indy Presented by Cooper Tires series since 2015.
In the 2017 Pro Mazda season, as a driver with Team Pelfrey, Lastochkin demonstrated strong consistency, finishing fifth or better in eight of 12 races, including a pair of podiums at Road America.
Heading into 2018, Lastochkin will continue in the Pro Mazda ranks, now with Cape Motorsports, with whom contested the 2016 Cooper Tires USF2000 Championship Powered by Mazda in 2016, and hopes to continue his racing education and build on his prior successes.
"I'm quite happy to be back with Cape Motorsports – I know them, and they know me," Lastochkin said. "It's like being back at home. It's always my plan to do the best I can and to keep progressing."