Brittany Force believes in picking up where she left off – especially since she captured the NHRA Top Fuel championship in last season's final race.
Now, the daughter of 16-time NHRA Funny Car champion John Force is ready to kick off the new season and her title defense in the same way she ended last season: with a win.
Force enters this weekend's 58th Lucas Oil NHRA Winternationals at Auto Club Raceway in Pomona, California, in unchartered territory of sorts:
* She's never been a Top Fuel champion before, becoming the first woman to win a championship in that class in 35 years, since Shirley Muldowney captured her third and final Top Fuel title in 1982.
* Plus, she sports the No. 1 on the side of her dragster for the first time in her career, signifying she is the reigning champion in Top Fuel. She joins Muldowney as the only other female to carry the No. 1.
"I am excited to get back to Pomona," Force said in a media release. "We ended our season with a win and we brought home the championship with this Monster Energy team.
"Pomona is my home track and I have so many great memories there. I know when we get back there we will have that positive energy in our pits. I think that will push us all season long. We won the championship, which is why everyone is out here and now we want to do it again."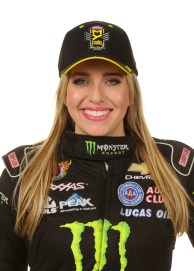 Force won three of the six races in last season's Countdown to the Championship, giving her and her team an excellent stretch run to the title.
In an interesting twist, Force is waiting until just before Friday's first round of qualifying to actually physically place the No. 1 sticker on her dragster. It's all about symbolism, she said.
"I want to put that No. 1 on my car in Pomona because that is where it all happened," she said. "That is where we clinched the championship.
"We want to go back to where it all went down and put that No. 1 on together as a team."
She also wants to notch a Winternationals win for the first time in her career.
Force looks to have as good – if not better – of a season in 2018 as she had in 2017. She reached the final round in six of last season's 24 races, winning four. She also was No. 1 qualifier in two races.
Even though Top Fuel runner-up Steve Torrence led the field with 8 wins last season, Force knows that as defending class champion, she'll be wearing a target on her back starting Friday.
"I'm okay with that because it just pushes you and motivates you," said Force, who saw teammate and brother-in-law Robert Hight win last season's Funny Car championship, as well. "Our plan is we want to win more races and we want to go after a championship again.
"I would love to double-up with my dad and Courtney. It would be great to share the winner's circle with my sister. There's still so many things left to accomplish and try to achieve. That's just motivation and what pushes me."
Like many of her Top Fuel peers, Force is coming off last weekend's four-day NHRA "spring training" preseason test at Wild Horse Pass Motorsports Park in Chandler, Arizona (suburb of Phoenix).
She had several strong runs last weekend that leave her all the more optimistic that she can begin the new season and her title defense in equally strong fashion.
Last week was a test; this weekend is for real, and Force is ready.
"After what we accomplished, I know our energy is going to be there," said Force, who has seven career wins. "I know our team is going to feel it.
"The last time we were there, we won the championship, won the race and we got our first Top Fuel championship. That's only going to push us and motivate us more in Pomona."
Qualifying begins Friday with sessions at 12:30 p.m. PT and 3 p.m. PT. Saturday's qualifying sessions will be at 12:45 p.m. PT and 4 p.m. PT. Final eliminations begin at 11 a.m. PT.