Reigning NHRA Top Fuel champion Brittany Force, who was involved in a hard lateral crash during Sunday's first round of eliminations in the season-opening Lucas Oil NHRA Winternationals, was released from a hospital on Monday after spending a night for observation and additional tests.
According to a team media release issued Monday afternoon, Force suffered no lingering effects from the hard lateral impact except overall lingering soreness. Her Top Fuel dragster crossed into the opposite line and slammed sideways into the hard wall, bounced off, spun, slid back to the right lane on its side and eventually landed wheels up after sliding through the finish line area.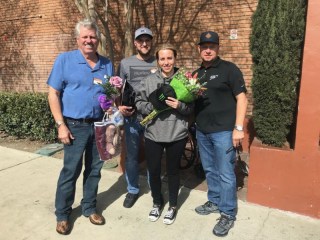 Force, 31, suffered no major internal injuries although she does have minor lung bruising. She was transported by ambulance after the wreck from Auto Club Raceway to a local Pomona, California hospital where she was held overnight as a precaution.
A CT scan was negative and an MRI showed findings from previous injuries.
The team said Force, daughter of 16-time NHRA Funny Car champ John Force, will continue to recuperate for the next week at her home in Yorba Linda, California.
The next NHRA national event is Feb. 23-25 in suburban Phoenix. Brittany Force is expected to take part in that event.