Tony Kanaan had his first official outing with A.J. Foyt Racing at last weekend's Verizon IndyCar Series open test at ISM Raceway. And the 43-year-old, who spent the previous four seasons with Chip Ganassi Racing, enjoyed a solid debut with a team that has undergone a significant revamp over the off-season.
Kanaan ranked in the top five at the end of three out of four sessions between Friday and Saturday, and turned the third fastest lap of the weekend at an average speed of 189.632 mph.
Despite the changes, the most notable being Eric Cowdin joining the team as their new technical director and Kanaan and Matheus Leist as the team's new drivers, Kanaan was confident that they could be strong out of the box.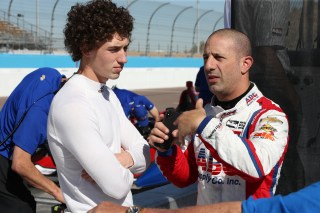 "It's a good start. I wasn't surprised at all. Eric (Cowdin) and I, we won (a lot of) races together at this place. It's one of my favorite race tracks, and one of the tracks where I always do well, so I wasn't expecting any less," he asserted following the Friday afternoon session.
Kanaan also highlighted the performance of the rookie Leist, who ranked in the top ten during three sessions himself, including fourth on Friday afternoon, and led Thursday's rookie test at the track. Leist ultimately turned the 13th fastest lap of the weekend.
"Good start for us. Happy, happy to see the rookie (Leist) right on my tail. It's good to see both cars up there. The boss is happy which is important."
In sampling the 2018 aero kit, Kanaan also detailed that a setup that can protect the tires will be crucial to maintaining speed in the car.
"You have to find the right setup to make your tires last, because you need them in the end. You don't have as much downforce as we used to have. It's a lot of fun. I'm an old-timer, so it reminds me of my old times."
A.J. Foyt Racing is scheduled to test again later in February, during a two-day stop at Sebring International Raceway.