Haas F1 this morning unveiled its new VF-18 ride that will challenge for the FIA Formula One World Championship.
The Kannapolis, North Carolina-based team enters its third full-time season on the F1 circuit in 2018.
The VF-18 evolved from last season's VF-17 model, which finished eighth in the 2017 constructors standings, scoring 47 points, 18 more points than the 29 points the team earned in its debut season in 2016, becoming the first full-time F1 team from the United States since 1986.
"People see what we can do in Formula One and people believe Haas Automation can build world-class machine tools," team owner Gene Haas said in a media release. "Being a Formula One participant brings a level of credibility that you just won't get through traditional advertising."
Haas said he has used principles and attributes from his Haas Automation firm, the largest machine tool manufacturer in North America, focusing on details and constant refinement to keep the F1 team moving forward and progressing.
"We eliminated a lot of the variables where we knew we were weak," Haas said. "We've focused on what it's going to take to get our car to be consistent and close that gap to the top teams."
Keen additions to the VF-18 are the addition of a halo and what is termed as a "drastic reduction" in the sharkfin.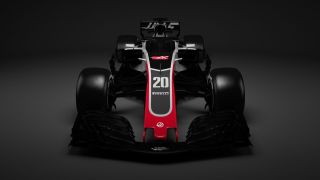 "The biggest part of the car's evolution was the addition of the halo," said Guenther Steiner, team principal, Haas F1 Team. "It took quite a bit of study by the aerodynamicists, but the designers had to work hard to modify the chassis so the halo could survive the mandated loads.
"The total minimum weight of the car increased because of the halo, and there's a higher center of gravity simply because of the halo's position. But, everyone is in the same boat.
"The regulations stayed pretty stable between 2017 and 2018, so the VF-18 is an evolution of our car from last year. It's less about reinvention and more about refinement. You see elements we had from last year on the car this year.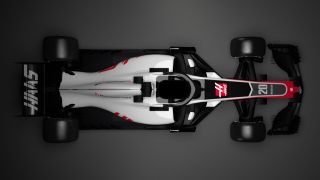 "Our 2017 car was actually pretty good, but we didn't always get the best out of it, and that's what we aimed to change in 2018. We got the car as light as possible to carry more ballast. We were able to do a better job of putting the weight where we wanted it."
The team will put the VF-18 through its paces at upcoming tests at Circuit de Barcelona in Catalunya, Feb. 26-March 1, and again March 6-9 before the season-opening Australian Grand Prix March 25 in Melbourne.
Several other F1 teams are expected to reveal their 2018 liveries in the next couple of weeks prior to the Barcelona test.